20070331CSFH
Supplies, Charts, Forms, Etc. Brett Family: Surname Genealogy, Family History, Family Tree, Family Crest. Linkpendium > Genealogy > USA > Surnames > B Families: Surname Genealogy, Family History, Family Tree, Family Crest > Bre Families: Surname Genealogy, Family History, Family Tree, Family Crest > Brett Family: Surname Genealogy, Family History, Family Tree, Family Crest Please, add your favorite Website(s) to this page!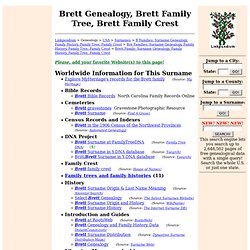 Worldwide Information for This Surname Aroostook Biography of Ben. Cyrus Brett Soldiers' and Citzens' Album of Biographical Record, containing Personal Sketches of Army Men and Citizens Prominent in Loyalty of the Union (Source: Internet Archive) Franklin Biography of Ben. FamilySearch.org - Family History and Genealogy Records. Making a Family Tree. Genealogy beginning. Free genealogy resource. ROOTS-L: The Internet's First Genealogy Mailing List. What is ROOTS-L?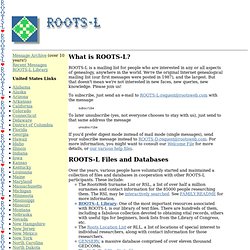 ROOTS-L is a mailing list for people who are interested in any or all aspects of genealogy, anywhere in the world. We're the original Internet genealogical mailing list (our first messages were posted in 1987), and the largest. But that doesn't mean we're not interested in new faces, new queries, new knowledge. Please join us! Genealogy Peru. Free genealogy family history photo search by surname - Dead Fred .com. The Bailey's Free Genealogy Forms. My wife (Mary Hagstrom Bailey) and I (Duane A.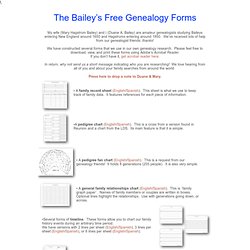 Bailey) are amateur genealogists studying Baileys entering New England around 1650 and Hagstroms entering around 1850. We've received lots of help from our genealogist friends: thanks! We have constructed several forms that we use in our own genealogy research. Please feel free to download, view, and print these forms using Adobe's Acrobat Reader. Ghbrett's bookmarks tagged with "060408ClanScott" on del.icio.us. Popular pages tagged with "genealogy" on del.icio.us. S Guide to Tracing Family Trees. Where to begin?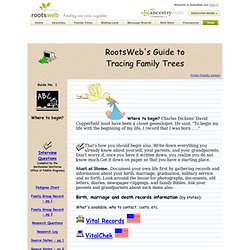 Charles Dickens' David Copperfield must have been a closet genealogist. He said, "To begin my life with the beginning of my life, I record that I was born . . . " That's how you should begin also. Write down everything you already know about yourself, your parents, and your grandparents. Genealogy Getting Started :: Genealogy 101 :: CSG :: CT Genealogy :: CT Family History :: As you begin collecting information about your family heritage, you will quickly realize the importance of keeping good notes.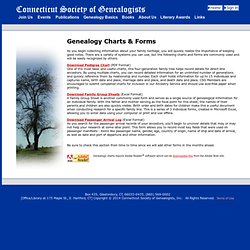 There are a variety of systems you can use, but the following charts and forms are commonly used and will be easily recognized by others. Download Pedigree Chart (PDF Format) One of the most basic and useful charts, this four-generation family tree helps record details for direct-line ancestors. The Genealogy Forum: Beginners' Center. Ethnic Toolkits. Genealogy form. SCOTT: Genealogy Queries. Introduction to Genealogy Research, Vital Records, and U.S. Census Data. Genealogists/Family Historians - About Genealogy Research.
Family Tree Magazine - Beginning Genealogy. National Archive Publishing Company (NAPC) -- Web, Microform, and Print Products & Services. Family History and Genealogy Records. Digital Shoebox Collections : Home. Family heritage and archival scrapbooking supplies from Your Family Legacy. Genealogy Today: Family Tree History, Ancestry, Free Lookups. The Genealogy Home Page.
---