4 - National Identity of Romantic Pianists
Louis Moreau Gottschalk (May 8, 1829 – December 18, 1869) was an American composer and pianist , best known as a virtuoso performer of his own romantic piano works. He spent most of his working career outside of the United States. [ edit ] Life and career Gottschalk was born in New Orleans to a Jewish businessman from London and a Creole mother. He had six brothers and sisters, five of whom were half-siblings by his father's mulatto mistress. [ 1 ] His family lived for a time in a tiny cottage at Royal and Esplanade in the Vieux Carré . Louis later moved in with relatives at 518 Conti Street; his maternal grandmother Bruslé and his nurse Sally had both been born in Saint-Domingue (known later as Haiti ).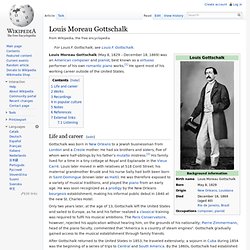 Louis Moreau Gottschalk
Souvenir de Porto Rico , Op. 31, is a musical composition for piano by American composer Louis Moreau Gottschalk written from 1857 during a tour in Puerto Rico . Dedicated to the Dutch piano virtuoso and salon music composer Ernest Henry Lubeck, and published in Mainz circa 1860 with the subtitle of Marche de Gibaros, [ 1 ] it is based on the Christmas folk song Si me dan pasteles, denmelos calientes, performed by local peasants known as Jíbaros . [ 2 ] The piece makes free use of Latin and Afro-American melodies and rhythms almost fifty years before early ragtime and jazz would popularize its use. [ edit ] History Souvenir de Porto Rico was written in the last trimester of 1857, when of Gottschalk's stay at the sugar plantation of English-born Mr.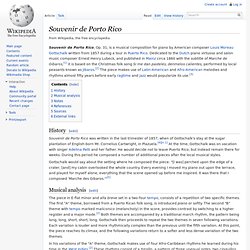 Souvenir de Porto Rico
Franz Liszt
Franz Liszt ( German: [fʁant͡s lɪst] ); in Hungarian : Liszt Ferencz , in modern use Liszt Ferenc [ 1 ] ( Hungarian pronunciation: [list ˈfɛrɛnt͡s] ); from 1859 to 1867 officially Franz Ritter von Liszt [ 2 ] (October 22, 1811 – July 31, 1886) was a 19th-century Hungarian [ 3 ] [ 4 ] [ 5 ] composer, pianist, conductor, and teacher. Liszt became renowned in Europe during the nineteenth century for his virtuosic skill as a pianist. He was said by his contemporaries to have been the most technically advanced pianist of his age, and in the 1840s he was considered by some to be perhaps the greatest pianist of all time. Liszt was also a well-known and influential composer, piano teacher and conductor. He was a benefactor to other composers, including Richard Wagner , Hector Berlioz , Camille Saint-Saëns , Edvard Grieg and Alexander Borodin . [ 6 ] As a composer, Liszt was one of the most prominent representatives of the " Neudeutsche Schule " ("New German School").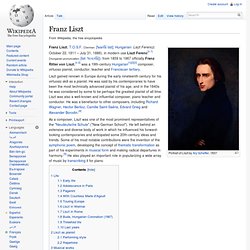 Hungarian Rhapsody redirects here. For the 1979 Hungarian film Hungarian Rhapsody (film) . For the 1928 German film Hungarian Rhapsody (1928 film) . For the 2012 Queen concert film Hungarian Rhapsody: Queen Live in Budapest '86 . The Hungarian Rhapsodies , S.244 , R106, ( French : Rhapsodies hongroises , German : Ungarische Rhapsodien , Hungarian : Magyar rapszódiák ) is a set of 19 piano pieces based on Hungarian folk themes , composed by Franz Liszt during 1846-1853, and later in 1882 and 1885.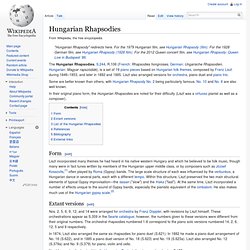 Hungarian Rhapsodies
Frédéric Chopin
Chopin at 25, by Maria Wodzińska, 1835 Frédéric François Chopin ( pron.: / ˈ ʃ oʊ p æ n / ; French pronunciation: ​ [fʁe.de.ʁik ʃɔ.pɛ̃] ) or Fryderyk Franciszek Chopin [ 1 ] (1 March or 22 February 1810 [ 2 ] – 17 October 1849) was a Polish composer and virtuoso pianist . He is widely considered one of the greatest Romantic piano composers. [ 3 ] Chopin was born in Żelazowa Wola , a village in the Duchy of Warsaw . A renowned child prodigy , he grew up in Warsaw and completed his music education there; he composed many of his mature works in Warsaw before leaving Poland in 1830 at age 20, shortly before the November 1830 Uprising .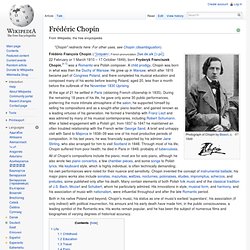 Mazurka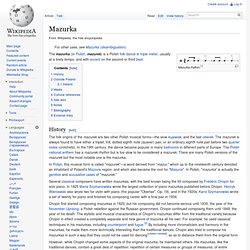 The mazurka (in Polish , mazurek ) is a Polish folk dance in triple meter , usually at a lively tempo, and with accent on the second or third beat . [ edit ] History The folk origins of the mazurek are two other Polish musical forms—the slow kujawiak , and the fast oberek .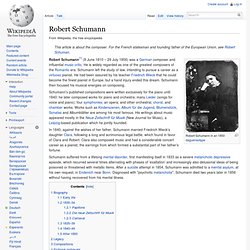 Robert Schumann
Robert Schumann , [ 1 ] sometimes known as Robert Alexander Schumann, [ 2 ] (8 June 1810 – 29 July 1856) was a German composer, aesthete and influential music critic. He is widely regarded as one of the greatest composers of the Romantic era. Schumann left the study of law to return to music, intending to pursue a career as a virtuoso pianist. He had been assured by his teacher Friedrich Wieck that he could become the finest pianist in Europe, but a hand injury ended this dream. Schumann then focused his musical energies on composing.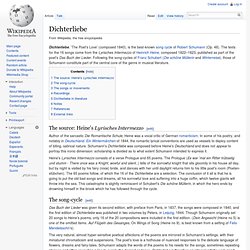 Dichterliebe , 'The Poet's Love' (composed 1840), is the best-known song cycle of Robert Schumann (Op. 48). The texts for the 16 songs come from the Lyrisches Intermezzo of Heinrich Heine , composed 1822–1823, published as part of the poet's Das Buch der Lieder. Following the song-cycles of Franz Schubert ( Die schöne Müllerin and Winterreise ), those of Schumann constitute part of the central core of the genre in musical literature. [ edit ] The source: Heine's Lyrisches Intermezzo Author of the sarcastic Die Romantische Schule , Heine was a vocal critic of German romanticism .
Dichterliebe