Paul Krugman
Paul Krugman στο ΒΗΜΑ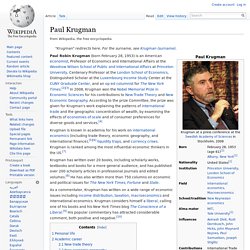 Paul Robin Krugman (born February 28, 1953) is an American economist, Professor of Economics and International Affairs at the Woodrow Wilson School of Public and International Affairs at Princeton University, Centenary Professor at the London School of Economics, and an op-ed columnist for The New York Times.[2][3] In 2008, Krugman won the Nobel Memorial Prize in Economic Sciences for his contributions to New Trade Theory and New Economic Geography. According to the prize Committee, the prize was given for Krugman's work explaining the patterns of international trade and the geographic concentration of wealth, by examining the effects of economies of scale and of consumer preferences for diverse goods and services. Krugman is known in academia for his work on international economics (including trade theory, economic geography, and international finance),[5][6] liquidity traps, and currency crises.
Paul Krugman in Wikipedia
The other day someone — I don't remember who or where — asked an interesting question: when did it become so common to disparage anyone who hasn't made it big, hasn't gotten rich, as a "loser"? Well, that's actually a question we can answer, using Google Ngrams, which track the frequency with which words or phrases are used in books: Sure enough, the term "losers" has become much more common since the 1960s. And I think this word usage reflects something real — a growing contempt for the little people. This contempt surely isn't limited to Republican politicians. Still, it's striking how unable they are to show any empathy for people who are just doing their best to make a modest living.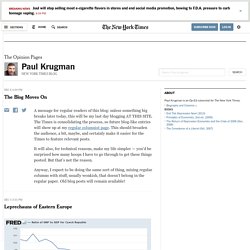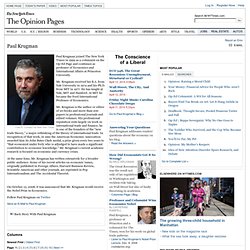 Paul Krugman joined The New York Times in 1999 as a columnist on the Op-Ed Page and continues as professor of Economics and International Affairs at Princeton University. Mr. Krugman received his B.A. from Yale University in 1974 and his Ph.D. from MIT in 1977.