News
Surah Kahf, Ayaat 1-10 The Glorious Qur'an: English Narration of its Meaning Surah Ar-Rahman (The Beneficent, The Mercy Giving), Ayat 33-36O company of jinn and men, if ye have power to penetrate (all) regions of the heavens and the earth, then penetrate (them)! Ye will never penetrate them save with (Our) sanction. Which is it, of the favours of your Lord, that ye deny? There will be sent, against you both, heat of fire and flash of brass, and ye will not escape.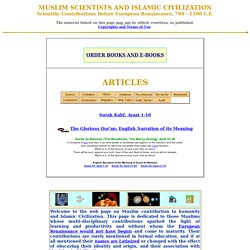 Muslim Scientists and Islamic Civilization
What: Outstanding goat's milk, goat cheese, and goat's milk yogurt from a salt-of-the-earth couple that raises a lot of kids. Tim and LeeAnne Carlson never intended to be dairy farmers or cheese makers. In fact, they moved to the country simply to have enough room to raise their expanding brood of children -- they have 12, after all. Twelve.
Local Spotlight: Swede Farm Dairy - Houston Restaurants and Dining - Eating Our Words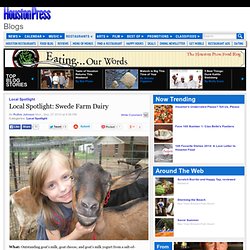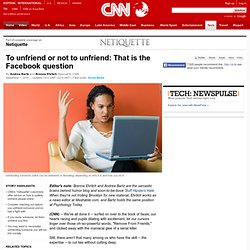 Unfriending someone online can be awkward or liberating, depending on who it is and how you do it. CNN's "netiquette" columnists offer advice on how to politely unfriend people online Consider reaching out before you unfriend someone you've had a fight with If you dump someone, let them unfriend you first You may want to reconsider unfriending someone you will run into socially Editor's note: Brenna Ehrlich and Andrea Bartz are the sarcastic brains behind humor blog and soon-to-be-book Stuff Hipsters Hate. When they're not trolling Brooklyn for new material, Ehrlich works as a news editor at Mashable.com, and Bartz holds the same position at Psychology Today. (CNN) -- We've all done it -- surfed on over to the book of faces, our hearts racing and pupils dilating with excitement, let our cursors linger over those oh-so-powerful words, "Remove From Friends," and clicked away with the maniacal glee of a serial killer.
To unfriend or not to unfriend: That is the Facebook question
Wasps: Man's New Best Friend! -- Entomologists Train Insects to Act Like Sniffing Dogs
July 1, 2006 — If rewarded with sugary water, wasps can be trained in minutes to follow specific smells. The olfactory sensors in their antennae can sense chemicals in the air in concentrations as tiny as a few parts per billion. Wasps could be cost-effective helpers in searching for explosives, toxic chemicals, and even fungi on crops. Wasps are not man's best friend -- probably their worst. But when it comes to sniffing out trouble, scientists believe they may be better than dogs.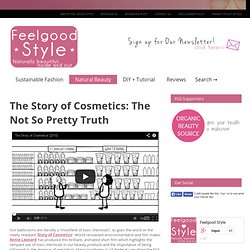 The Story of Cosmetics :: The Not So Pretty Truth. : Feelgood Style
Our bathrooms are literally a "minefield of toxic chemicals", so goes the word on the newly released 'Story of Cosmetics'. World renowned environmentalist and film maker Annie Leonard has produced this brilliant, animated short film which highlights the rampant use of toxic chemicals in our beauty products and the importance of being informed in the absence of regulation. Major loopholes in US Federal Law allow the $50 billion beauty industry to put unlimited amounts of chemicals into our personal care products with little or no oversight, minimal regulation and no legislation that distinctly categorizes natural vs organic vs not. In this country there are approximately 11 ingredients that have been banned from use in our cosmetics; in the EU… there are over 1,000. You have companies like L'Oreal and Estee Lauder who are ardent supporters of cancer research, but who actively use known carcinogens in their beauty products.
Welcome to SkollWorldForum.org former Social Edge users!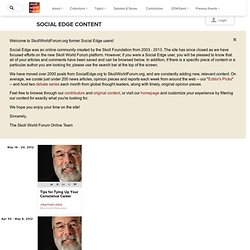 The Inspired Economist - Covering the People, Ideas, and Companies Inspiring Positive Change and Redefining Capitalism
Happy News - Real News. Compelling Stories. Always Positive.
Making a Difference - The Christian Science Monitor