Dictionaries, Encyclopedias, & more
The free dictionary. Welcome to Pulse-Project.org | Pulse-Project.org. 10 words that might not mean what you think they do. As English evolves, word meanings shift and turn, sometimes reversing themselves altogether.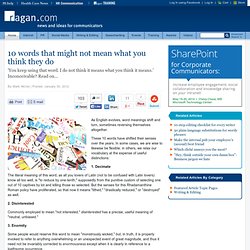 These 10 words have shifted their senses over the years. In some cases, we are wise to likewise be flexible; in others, we relax our vocabulary at the expense of useful distinctions: 1. Urban Dictionary, January 18: SOPA. Wikipedia. Visuwords™ online graphical dictionary and thesaurus. Globaïa :: Creation | Research | Communication.
---