1939-1945
CEUX DE LA RESISTANCE. Bourgogne Nivernais Morvan.
Prisonniers de guerre 1940-1941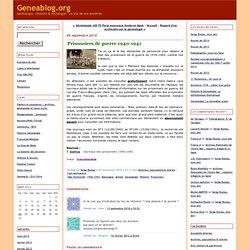 J'ai vu ça et là des demandes de personnes pour obtenir la liste des prisonniers de la guerre de 1939-1945, comme moi d'ailleurs. Je sais que le site « Mémoire des Hommes » travaille sur le sujet, mais c'est un travail énorme qui va demander plusieurs années, d'autres sociétés commerciales ont déjà jeté leur dévolu sur la ressource... En attendant, il est possible de consulter gratuitement notre chère Gallica (que ferions-nous sans elle ?)
The first week of 2014 has brought frigid conditions to much of the Northern Hemisphere, including a phenomenon called a polar vortex, which pulled Arctic weather deep into Canada and the U.S.