1939-1945
CEUX DE LA RESISTANCE. Bourgogne Nivernais Morvan.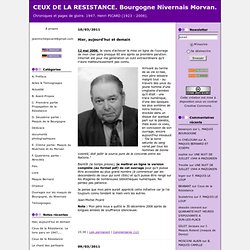 Dans la nuit du 10 au 11 janvier 1942 une bombe fut lancée par des patriotes sur la Soldatenheim de Dijon. Elle n'éclata pas, et ne fit, par conséquent, aucune victime. Cependant, les Allemands, secondés hélas ! par des Français traîtres, les policiers Marsac, Gauthier et Gillot, allaient, en représailles, commettre l'un des crimes les plus odieux que l'on puisse imaginer en fusillant cinq jeunes gens : René Romenteau, Pierre Vieillard, René Laforge, Jean Jacques Schellnenberger, dit Jean Coiffier (1) tous élèves maîtres à l'école Normale d'instituteurs de Dijon, promotion 1939-42 ; et Robert Creux qui remplaça le cinquième normalien, Jouannaud, celui ci ayant bénéficié d'un non lieu trois jours avant l'exécution (2).
Prisonniers de guerre 1940-1941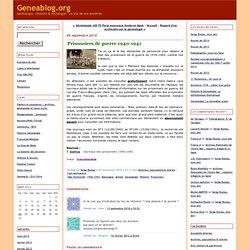 J'ai vu ça et là des demandes de personnes pour obtenir la liste des prisonniers de la guerre de 1939-1945, comme moi d'ailleurs. Je sais que le site « Mémoire des Hommes » travaille sur le sujet, mais c'est un travail énorme qui va demander plusieurs années, d'autres sociétés commerciales ont déjà jeté leur dévolu sur la ressource... En attendant, il est possible de consulter gratuitement notre chère Gallica (que ferions-nous sans elle ?)
Associated Press photographer Anja Niedringhaus was killed today, shot to death by an Afghan policeman while covering the upcoming national election. She covered conflicts from Bosnia to Afghanistan for more than 20 years, earning a Pulitzer Prize in 2005, as part of a team of AP photographers covering the Iraq War. Last November I was very happy to be able to feature her amazing work in a photo essay titled "Afghanistan: Seen Through the Lens of Anja Niedringhaus." What I wrote then remains true: Documenting a decades-long story like the Afghanistan War is a challenge for any photojournalist, from simple logistical issues, to serious safety concerns, to the difficulty of keeping the narrative fresh and compelling.