Mobile
Accept Mobile Payments, Mobile Payments Service - Amazon Payments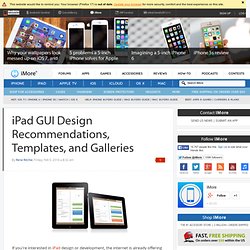 iPad GUI Design Recommendations, Templates, and Galleries | TiPb
If you're interested in iPad design or development, the internet is already offering up resources for you, including interface recommendations, icon templates, and galleries of Apple examples. And why not? The same people who love every pixel of interface on the iPhone are finding 1024x768 reasons to pour over the iPad's beefy new canvas as well. First up, Gizmodo highlights some of Apple's new iPad Human Interface Guidelines (HIG) which suggest developers "think different" and not just big when it comes to the iPad. They have to "just work" no matter how a user holds the iPad, portrait or landscape, and they should remain just as focused and uncluttered as iPhone apps.
Having a mobile-optimized web site can really make your site stand apart from the pack.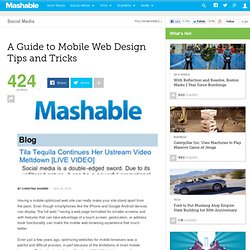 Designing the UI of Things for iPhone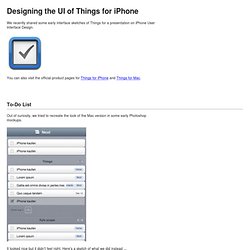 We recently shared some early interface sketches of Things for a presentation on iPhone User Interface Design. You can also visit the official product pages for Things for iPhone and Things for Mac.
The iTunes music store sells single songs at approximately the same price, with artist presented in more or less the same way.
The Album Is Dead, Long Live the App | Epicenter
Well, we did promise we'd get around to a tutorial eventually, so here you have it! The Engage Interactive school for all things internet proudly presents: How to build a website with orientation specific content especially for the iPhone! This tutorial will cover the basic setup and creation of a web page for the iPhone that will detect and change the content based on the phones orientation.