Schools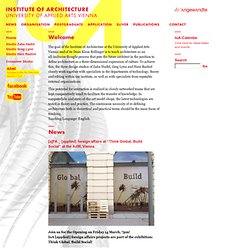 [a]FA _ [applied] foreign affairs at "Think Global, Build Social" at the AzW, Vienna Join us for the Opening on Friday 14 March, 7pm! IoA [applied] foreign affairs projects are part of the exhibition: Think Global, Build Social!Location: Architekturzentrum Wien - Old hallExhibition: 15 March 2014 - 30 June 2014Opening Hours: daily 10am-7pm
IoA Institute of Architecture
Strelka
Saturday 18 January to Saturday 15 February. Monday to Friday 10.00–19.00, Saturday 10.00–15.00, unless otherwise stated. AA Files Conversations This volume collates conversations from the past ten issues of AA Files, the long-running journal published by the AA. Edited by Thomas Weaver, it includes extended interviews with architects, artists, philosophers, historians and photographers, among them François Dallegret, John Winter, Massimo Scolari, Ludwig Mies van der Rohe, Richard Wentworth, Sally Potter, Robin Middleton and Hilla Becher. Available now, in three colours from the AA Bookshop.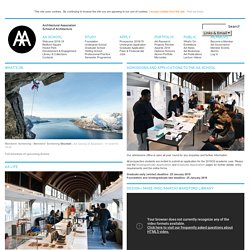 PRINCETON UNIVERSITY SCHOOL OF ARCHITECTURE
Berlage Institute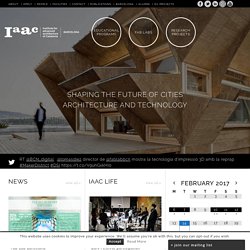 The Institute for Advanced Architecture of Catalonia is a cutting edge education and research centre dedicated to the development of an architecture capable of meeting the worldwide challenges in the construction of habitability in the early 21st century. Based in the 22@ district of Barcelona, one of the world's capitals of architecture and urbanism, IAAC is a platform for the exchange of knowledge with faculty and students from over 40 countries, including USA, China. India, Poland, Italy, Mexico and Sudan. Students work simultaneously on multiple scales (city, building, manufacturing) and in different areas of expertise (ecology, energy, digital manufacturing, new technologies), pursuing their own lines of enquiry on the way to developing an integrated set of skills with which to act effectively in their home country or globally.
MIT School of Architecture + Planning