Start-ups
Five New Management Metrics You Need To Know. Rules - StumbleUpon. 10 Essential Online Tools for Your Startup. Finding the tools you need when you first start a new business can be difficult, but luckily there are more and more web applications to ease some of that pain.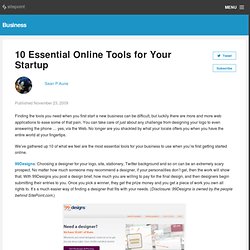 You can take care of just about any challenge from designing your logo to even answering the phone … yes, via the Web. No longer are you shackled by what your locale offers you when you have the entire world at your fingertips. We've gathered up 10 of what we feel are the most essential tools for your business to use when you're first getting started online. 99Designs: Choosing a designer for your logo, site, stationery, Twitter background and so on can be an extremely scary prospect. No matter how much someone may recommend a designer, if your personalities don't gel, then the work will show that. Startup Venture Capital - Best Eight VC Questions.
Sign up for XYDO Curation, the web's leading content curation platform.
Raising venture capital can be both exhilarating and a thoroughly thought provoking experience. Glen Kelman, the CEO of cialis 20 mg tablet pedia.org/wiki/Redfin">Redfin, an online real estate brokerage startup, weighs in on the best eight questions he was asked while raising his last venture round. 15 Online Tools Every Entrepreneur Should Know Of. In the past I have written up posts about tools designed to help a blogger, but now I am focusing on business oriented tools.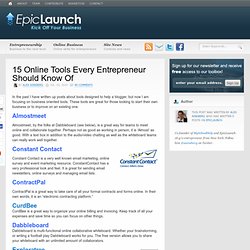 These tools are great for those looking to start their own business or to improve on an existing one. Almostmeet Almostmeet, by the folks at Dabbleboard (see below), is a great way for teams to meet online and collaborate together.
---