Support institutions
The first crowdfunding platform from Brazil
Enactus:Cambridge | Seeing Possibilities. Taking Action. Enabling Progress.
Vacant depuis février 2007, à la suite du départ de Frédéric Tiberghien, le poste de délégué interministériel à l'innovation, à l'expérimentation sociale et à l'économie sociale (Diieses) rattaché au ministère de l'Emploi, de la Cohésion sociale et du Logement, a été confié, le 18 avril dernier en conseil des ministres, à son adjoint, Jérôme Faure, qui en assurait déjà la direction par intérim. Jérôme Faure a en effet accompagné la mise en place de la nouvelle Délégation en remplacement de l'ancienne Délégation interministérielle à l'innovation sociale et à l'économie solidaire (Diies).
Jérôme Faure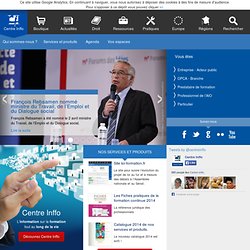 Social Transformation Project: Passions as the Starting Point | Transformational Leadership Blog
What We Do « Unreasonable Institute – International Accelerator and Investor in High-Impact Entrepreneurs
We accelerate Unreasonable entrepreneurs and their ventures. We are solving the world's biggest problems by arming the entrepreneurs who can take them on with the mentorship, capital, and network to make it happen. Each year, we unite 25 entrepreneurs from every corner of the globe to live under the same roof for six weeks in Boulder, Colorado.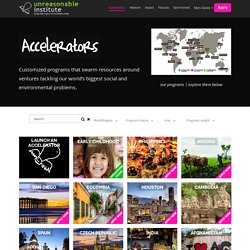 European Commission - Press release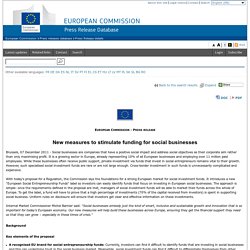 New measures to stimulate funding for social businesses
3 Social Enterprise Networks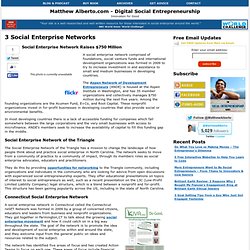 Published on December 15th, 2011 by Matthew Alberto
Resources-French Quebec | Youth Venture
Changemakers
FS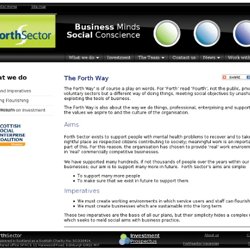 The Forth Way The Forth Way' is of course a play on words.
Instituto Redecard - Programas
Elos » Quem somos
beyond profit » social enterprise magazine
The Commerce With a Conscience Series is supported by Fedex .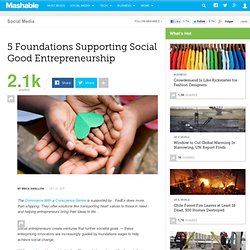 5 Foundations Supporting Social Good Entrepreneurship
Disruptive (Social) Innovation in Higher Education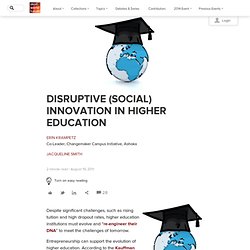 Despite significant challenges, such as rising tuition and high dropout rates, higher education institutions must evolve and " re-engineer their DNA " to meet the challenges of tomorrow. Entrepreneurship can support the evolution of higher education. According to the Kauffman Foundation , universities need to become more entrepreneurial, "not only in what they teach and how they teach it, but in how they operate." In 2003, the Kauffman Foundation set out to select Kauffman Campuses that embraced entrepreneurship across the curriculum, transforming the way colleges and universities prepare the next generation to be effective in a global and increasingly competitive economy. As discussed during the 2009 Social Edge Chat hosted by Ashoka U on " Universities as Agents of Change ," another group of colleges and universities have been recognized as Ashoka Changemaker Campuses .
Social Enterprise in Education & Learning – Conference & Exhibition 2011 | Social Enterprise West Midlands
» LGBT Capital Launch: Global Social Enterprise Competition » Hedge Fund Blogs From HedgeCo.Net » Hedge Fund Blog Article & Opinion
The specialist corporate advisory and investment management unit of Galileo Capital Management, LGBT Capital, has formed a strategic alliance with philanthropic hedge fund, Galeforce Capital, offering a world-first focus on Impact Investing in the LGBT sector. LGBT Capital and Galeforce Capital are confident that their collaboration will provide investors with a unique opportunity to maximize both financial and social returns in the LGBT sector.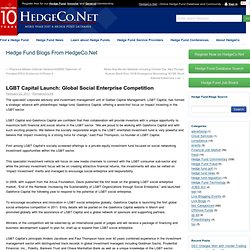 warriorswithouweapons.net
ThinkChange India
Avise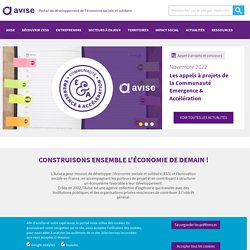 Les entreprises sociales partagent une même ambition : mettre leur projet entrepreneurial au service de l'Homme. Elles combinent ainsi leur projet économique avec une finalité sociale et/ou une gouvernance participative. Pour elles, la réalisation de bénéfices ne constitue pas une fin en soi mais un moyen au service de leur projet sociétal.
Net Impact
Welcome | MyCommitment.org
enp Homepage | Enterprising Non Profits
Mission
Info: Programs and Content
New Philanthropy Capital (NPC)