Foruns Blogs
Impact Entrepreneur: Let's End the Social Entrepreneurship Ponzi Scheme | Good Business International. By Hotfrog CEO Laurie Lane-Zucker I started my gig in the social entrepreneur space about five years ago after an experienced venture capitalist and board member of a couple social entrepreneur groups rather forcefully insisted to me in a meeting that the digital media project I was incubating in my small nonprofit organization would be far better served as a for-profit social enterprise.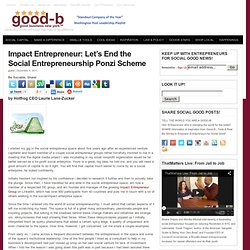 Yours is a great, big idea, he told me, and you will need a good amount of capital to do it right. You will find that capital much easier to come by as a social enterprise, he stated confidently. The Essential Guide to Successful Social Entrepreneurship | Jeffrey Hollender. Le Social Business.fr « Des idées qui changent le monde. By Social Entrepreneurs, For Social Entrepreneurs® Welcome to SkollWorldForum.org former Social Edge users!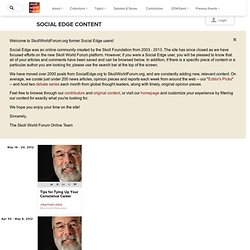 Social Edge was an online community created by the Skoll Foundation from 2003 - 2013. The site has since closed as we have focused efforts on the new Skoll World Forum platform. However, if you were a Social Edge user, you will be pleased to know that all of your articles and comments have been saved and can be browsed below. The School for Social Entrepreneurs. For the social entrepreneur and social enterprise aficionado, there are two main event seasons: the cluster around October / November (Good Deals, Social Business, Global Entrepreneurship Week etc), and the end of March extravaganza of the Skoll World Forum , its fringe Oxford Jam and (this year), Voice 11 .
A few reflections on the events of last week, then… Voice 11 came first, and marked something of a step-up in ambition for the sector, being held at the O2 and (I think) having delegates in four figures for the first time. It had a decent ministerial line-up (even if Cameron appeared only on video) to represent their policy reach, but more importantly the tiered pricing and programme created much more of a buzz of business than previous years.
---