Promodoro
The Pomodoro Technique is a productivity methodology that helps you to stay focused on a task by breaking up your day into 25-minute work stints (called "pomodoros") followed by five-minute breaks. It's named for the tomato-shaped kitchen timer that its inventor Francesco Cirillo used for timing pomodoros, but in reality, any countdown timer can be used.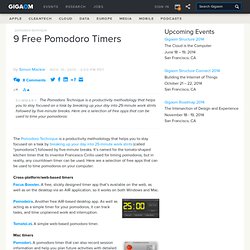 The Pomodoro Technique: A GTD Alternative?: Business Collaboration News «
Not a fan of Getting Things Done (GTD)? It might be hard to imagine for some, but it's not everyone's favorite productivity methodology. "The Pomodoro Technique" by Francesco Cirillo is another option might be a better fit for your needs.