GEO Maps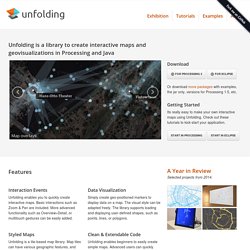 Interaction Events Unfolding enables you to quickly create interactive maps. Basic interactions such as Zoom & Pan are included. More advanced functionality such as Overview+Detail, or multitouch gestures can be easily added. Data Visualization Simply create geo-positioned markers to display data on a map.
Visualizza il percorso da compiere grazie a Tripgeo
Grazie ai servizi come e , offerti da Google, è possibile creare itinerari per raggiungere la meta desiderata ed orientarsi lungo percorsi ignoti. Grazie a , però, sarà possibile , per avere un'idea sempre più chiara di quali strade percorrere. Mettendo insieme il servizio di Google, con TripGeo, sarà possibile navigare itinerari cittadini in 3D, proprio come se fossimo a bordo della nostra auto.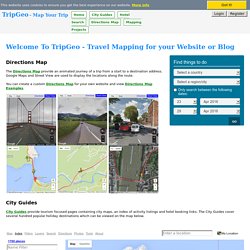 Trail Charts March 2012 Trail Charts is a mapping API which can be used on your website to display a large number of separate KML feeds (trails) on a map.
Home - TripGeo.com - Map Your Trip
CARTOVIEW - Home