Web Resources
Whitepapers | FutureNowInc.com. Over the years the staff at FutureNow and its partners have created guides to help you improve the return you receive from your marketing efforts.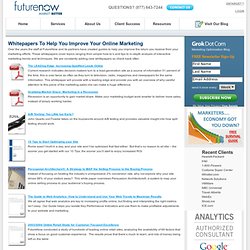 These whitepapers cover topics ranging from simple how-to's and tips to in-depth analysis of interactive marketing trends and techniques. We are constantly adding new whitepapers so check back often The LEADing Edge: Increasing Qualified Leads OnlineCurrent research indicates decision-makers turn to a lead-generation site as a source of information 51 percent of the time; this is over twice as often as they turn to television, radio, magazines and newspapers for the same information. Small Business CRM | CRM Software for Small Businesses. Test Your Site. Multi-Screen Resources Skip to content Make Your Website Work Across Multiple Devices.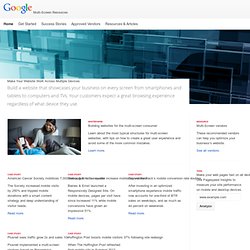 Webmaster Tools - Rich Snippets Testing Tool. We We Calculator – measure your copy for customer focus | FutureNowInc.com. As proud as you may be of your company and your product or service, most customers only care about how well you can help them meet their wants and needs.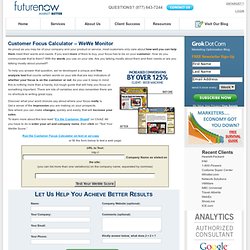 If you want more of them to buy, your focus has to be on your customer. How do you communicate that to them? With the words you use on your site. Are you talking mostly about them and their needs or are you talking mostly about yourself? To help you answer that question, we've developed a unique and free analysis tool that counts certain words on your site that are key indicators of whether your focus is on the customer or not. UserTesting.com - Low Cost Usability Testing. 10 minutes to testing 2007-01.qxp. Accurate Word counter, word count, character counter, character count, typing speed, WPM, letter count, change case. Tools I Use » Jackson Lo. I have compiled the best resources that I've come across while working as an SEO Consultant.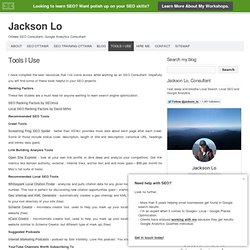 Hopefully you will find some of these tools helpful in your SEO projects. Ranking Factors These two studies are a must read for anyone wanting to learn search engine optimization. SEO Ranking Factors by SEOmozLocal SEO Ranking Factors by David Mihm.
Unbounce
Rapleaf.
---