Restaurants
-- Viaduc of Arts -- SEPTIME--Excellent Contemporary French Cooking, B+ - DINER'S JOURNAL - Hungry for Paris: The Ultimate Guide to the City's 102 Best Restaurants. Septime It's peony time in Paris, and we have a big vermillion bunch in the living room, and some ivory-colored ones in a smaller vase on the kitchen table.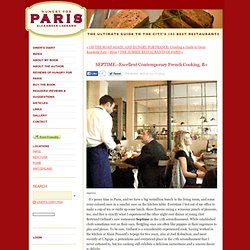 Everytime I trot out of my office to make a cup of tea or rustle up some lunch, these flowers swing a winsome punch of pleasure, too, and this is exactly what I experienced the other night over dinner at young chef Bertrand Grébaut's new restaurant Septime in the 11th arrondissement. While established chefs sometimes rest on their oars, fledgling ones are often like puppies in their eagerness to play and please.
To be sure, Grébaut is a considerably experienced cook, having worked in the kitchen at Alain Passard's Arpege for two years, also at Joel Robuchon, and most recently at L'Agape, a pretentious and overpriced place in the 17th arrondissment that I never cottoned to, but his cooking still exhibits a delicious earnestness and a sincere desire to delight. John Talbott's Paris: Le Cafe des Musees in the 3rd: The "Ideal" Bistrot? Pretty close. 6.5 Le Café des Musees, 49, rue de Turenne in the 3rd, 01.42.72.96.17, open everyday, is a place that I reviewed after it opened/changed chefs/management/whatever in September 2005 and said that the "best single dish of this binge of new restos [that month] – [was] a filet of duckling (good tender product, cooked to perfection) with an onion compote, fabulous white beans and veggies the Chino brothers would have been proud of.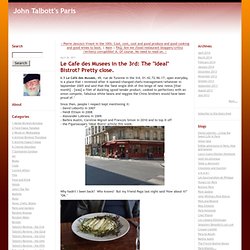 " Since then, people I respect kept mentioning it:- David Lebovitz in 2007- Heidi Ellison in 2008- Alexander Lobrano in 2009- Barbra Austin, Caroline Mignot and Francois Simon in 2010 and to top it off- the Figaroscope's "Ideal Bistro" article this week. Why hadn't I been back? Who knows? Restaurant L'Altas - La nouvelle cuisine marocaine. -> RESTAURANT L'EPI DU PIN PARIS 6 - OFFICIAL WEBSITE - RESTAURANT SAINT GERMAIN - RESTAURANT BON MARCHE.
John Talbott's Paris: Talbott's Reviews - the 05th. 6.5 Au Bon Coin, 21, rue de la Collegiale in the 5th, 01.43.31.55.57, (Metro: Gobelins), open 7/7 and August, has been under my radar screen for a long time.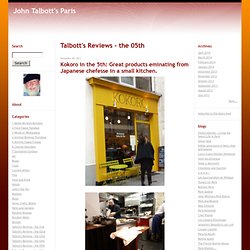 I don't know how long, it's not in my Gault-Millau of 1969 nor Patricia Wells 1984-1999, nor Authentic Bistros of Paris 2005 or even "my" Time Out Paris of 2007. No matter. AGAPE SUBSTANCE | restaurant gastronomique paris | SITE OFFICIEL | 0déon paris 6. La Compagnie de Bretagne - Crêperie gastronomique à Paris. Whitings Writings - Paris Bistros Index. Bistroy... les Papilles - Restaurant Paris. Alive and Evolving - the Paris Bistro. Paris Restaurant Review: L'Epigramme. 9, rue de l'Eperon 75006 Paris Phone: 01.44.41.00.09 Metro Station: Odéon (Lines 4 and 10) Type of cuisine: French.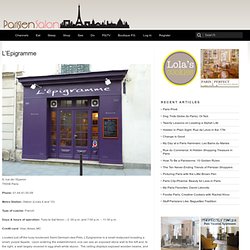 Restaurant traditionnel Paris 7eme près Ministères, organisation soirées et location salle. Bistro des gastronomes. La Bastide Odeon : Restaurant Paris 75006. La Petite Cour Restaurant dans le 6ème arrondissement de Paris. Accueil. Fondé en 1740, au Chien qui Fume est l'une de ces adresses qui - au delà des modes- symbolisent l'accueil et la convivialité des bons restaurants parisiens traditionnels.
La carte est enrichie chaque jour des découvertes du marché. Les vins y sont francs et joyeux et accompagnent avec bonheur huîtres, fruits de mer, plats en sauce et poissons. Salle climatisée pour mieux apprécier un cadre original.
---