Restaurants
-- Viaduc of Arts --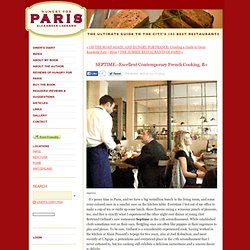 SEPTIME--Excellent Contemporary French Cooking, B+ - DINER'S JOURNAL - Hungry for Paris: The Ultimate Guide to the City's 102 Best Restaurants
Septime It's peony time in Paris, and we have a big vermillion bunch in the living room, and some ivory-colored ones in a smaller vase on the kitchen table. Everytime I trot out of my office to make a cup of tea or rustle up some lunch, these flowers swing a winsome punch of pleasure, too, and this is exactly what I experienced the other night over dinner at young chef Bertrand Grébaut's new restaurant Septime in the 11th arrondissement. While established chefs sometimes rest on their oars, fledgling ones are often like puppies in their eagerness to play and please. To be sure, Grébaut is a considerably experienced cook, having worked in the kitchen at Alain Passard's Arpege for two years, also at Joel Robuchon, and most recently at L'Agape, a pretentious and overpriced place in the 17th arrondissment that I never cottoned to, but his cooking still exhibits a delicious earnestness and a sincere desire to delight.
6.5 Le Café des Musees , 49, rue de Turenne in the 3rd, 01.42.72.96.17, open everyday, is a place that I reviewed after it opened/changed chefs/management/whatever in September 2005 and said that the "best single dish of this binge of new restos [that month] – [was] a filet of duckling (good tender product, cooked to perfection) with an onion compote, fabulous white beans and veggies the Chino brothers would have been proud of." Since then, people I respect kept mentioning it: - David Lebovitz in 2007 - Heidi Ellison in 2008 - Alexander Lobrano in 2009 - Barbra Austin, Caroline Mignot and Francois Simon in 2010 and to top it off - the Figaroscope's "Ideal Bistro" article this week. Why hadn't I been back? Who knows?
John Talbott's Paris: Le Cafe des Musees in the 3rd: The "Ideal" Bistrot? Pretty close.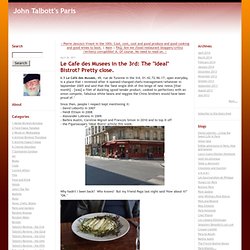 Restaurant L'Altas - La nouvelle cuisine marocaine
-> RESTAURANT L'EPI DU PIN PARIS 6 - OFFICIAL WEBSITE - RESTAURANT SAINT GERMAIN - RESTAURANT BON MARCHE
5.8 Christophe , 8, rue Descartes in the 5th, 01.43.26.72.49, closed Wednesdays and Thursdays is a place I deemed a 4.5 on November 19, 2008 and dinged them for "the crummy décor, a moelleux of chocolate (here described as mi-cuit, which just didn't beat the "can one do it better than at home" test) and service that ground to a halt after the dessert was served (an old, familiar problem.)" I republished this review a while back, and got a very nice comment from philippe whose email revealed the fact that it was really from Christophe Philippe, the chef, who said "vous devriez revenir" to which I replied "Ah Christophe, then I wouldn't be anonymous anymore, would I? At least to you.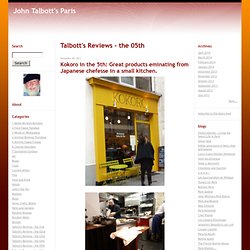 John Talbott's Paris: Talbott's Reviews - the 05th
AGAPE SUBSTANCE | restaurant gastronomique paris | SITE OFFICIEL | 0déon paris 6
La Compagnie de Bretagne - Crêperie gastronomique à Paris
Whitings Writings - Paris Bistros Index
Bistroy... les Papilles - Restaurant Paris
Alive and Evolving - the Paris Bistro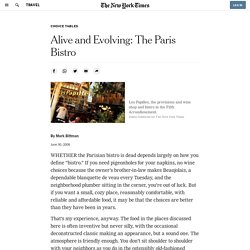 That's my experience, anyway. The food in the places discussed here is often inventive but never silly, with the occasional deconstructed classic making an appearance, but a sound one. The atmosphere is friendly enough. You don't sit shoulder to shoulder with your neighbors as you do in the ostensibly old-fashioned bistros (no one really likes that, do they?)
9, rue de l'Eperon 75006 Paris Phone: 01.44.41.00.09 Metro Station: Odéon (Lines 4 and 10) Type of cuisine: French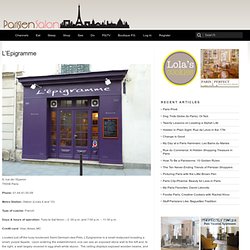 Paris Restaurant Review: L'Epigramme
Restaurant traditionnel Paris 7eme près Ministères, organisation soirées et location salle
Bistro des gastronomes
C'est sans conteste pour moi l'une des meilleures surprises de ces dernières semaines. Le bonheur de l'inattendu. Un nom qui fleure bon sa sous-préfecture années 60 (un Bistro des gastronomes qui en ferait une cible de choix pour les inspecteurs du Guide Duchemin version « L'Aile ou la cuisse »), un cadre agréable mais à contretemps (on s'y verrait bien en octobre ou novembre à la recherche d'un refuge cotonneux), il en fallait de l'inconscience pour pousser cette porte. Ou tout simplement suffisait-il d'un rendez-vous à déjeuner avec un ami très bien informé. La surprise, en l'occurrence, c'est le chef : Cédric Lefèvre, passé entre les mains de Christian Constant et ancien chef du Bistro Volnay , une table dont j'avais déjà vanté les mérites ici-même . On le retrouve ici, sur la Rive Gauche, au meilleur de sa forme.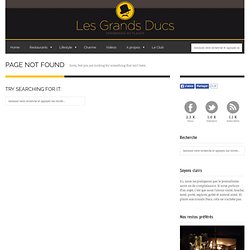 LE BISTRO DES GASTRONOMES--Excellent Contemporary French Cooking, B+ - DINER'S JOURNAL - Hungry for Paris: The Ultimate Guide to the City's 102 Best Restaurants
In any city other than Paris, a restaurant of the quality of Le Bistro des Gastronomes would have set off a real feeding frenzy, but because the French capital is so lavishly well endowed with excellent neighborhood restaurants, its January 2011 opening has gone largely unremarked. On the basis of an excellent dinner here the other night, however, I suspect this very fine table will be eventually benefit from the word-of-mouth momentum that landed Bruno and I here (an architect friend of Bruno's who lives in this Latin Quarter neighborhood raved about the place). To be sure, our first impressions weren't that promising because the dining room itself is a somewhat plain and slightly over-lit space with a non-descript white tile floor and a lot of caramel colored wood paneling.
La Bastide Odeon : Restaurant Paris 75006
La Petite Cour Restaurant dans le 6ème arrondissement de Paris
Accueil
Fondé en 1740, au Chien qui Fume est l'une de ces adresses qui - au delà des modes- symbolisent l'accueil et la convivialité des bons restaurants parisiens traditionnels. La carte est enrichie chaque jour des découvertes du marché. Les vins y sont francs et joyeux et accompagnent avec bonheur huîtres, fruits de mer, plats en sauce et poissons. Salle climatisée pour mieux apprécier un cadre original.