PureDriven Useful Links
Search. Stats. Search and Marketing Groups. Professional Tools. Minnesota Online Marketing Companies. ReferencePD. Alltop, all the top stories. Patrickgarmoe.com. Ecommerce. Graphs Infographics. Roi. Top 100 Architecture Blogs | International Listings Blog. Posted in Features on October 17, 2007 If Modernism was the twentieth-century architectural trend that developed a new way of thinking, then Urbanism appears to be the twenty-first century architectural mindset.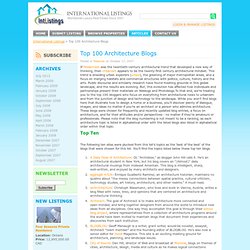 This trend is breeding urban explorers (urbex), the greening of major metropolitan areas, and a focus on merging habitats and commercial structures with politics, culture, history and the arts.
---
clarinette02 Jan 23 2013

Something you might be interesting to join. We are starting a satellite group around the online copyright course by Harvard University
---