Garmoe
Garmoe
Digital Media Strategist for Pure Driven. Avid blogger and student of search engine marketing and search engine optimization. Nice to meet you!
Mapping & Cartography. Realtime & crowdsourced maps.
IRCE2012
Teaching Sells. Atheism. Christianity. Internet Marketing Training Courses & Certification Market Motive. Blogging Resources. Mapping & Cartography. News. PureDriven Useful Links. Getting started. HUMAN TAFFICKING AND SLAVERY. Sex Slaves | FRONTLINE. Hidden cameras trail "Olga" as she takes the women from the port of Odessa to Istanbul and then to a parking lot in the Aksaray district where the women are sold.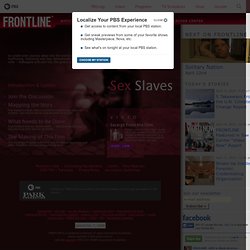 An undercover journey deep into the world of sex trafficking, following one man determined to rescue his wife -- kidnapped and sold into the global sex trade. Five women's ordeal, what a convicted trafficker says about the business - and why he sold an acquaintance for $1,000 Experts detail how sex slavery works ... why it's so hard to stop ... why there's so little help for its victims The challenges in going undercover and the ethical issues that arise when filmmakers become involved in the story.
---
garmoe Nov 5 2011

Seems like the issue went away now that either an update came through, or iOS 5 fixed it.

amsika Nov 3 2011

Are you using iPad 1 or 2 ? and iOS 4 or 5 ?

garmoe Nov 3 2011

Actually when I open the app and click to respond to your messages, it freezes. I'm writing this on my PC, because I got sick of it crashing every time I attempted to answer you.

amsika Oct 17 2011

that's weird. Can you describe me on which moment this happens please ?

garmoe Oct 16 2011

I like the idea of it, but the app keeps freezing.
---