Inventaires
Egypt. Akhmin: Alexandria: Al-Arish (Sinai): Asyut: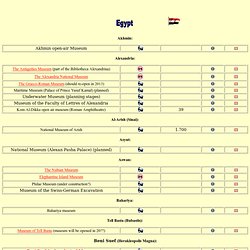 Ancient Egypt Web Site. List of museums of Egyptian antiquities. Ancient Egypt Web Site. Viajes Egipto. Desheret guide. The purpose of this project is to display and catalogue all museums world wide containing egyptological collections or objects concerning or relating to Egypt's Archaeological and Philological history.
Besides the museums, private collections, public institute collections (e.g. universities... etc.) or any other category are implemented as well. © 2000-2006 Bugbog.
---