Music machine
<<<< InfernaleMachineResearchCenter >>>> IMRC c'est l'extension logique d'un tel lieu. L'idée c'est de développer notre propre équipement avec des composants de récupération en provenance, la plupart du temps, de matériel de récupération issu de la RTF / ORTF. Focus sur les appareils suivant : IMRC U47 // Microphone à tube autour des composants : capsule M7, transformateur BV8 et tube EF14 Melodium 42B // Microphone à ruban Français des années 40 Socapex Isophase // Microphone à ruban Français extrêmement rare ayant une conception unique
- IMRC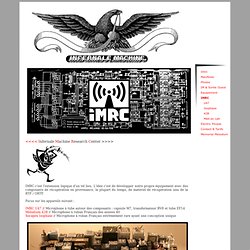 productions
Sound & Video | Octatrack | Elektron
Custom Electronic Instruments | Folktek
Ampeg V4.com | All Ampeg All The Time-Mozilla Firefox
a n a l o g u e h a v e n
OPEN LABS SOUND SLATE 1990 euros TTC Nouveau rack 1U au design soigné par Open Labs, le Sound Slate est un lecteur d'instruments et une station de travail audionumerique de derniere generation ! SoundSlate ™ redéfinit la production musicale et le jeu scènique en intégrant l'environnement Open Labs, y compris le celebre hôte pour instruments virtuels Riff ™, plus de 8000 sons et effets, une interface d'entrées / sorties de haute qualité, et au coeur du système, un puissant ordinateur exécutant Windows XP, le tout dans un rack 1U ultra-compact.
nouvelle station audionumerique Openlabs Sound Slate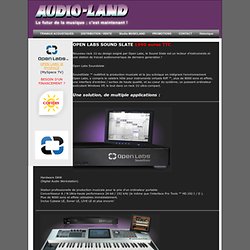 Vidéo de qualité pour le Rodec Restyler de Sherman | The meloon
Sound Skulptor - DIY Microphone Preamplifiers, Class A Mic Pre, Vintage Transformer Preamp, Professional Audio Kits
In the results of the Music to make you happy survey in February, the things that impressed me most were the answers to the question "What's the best piece of advice about making music that you've ever heard?"
Music Thing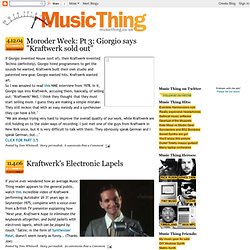 http://www.modularsquare.com/fr/index.php
* Casper Electronics
Nerd Camp - Version 1.0 self source part info