Music machine
<<<< InfernaleMachineResearchCenter >>>> IMRC c'est l'extension logique d'un tel lieu. L'idée c'est de développer notre propre équipement avec des composants de récupération en provenance, la plupart du temps, de matériel de récupération issu de la RTF / ORTF. Focus sur les appareils suivant : IMRC U47 // Microphone à tube autour des composants : capsule M7, transformateur BV8 et tube EF14 Melodium 42B // Microphone à ruban Français des années 40 Socapex Isophase // Microphone à ruban Français extrêmement rare ayant une conception unique
- IMRC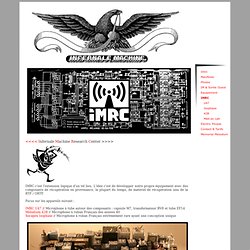 productions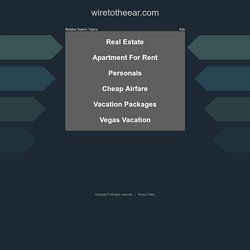 It's really important to go out and hear live music. Last night I went to Silent Barn in Brooklyn to see die Reihe, Roe Enney, Debbie DJs Dallas and Trogpite. I'm personal friends with Jack (die Reihe) and Rachelle Rahme (Roe Enney) yet I never saw either of them perform.
We've written before about the challenges of collecting vinyl - I've joked that those around us probably regard our hobby as a "lifestyle choice". There are the slings and arrows each of us face in trying to put together our ultimate music collection, but the problem that we all face is where to stow all of those damned records. They're large (okay... not along the Z axis), they're heavy, and you need to store them in a way that you can still read the spines. Let's assume that you're beyond the ol' cinder bricks and glass blocks stage of storage solutions. You can of course build something perfect from scratch (provided that your significant other lets you touch power tools), but lots of us crave an out-of-the-box solution.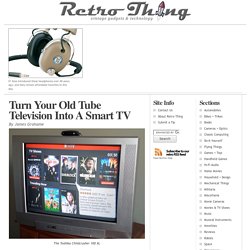 Sound & Video | Octatrack | Elektron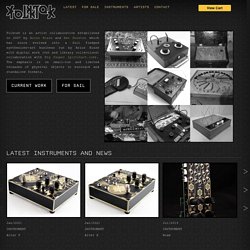 Custom Electronic Instruments | Folktek
Folktek is an artist collaborative formed by Arius Blaze and Ben Houston and coming to include the video and digital works of Drew Mcyntire (Big Pauper, Token Recluse Records). Folktek is folks, specifically artists working with a passion for sound as the basis for the work presented here. Current Work For Sail
Help keep AmpegV4.com alive! Welcome to the new and improved ampegV4.com (formerly b0ne's ampeg v4 pages)! This site is dedicated to the late 70's Ampeg V4's which, as you've probably discovered on yr own, are a completely different animal from the early 70's models and, of course, the 80's on. I've collected a wealth of information from various sources including the web, newsgroups and from experts in the amp repair field.
Ampeg V4.com | All Ampeg All The Time-Mozilla Firefox
a n a l o g u e h a v e n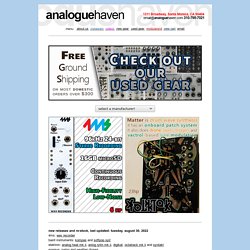 friday, march 28, 2014 make noise teleplexer now in-stock, along with echophon, pressure points and power bus kit. 4ms qcd expander also in-stock! tiptop happy ending kits in black and μzeus have come in, as well as a new batch of verbos complex oscillators. more used eurorack gear uploaded. check it out here!
OPEN LABS SOUND SLATE 1990 euros TTC Nouveau rack 1U au design soigné par Open Labs, le Sound Slate est un lecteur d'instruments et une station de travail audionumerique de derniere generation ! SoundSlate ™ redéfinit la production musicale et le jeu scènique en intégrant l'environnement Open Labs, y compris le celebre hôte pour instruments virtuels Riff ™, plus de 8000 sons et effets, une interface d'entrées / sorties de haute qualité, et au coeur du système, un puissant ordinateur exécutant Windows XP, le tout dans un rack 1U ultra-compact.
nouvelle station audionumerique Openlabs Sound Slate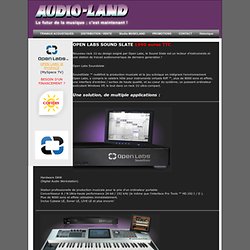 Vidéo de qualité pour le Rodec Restyler de Sherman | The meloon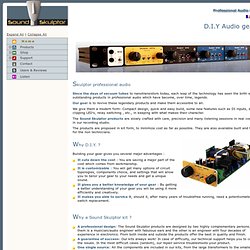 Sound Skulptor - DIY Microphone Preamplifiers, Class A Mic Pre, Vintage Transformer Preamp, Professional Audio Kits
Skulptor professional audio Since the days of vacuum tubes to nanotransistors today, each leap of the technology has seen the birth of a few outstanding products in professional audio which have become, over time, legends. Our goal is to revive these legendary products and make them accessible to all. We give them a modern form: Compact design, quick and easy build, some new features such as DI inputs, signal clipping LED's, relay switching , etc., in keeping with what makes their character. The Sound Skulptor products are slowly crafted with care, precision and many listening sessions in real conditions in our recording studio. The products are proposed in kit form, to minimize cost as far as possible.
In the results of the Music to make you happy survey in February, the things that impressed me most were the answers to the question "What's the best piece of advice about making music that you've ever heard?" Within the 1,100+ responses are hundreds of great tips - some old, some new, some obvious, some arcane. Like these, for starters...Like Kraftwerk, have a non-music day every week or so (Anonymous computer musician)If things go wrong, just maintain that you were playing jazz (Max/MSP enthusiast)Play less (Guitarist, and lots of other people)When learning to play a piece of music, play it first so slowly that you don't get a single note wrong. Then slowly increase the speed.
Music Thing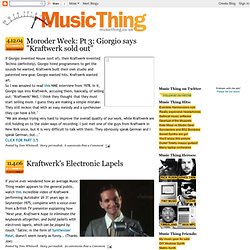 http://www.modularsquare.com/fr/index.php
* Casper Electronics
Performing with Nonhorse, LoudObjects and Greg Fox My pals from New York (see below) will be in Holland next week and we're playing a bunch of shows. Come out and say hi!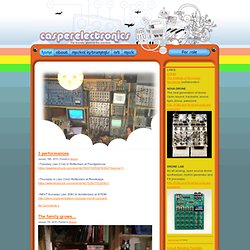 Nerd Camp - Version 1.0 self source part info