Sites
3D, Maya, Blender and more tutorials from beginner to advanced | Cgtuts+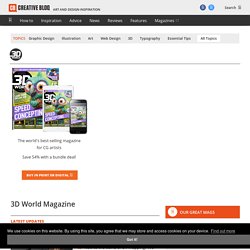 3D World is the best-selling international magazine for CG artists, covering the fields of animation, VFX, games, illustration and architecture. Our team of CG artists and professionals provide analysis of latest trends in the market, artistic and technical advice, impartial product reviews, and exclusive behind-the-scenes articles on the making of key projects in this fast-paced industry. 3D World's unique Advisory Board, which includes ILM's Tim Alexander, Pixar's Andrew Gordon and Ubisoft's Pascal Blanche are on hand every issue to help with CG advice and career support. With over 10 years at the forefront of the CG industry, reporting on the latest movie VFX, with enviable studio access and in-depth video and step-by-step training, 3D World offers unrivalled inspiration and training every issue.
3D World - The Magazine for 3D Artists
Download PDF Normal Map Workflow Page 2 After you have matched your low poly to the high poly, it's time to layout UV's. When making UV layouts for use with normal maps, there are a couple things to be mindful of.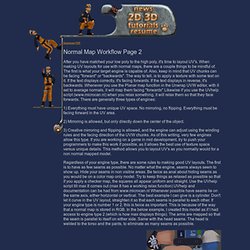 Ben Mathis
Chaos Vue 7 by Daniel Respaud
Hello! In this tutorial I'm going to show you my process on how I created my latest render, "Lost Trinity" using:3dsmax8 with Brazil R/SZbrush2 with ZmapperRichard Rosenman's Depth of Field Generator ProPhotoshop3D Total Textures The very first step I took was finding a ton of reference and imagery to be used as inspiration during the entire creation process. From the beginning I knew I wanted to tackle a cave... then I thought of something that would be cool to stumble across while exploring a cave... a 40's-era atomic bomb. Click to Enlarge The next important step was finding the right composition and mood. Laying this out now saves tons of time later by focusing on what's going to be seen by the camera. A sketch can do, but for this piece I used a simple 3D scene.
Making Of 'Lost Trinity' by Brian Recktenwald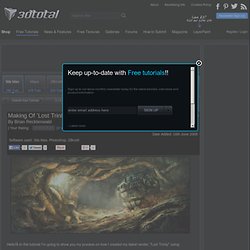 Environment sculpting is the process of creating a high-resolution 3D model with a series of painting strokes, using 3D sculpting software. Usually the details from these models are baked into a NormalMap for a lower-resolution in-game model. Sculpting Tiled Maps Sculpting techniques for creating tilable normal maps and displacement maps. Tiled Bricks and Stones
EnvironmentSculpting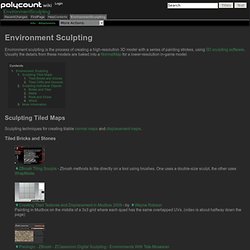 Daylight system > Modify panel > Daylight Parameters rollout > Sunlight/Skylight drop-down lists > mr Sun/mr Sky The mental ray Sun & Sky solution is designed to enable physically plausible daylight simulations and accurate renderings of daylight scenarios. In 3ds Max, this is achieved through the use of two special photometric lights and an environment shader that all work together: While you can use these separately, their intended functionality is unleashed only when used together. mr Sun and mr Sky are meant primarily for use within the 3ds Max Daylight system.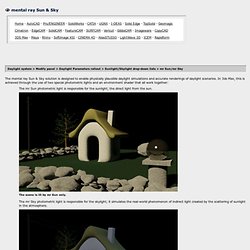 mental ray Sun & Sky
Let's start. start a new file in MAX or VIZ, 1) Create a plane for your ground surface. (CREATE>GEOMETRY/PLANE) 2) Create a big sphere, apply a NORMAL modifier to the sphere (MODIFIER>NORMAL) and select invert. (this is to make sure the sphere is viewable from inside) This big sphere is going to be used as the Blue sky background.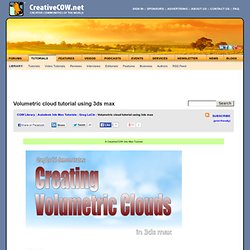 Volumetric cloud tutorial using 3ds max : Autodesk 3ds Max Tutorial
Maya 3D Modeling Tutorials for Level Design and Game Environments
Tanat
FUCK YEAH CONCEPT ART
3DTotal.com - CG artists homepage with fresh CG industry news //
3ds Max Tutorial | Scene Setup | CADTutor
by Ian Ibbotson Introduction Before attempting to create a scene it is important to understand global settings pertaining to any scene that will make modelling more efficient together with settings that pertain to individual scenes and stages in scene development. This tutorial explains Viewport Configuration options, Scene Settings and basic MAX / VIZ Configuration. Download Sample Data kf102_files.zip (1mb)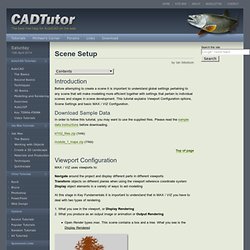 Sascha Henrichs's videos on Vimeo
Ben Cloward - Character Animator
Max Cookie - 3DS Max Tutorials and Training