Learning In General
9 Tactics for Rapid Learning (That Most People Have Never Heard Of) Whenever the subject of why some people learn faster comes up, I get a whole host of common answers: Some people are just naturally smart.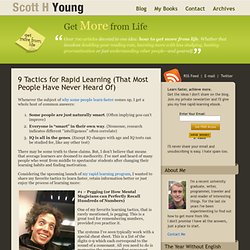 (Often implying you can't improve)Everyone is "smart" in their own way. Develop Perfect Memory With the Memory Palace Technique. The Memory Palace is one of the most powerful memory techniques I know.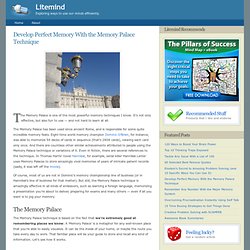 It's not only effective, but also fun to use — and not hard to learn at all. The Memory Palace has been used since ancient Rome, and is responsible for some quite incredible memory feats. Eight-time world memory champion Dominic O'Brien, for instance, was able to memorize 54 decks of cards in sequence (that's 2808 cards), viewing each card only once. Put Yourself in Any Mental State With a Mental Sanctuary. W e've already seen how to develop perfect memory by building palaces in our minds .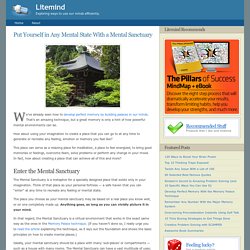 That's an amazing technique, but a great memory is only a hint of how powerful mental environments can be. How about using your imagination to create a place that you can go to at any time to generate or recreate any feeling, emotion or memory you feel like?
---