Coding
Get flash to fully experience Pearltrees
CSS3 can improve your website to be more attractive, user friendly, and stylish, its Importance increase rapidly these days as it has many features and functions you will need in your website. CSS3 is essential for web designers and developers to learn all its exciting features, there are already been few posts on this crucial topic but still we need to put some extra efforts, So here is a collection of 40+ CSS3 tutorials and techniques which can be useful for your website.
Using HTML entities is the right way to ensure all the characters on your page are validated .
Changelog Transition to session-oriented model. Saved data is placed in local storage ( window.globalStorage or cookies) Ability to turn on asking for newly created node names.
background: #1e5799; /* Old browsers */ background: -moz-linear-gradient(top, #1e5799 0%, #2989d8 50%, #207cca 51%, #7db9e8 100%); /* FF3.6+ */ background: -webkit-gradient(linear, left top, left bottom, color-stop(0%,#1e5799), color-stop(50%,#2989d8), color-stop(51%,#207cca), color-stop(100%,#7db9e8)); /* Chrome,Safari4+ */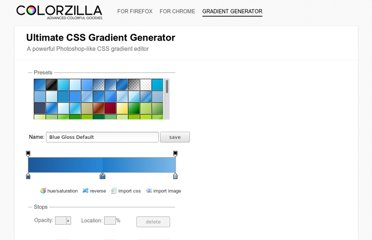 One can discuss whether web-generators are useful or not. On the one hand, they don't challenge our creativity, but on the other hand they make our life easier and save our precious time. However, it doesn't matter really. What matters is that we use them if we have to solve some problem quickly and efficiently.
CSS Layout Generator