Visualisation Techniques
Amazon EC2 is among the more potent items in Amazon's web services arsenal.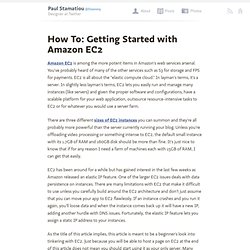 How To: Getting Started with Amazon EC2
Home - Information Mapping
Visual Thinking Art
Knowledge Sharing 2.0
Online Educa Berlin (OEB) 2010 - a set on Flickr
"Every child is an artist. The problem is how to remain an artist once we grow up. " - Pablo Picasso Visual practices can enrich our work. This page is a loosely organized overview of visual practices in two related contexts, graphic recording and graphic facilitation. If you are interested in more about the use of visual practices in facilitation, I'm building a related page here: Visual Facilitation Practices What is Graphic Recording? Graphic recording at its core is visually capturing what is happening in a group or presentation.
onlinefacilitation - Visual Work and Thinking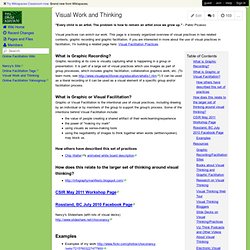 The Strategy Landscape Tool Helps Solve Wicked Problems
Source: Monitor Institute Monitor Institute and the Center for Effective Philanthropy (CEP) have launched a joint venture to bring a new data visualization tool, " The Strategy Landscape Tool " to the field of philanthropy. Created with support from the Rockfeller Foundation, the tool allows users to easily see and understand grantmaking strategies and patterns within and across institutions so they can make better decisions in pursuit of their goals. This tool is important because it facilitates funders working in a networked way . Here's why: Philanthropy today is called upon to address increasingly complex and interrelated challenges that don't adhere to traditional geographic, disciplinary, and sectoral boundaries—poverty, health care, climate change, and education to name a few.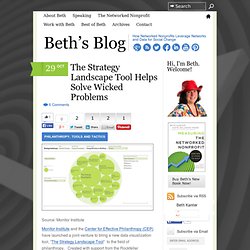 Concept maps in medical education: an analytical li... [Med Educ. 2010
Graphic Guide Introduction
David Sibbet Home / Tags / David Sibbet David Sibbet is one of the leading minds in the visual thinking & facilitation industry, and when David has a new book or product, it's worth stopping to take notice. His organization, The Grove, is not only a great consultancy … Frequent VizThink contributor, and founder of The Grove International Consultants, David Sibbet recently spoke at TEDxSOMA. In his 10-minute talk entitled "Visual Meetings: A Revolution in Group Productivity" he quickly outlines some of his thoughts and insights gleaned from his …
David Sibbet
Email Privacy Policy We have created this privacy policy to demonstrate our firm commitment to your privacy and the protection of your information. Why did you receive a mailing from us? Our email marketing is permission based. If you received a mailing from us, our records indicate that (a) you have expressly shared this address for the purpose of receiving information in the future ("opt-in"), or (b) you have registered or purchased or otherwise have an existing relationship with us.
The Grove Consultants International » Grove Facilitates U.S CIO Meeting Silicon Valley