כלים
EDU - 21st century multimedia tool for educators ...
Web 2.0 for Schools
רשימת הכלים המומלצים של שיר בוים שוורץ
Nota - What's Nota?
מדריך למשתמש- glogster
יורם אורעד - סקירה על ווב2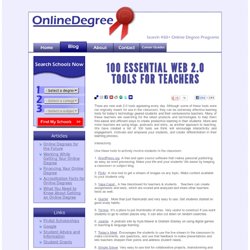 There are new web 2.0 tools appearing every day. Although some of these tools were not originally meant for use in the classroom, they can be extremely effective learning tools for today's technology geared students and their venturesome teachers. Many of these teachers are searching for the latest products and technologies to help them find easier and efficient ways to create productive learning in their students. More and more teachers are using blogs, podcasts and wikis, as another approach to teaching. We have created a list of 100 tools we think will encourage interactivity and engagement, motivate and empower your students, and create differentiation in their learning process.
סרטון הנחייה ל- WORDLE
כלים של אינטל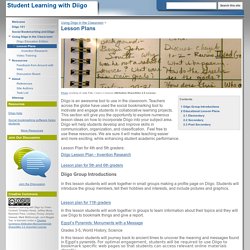 Diigo is an awesome tool to use in the classroom. Teachers across the globe have used the social bookmarking tool to motivate and engage students in collaborative learning projects. This section will give you the opportunity to explore numerous lesson ideas on how to incorporate Diigo into your subject area. Diigo will help students develop and improve skills in communication, organization, and classification.
Lesson Plans - Student Learning with Diigo
מיפוי של כלי ווב 2 MINDOMO
Effective Web 2.0 Tools for the Classroom
פריזמה של כלים מקוונים
< / > Click here to embed this graphic on your website In conjunction with social media strategist Brian Solis, JESS3 created the Conversation Prism to help map out the social landscape by category and platform. Since launching in 2008, the Conversation Prism has been featured in hundreds of on and offline media outlets, including Communications Arts and a variety of social media presentations and textbooks. Further, it has become an international symbol of organizing the massive social media landscape into categories and nation-specific platforms, with translations and versions pouring in from all over the world — Poland to China, France to Russia. JESS3 and Brian Solis are in the process of designing a "v3.0" as of August 2010. Show More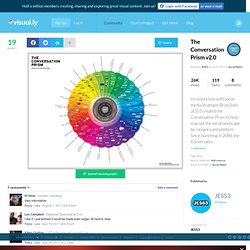 כלים לפי מקצועות
See Century Skills Framework in English Purdue's Writing Lab* Secondary English Club* Secondary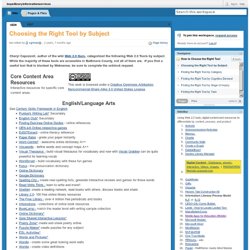 מיפוי כלים של ווב2
Glogpedia - the best of Glogs | Glogster
Best of the EdTech Web ר
מקשי קיצורי דרך מאת: הילה אחת פורסם: 22/05/2003 עדכון אחרון: 23/05/2005 קיצורי מקשים בשילוב המקש המיוחד לחלונות. הפעלת הסייר Win+E הפעלת חיפוש קבצים או תיקיות Win+F הפעלת חיפוש מחשב Ctrl+Win+F מיזעור כל החלונות Win+M ביטול פעולת מיזעור כל החלונות Shift+Win+M כניסה לתפריט הפעלה Win+R מעבר סדרתי בין תוכנות פתוחות Win+Tab הצגת מנהל התקנים Win+Break הצגת שולחן העבודה Win+D כללי תפריט עזרה F1 מעבר לתפריט F10 בחלון דוס - מעבר בן מסך שלם לחלון Alt+Enter סגירת היישום הפעיל Alt+F4 מיזעור כל החלונות Alt+M כששורת המשימות פעילה העתקת החלון הפעיל ללוח Alt+Print Screen תפריט בקרה משמאל למעלה של החלון +Altרווח מעבר סדרתי בן תוכנות פעילות Alt+Tab כל Ctrl+A בחירת אתחול או סגירת יישום פעיל Ctrl+Alt+Delete מעבר לסוף היישום Ctrl+End פתיחת תפריט התחל Ctrl+Esc מעבר לתחילת היישום Ctrl+Home מעבר ליישום הבא בתיבת הדו שיח Ctrl+Tab ביטול מצב טעינה אוטומטי מקש Shift בעת הכנסת CD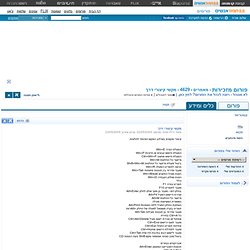 קיצורי מקשים