גוגל
‫סרטון הדרכה לעבודה בגוגל סייטס‬‎
Resources - Mister Sill
Google Docs Viewer (by Google)
Fusion Tables Announce group Find out what's new! Join the Fusion Tables Announce group . Improved table attribution layout The new year delivered a bunch of new features: Copy tables, export styles with KML and easy code for FusionTablesLayer. A limited version of Fusion Tables is now available to Google Apps for your Domain customers. Add a column, add a formula column, and delete a column now available in the new look.
What's new in Fusion Tables? - Google Fusion Tables Help
תבניות של Google Docs למתן ציון לטופס
Google Custom Search - Site search and more
Features · Inside Google Search
תכני הקורס - האקדמיה למורים של Google
סרטון מצגת שיתופית בגוגל דוקס
Using forms in Google docs lets anyone create forms quickly and share those forms via email, embed them into a webpage or blog. If you are a teacher, you can create formulas that allow you to have these forms graded in minutes. The formula part is a bit challenging, so I wrote this article to talk about how I recently created a final for one of my classes.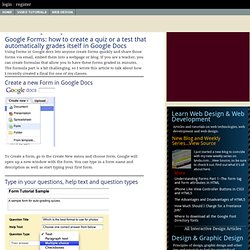 יצירת שאלון בגוגל דוקס