Career Help
To determine which employers are best for entry-level workers, BusinessWeek uses a three-part methodology. First, we surveyed career services directors at U.S. colleges to learn which employers were tops on their lists. We asked those employers to complete a survey on their hiring, pay, benefits, and training programs, which we then compared with others in the same industry. Finally, we obtained from Universum USA, a Philadelphia research company, the results of its 2009 survey of more than 60,000 U.S. undergraduates, who were asked to identify their five most desirable employers. The employer survey counts for 50% of the final ranking, while the career services and student surveys count for 25% each.
Best Places to Launch a Career 2009
50 Resources For College Graduates - Life After College
Graduation and life after college is not that far off so I thought I would collect a list of resources for soon to be college graduates. Heading off into the "real world" can be challenging for college graduates. Be sure to take advantage of the resources offered by UNC Charlotte. Even if you are not graduating now, it is a good idea to start thinking about it. Good planning now can save you headaches when you do graduate.
Welcome to Idealist.org - Imagine. Connect. Act.
Making the Difference
Best Places to Work > Rankings - Partnership for Public Service
Making the Difference
<object width="362" height="292"><param name="movie" value="http://www.youtube.com/v/8P3e6Q8L6-o&hl=en&fs=1&rel=0" /><param name="allowFullScreen" value="true" /><param name="allowscriptaccess" value="always" /><embed src="http://www.youtube.com/v/8P3e6Q8L6-o&hl=en&fs=1&rel=0" type="application/x-shockwave-flash" allowscriptaccess="always" allowfullscreen="true" width="362" height="292"></embed></object> ABOUT US Call to Serve , a joint initiative between the Partnership for Public Service and the U.S. Office of Personnel Management (OPM), is dedicated to helping you learn more about careers in the federal government. To date, more than 760 campuses and 75 federal agencies have joined together to form the Call to Serve network. Contact Us »
Strengths Dashboard
3 Ways to Make High School Matter By jamesr.stoneiii We are proud to share this blog from Dr. James Stone, Director of the NRCCTE at the University of Louisville, written exclusively for Career Cruising with you! In this blog, Dr.Stone writes to our readers about the research proving that high school in the United States is becoming increasingly narrow in focus and has been reduced simply to a stopping point on the way to the next level of education. Read the full blog to see the challenges we face in preparing youth for the job market and what his 3 suggestions are to make high school more relevant for youth today.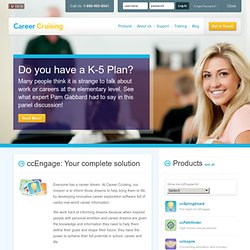 Career Cruising : Portfolio
Optimal Resume at ILLINOIS STATE UNIVERSITY
Edit My Profile
Leadership Connection - Leadership coaching, training and development. Based in Washington, DC.
Democratic GAIN