Career Help
50 Resources For College Graduates - Life After College. Graduation and life after college is not that far off so I thought I would collect a list of resources for soon to be college graduates.
Heading off into the "real world" can be challenging for college graduates. Be sure to take advantage of the resources offered by UNC Charlotte. Even if you are not graduating now, it is a good idea to start thinking about it. Good planning now can save you headaches when you do graduate. Welcome to Idealist.org - Imagine. Connect. Act. Need help finding a job?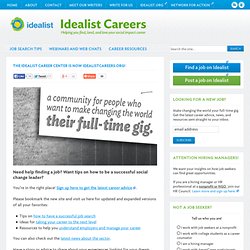 Want tips on how to be a successful social change leader? You're in the right place! Sign up here to get the latest career advice. Making the Difference. Best Places to Work > Rankings - Partnership for Public Service. About CentOS: The Community ENTerprise Operating System (CentOS) is an Enterprise-class Linux Distribution derived from sources freely provided to the public by a prominent North American Enterprise Linux vendor.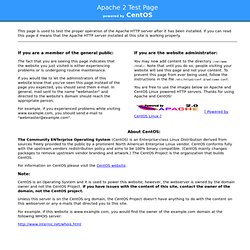 CentOS conforms fully with the upstream vendors redistribution policy and aims to be 100% binary compatible. (CentOS mainly changes packages to remove upstream vendor branding and artwork.)
O*NET OnLine. Idealist.org - Welcome to Idealist.org - Imagine. Connect. Act. Making the Difference. ABOUT US Call to Serve , a joint initiative between the Partnership for Public Service and the U.S.
Office of Personnel Management (OPM), is dedicated to helping you learn more about careers in the federal government. To date, more than 760 campuses and 75 federal agencies have joined together to form the Call to Serve network. Contact Us » Meet the 2010-2011 class of Student Ambassadors! Strengths Dashboard. Career Cruising : Portfolio. Everyone has a career dream.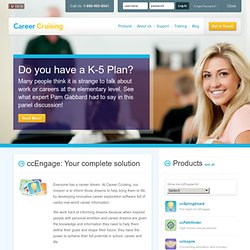 At Career Cruising, our mission is to inform those dreams to help bring them to life, by developing innovative career exploration software full of useful real-world career information. We work hard at informing dreams because when inspired people with personal ambition and career dreams are given the knowledge and information they need to help them define their goals and shape their future, they have the power to achieve their full potential in school, career and life.Imagine a young girl who dreams of becoming an astronaut.
If she learns that she'll need a degree in science, engineering or math to make her dream come true, then she's on her way. With the right information delivered at the right time, in a way that's engaging and inspirational, she has a real chance to fulfill her potential. ccEngage integrates all of our innovative Career Cruising products together into one affordable solution. Optimal Resume at ILLINOIS STATE UNIVERSITY. Edit My Profile. Leadership Connection - Leadership coaching, training and development. Based in Washington, DC. Democratic GAIN.
---