PRO
How To Choose Your Startup Idea. Editor's note: This is a guest post by Greg McAdoo, Airbnb board member, partner at Sequoia Capital, and Sequoia's lead on their partnership with Y Combinator.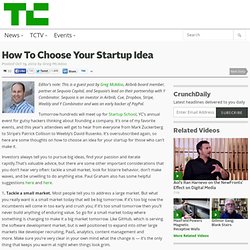 Sequoia is an investor in Airbnb, Cue, Dropbox, Stripe, Weebly and Y Combinator and was an early backer of PayPal. Tomorrow hundreds will meet up for Startup School, YC's annual event for gutsy hackers thinking about founding a company. It's one of my favorite events, and this year's attendees will get to hear from everyone from Mark Zuckerberg to Stripe's Patrick Collison to Weebly's David Rusenko. Start-ups et trésorerie : 10 conseils. Le but n'est pas de vous expliquer ici comment construire un plan de trésorerie sous Excel ou encore vous proposer un modèle en téléchargement, car les sites de l'APCE et d'OSEO le font déjà très bien.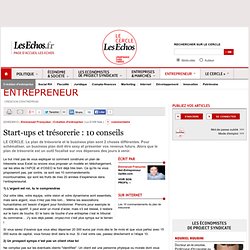 Ce qu'ils ne vous proposeront pas, par contre, ce sont ces 10 commandements incontournables, qui sont les fruits de mes 20 années d'expérience dans l'entrepreneuriat. 1) L'argent est roi, tu le comprendras Oui votre idée, votre équipe, votre vision et votre dynamisme sont essentiels, mais sans argent, vous n'irez pas très loin… Même les associations humanitaires ont besoin d'argent pour fonctionner.
Prenons pour exemple le modèle du sportif. [#Startups] Les 15 commandements d'un pitch percutant. Episode incontournable de la vie d'une start-up, le pitch peut susciter certaines appréhensions de la part des porteurs de projets, notamment lorsqu'il s'agit de se jeter à l'eau devant un parterre d'investisseurs.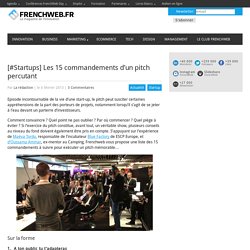 Comment convaincre ? Quel point ne pas oublier ? Par où commencer ? Quel piège à éviter ? Rude Baguette • France's Startup Blog.
Outils IE. Visuel / Graphique. CRM.
---