Sponsors
smartwater
Inside Detroit – Tours and Education about Detroit, Michigan
Award-winning Global Marketing Agency to Help Deliver Experience-driven Commerce As Elastic Path Strengthens Its Partnership Strategy March 4, 2014 — Vancouver, B.C. — Elastic Path Software Inc., the digital commerce company, today announced that it has entered into a partnership with MRM//McCann, a leading global customer experience marketing agency, to deliver exceptional experience-driven commerce solutions. "MRM//McCann is a world-leading creative agency that really understands the value of digital experiences, so they're the perfect partner for Elastic Path," said Mark Williams, Co-founder and Executive Vice President, Elastic Path. "We're very pleased to have the innovative thinkers and creatives at MRM//McCann join the Elastic Path partner network." MRM//McCann, part of McCann Worldgroup, has more than 30 offices across North America, Latin America, Europe, the Middle East, and Asia-Pacific.
MRM Worldwide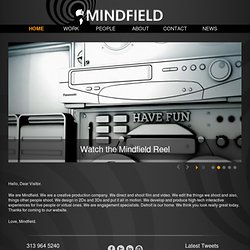 Hello, Dear Visitor. We are Mindfield. We are a creative production company. We direct and shoot film and video.
Mindfield :: Production / Motion / Interactive / Photography
Jonathon Triest is the Managing Partner for Ludlow Ventures fund one and two. In 2011, Jonathon was awarded the Crain's Business award for 20 in their 20s. That same year, he co-founded Funded by Night, a vehicle to help internet startups launch and get discovered. Previously, Triest served as creative director for New York's Discovery Productions. In 2005 he launched the Atlanta-based Triest Group, a mid-level advertising firm. In addition to his role at Ludlow, Triest is a mentor at numerous technology accelerators including Cincinnati's The Brandery, San Francisco's Highway 1, and Detroit's Bizdom.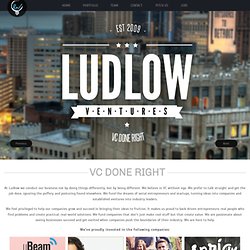 Ludlow Ventures | VC done right
Home
Current Vehicles All Sedans All Crossovers & SUVs Vehicle Accessories Intellilink Past Vehicles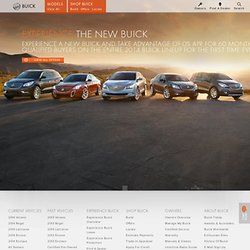 Facility Matrix Group
Home Office Furnishings Since 1938 About us
We're ExactTarget—a global Software as a Service leader serving the world's top brands . With a decade–long tradition rich in targeted email marketing software' we're paving the way for the next generation of SaaS in the form of the Interactive Marketing Hub™ ' a real–time' cross-channel interactive marketing solution that provides marketers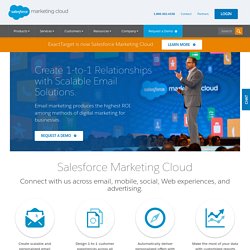 Interactive Promotions Brand Marketing by ePrize
DVP - Home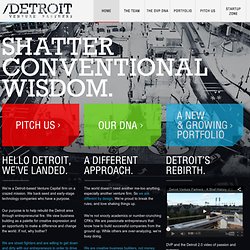 We're a Detroit-based Venture Capital firm on a crazed mission. We back seed and early-stage technology companies who have a purpose. Our purpose is to help rebuild the Detroit area through entrepreneurial fire. We view business building as a palette for creative expression and an opportunity to make a difference and change the world.
Home | Detroit Creative Corridor Center | Get Ready, Detroit
www.cadillactravel.com cadillac travel Detroit southfield oakland county wayne macomb county southeastern Michigan discountt travel agency
Weber Shandwick - Home
Vector Electric Inc. | Company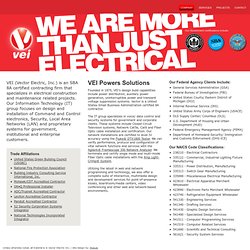 VEI (Vector Electric, Inc.) is an SBA 8A certified contracting firm that specializes in electrical construction and maintenance related projects. Our Information Technology (IT) group focuses on design and installation of Command and Control electronics, Security, Local Area Networks (LAN) and proprietary systems for government, institutional and enterprise customers. Founded in 1975, VEI's design build capabilities include power distribution, auxiliary power generation, uninterruptible power and transient voltage suppression systems.
re:group - transforming brands
Metro Cars | The Original and Official
InVenue Mobile
Atomic Object » Software Design & Development
National Multiple Sclerosis Society Latest News In The News Josh Harding, NHL star goalie talks to People magazine about moving his life forward after his MS diagnosis Josh Harding, NHL Star Goalie, Battles Multiple Sclerosis