Blogspots
Bean Scribbles- The Art Blog of Brett Bean
melmade the blog (the one I update )
light night rains
Last weekend was Spectrum Fantastic Art Live, the convention organized by the creators of the celebrated Spectrum annuals. Last year SFAL was, for me, the best show I had ever been apart of. In terms of quality of exhibitors, collectors, and really the whole event, from the awards show to meeting everyone. It was hands down the best show I'd ever had. Going into year two I had terribly high expectations. I'm pleased to report that the Fenners, and everyone involved with making SFAL outdid themselves again.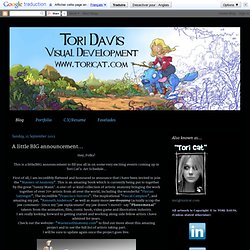 Helloooooo Fellow Bloggers!!! Its been a while! Happy 2012!! Please forgive me for the lack of communication and posting the last few months.
Tori Cat
Hey Guys! It happened- We had our Premiere of ---- DOGONAUT'S ----ENEMY LINE---- this last weekend and it went great. We had about 200 guests....friends and family for the showing of 7 animated films ending with our own latest.
Stop MOTION Mission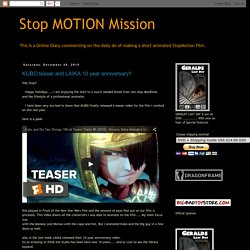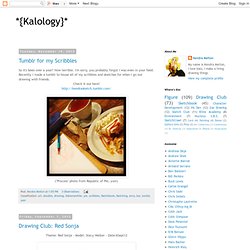 Got an e-mail at work a couple weeks back, asking if any of us would be interested in helping out Megabolt ( http://megabolt.org/ ). The goal being to do a doodle or two in a sketchbook to send out to kids in hospital. How could I NOT volunteer? Since the turn around was quite quick 2 sounded perfect - not slacking, and not over committing. I just hope these little guys find their way and bring a smile to some little boy or girl who could use the good cheer, and positive message.
Kendra Illustrations
Illustration Forum in Quito I will be back in the country of my birth for a gallery show celebrating the history of illustration in Ecuador. If you live in the area, come by the "Centro Cultural Metropolitano" this coming Saturday, it will be fun. Buy One Get One Free As my way of saying "Thank You" for your constant support, I have bundled my two remaining books: Confessions of a Process Junkie and Chola/Jalapeño Lollipops. For those interested in either book now you can get both for the price of one.
B's Online Sketchbook
I love to sculpt and I never sculpt. Every time I've taken the opportunity to explore a character in clay (or sculpy as the case may be) I've found it incredibly satisfying. For me, it is such a perfect extension of drawing and in some ways a fuller experience. Drawing a figure in a pose is one thing, but it is often a cheat. It's only when committing that drawing to 3D that you see how much you faked for the sake of that one angle. That's the challenge and the pleasure of it though.