Natural wonders
Victoria Falls, or Mosi-oa-Tunya (Tokaleya Tonga: the Smoke that Thunders), is a waterfall in southern Africa on the Zambezi River at the border of Zambia and Zimbabwe.
Victoria Falls
Parícutin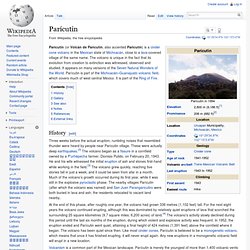 Parícutin (or Volcán de Parícutin, also accented Paricutín) is a cinder cone volcano in the Mexican state of Michoacán, close to a lava-covered village of the same name.
Images of the aurora australis and aurora borealis from around the world, including those with rarer red and blue lights An aurora (plural: aurorae or auroras; from the Latin word aurora, "sunrise" or the Roman goddess of dawn) is a natural light display in the sky particularly in the high latitude (Arctic and Antarctic) regions, caused by the collision of energetic charged particles with atoms in the high altitude atmosphere (thermosphere). The charged particles originate in the magnetosphere and solar wind and, on Earth, are directed by the Earth's magnetic field into the atmosphere.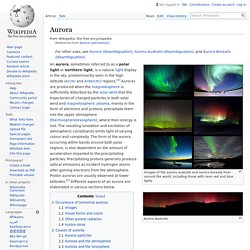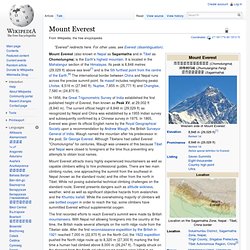 Mount Everest
Mount Everest (Tibetan/Sherpa: ཇོ་མོ་གླང་མ, Chomolungma;[4][5] Chinese: 珠穆朗玛峰, Zhūmùlǎngmǎ Fēng;[6] Nepali: सगरमाथा, Sagarmāthā[7]) is the Earth's highest mountain, located in the Mahalangur section of the Himalayas. Its peak is 8,848 metres (29,029 ft) above sea level[8] and the 5th furthest point from the centre of the Earth.[9] The international border between China and Nepal runs across the precise summit point.
Rio de Janeiro
Founded in 1565, by the Portuguese, the city was initially the seat of the Captaincy of Rio de Janeiro, a captaincy of the Portuguese Empire. It later, in 1793, became the capital of the State of Brazil, a State of the Portuguese Empire. In 1808, when the Portuguese Royal Court transferred itself from Portugal to Brazil, Rio de Janeiro became the chosen seat of the court of Queen Maria I of Portugal, who subsequently, in 1815, under the leadership of her son, the Prince Regent, and future King João VI of Portugal, raised Brazil to the dignity of a kingdom, within the United Kingdom of Portugal, Brazil, and Algarves.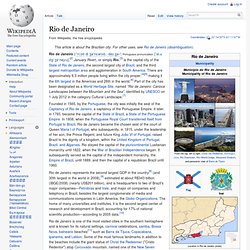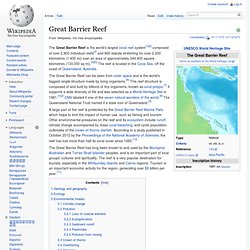 Great Barrier Reef
The Great Barrier Reef is the world's largest coral reef system[1][2] composed of over 2,900 individual reefs[3] and 900 islands stretching for over 2,600 kilometres (1,600 mi) over an area of approximately 344,400 square kilometres (133,000 sq mi).[4][5] The reef is located in the Coral Sea, off the coast of Queensland, Australia.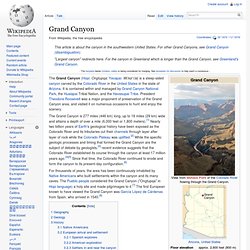 Grand Canyon
View from the South Rim