Robots
DFRobotShop Rover V1.5 - Robot à Chenilles Compatible Arduino (Kit XBee)
This page links to 820 pages around the web with information on Artificial Intelligence. Links in Bold* followed by a star are especially useful and interesting sites.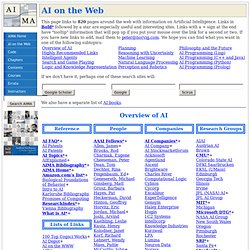 AI on the Web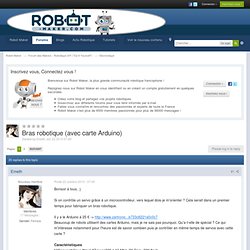 Bras robotique (avec carte Arduino) - Le forum de la Robotique, www.Robot-Passion.com
En fait la connexion n'est pas directe, pour économiser de la place sur l'Arduino. Trois solutions existent alors : - utiliser une autre carte de la même famille Arduino, comme la Romeo car elle inclut les connecteurs pour servomoteurs ( lien vers la Romeo ) et elle n'est pas beaucoup plus chère.
Construisez votre robot hexapod avec Arduino - Un podcast vidéo traitant de la robotique
Let's Make Robots! | Let's Make Robots!-Mozilla Firefox
Le libre s'envole avec Arduino - Internet Collaboratif
Ordis Solarius Articulum Kapacitusbankus Abampere Quinquaginta OSAKA50 | Let's Make Robots!-Mozilla Firefox
I received a "Animaris Ordis Parvus" leg kit from our friends at Gakken ....
Created: Robot project | Let's Make Robots!-Mozilla Firefox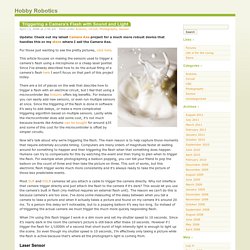 Update: Check out my latest Camera Axe project for a much more robust device that handles this or my store where I sell the Camera Axe.
Z-39 | Let's Make Robots!-Mozilla Firefox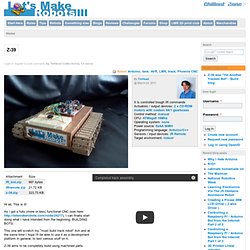 Hi all, This is it! As I got a fully (more or less) functional CNC (see here: http://letsmakerobots.com/node/24217 ), I can finally start doing what I have intended from the beginning: BUILDING BOTS.
Arduino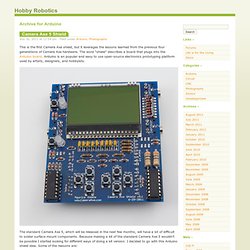 Camera Axe 5 Shield This is the first Camera Axe shield, but it leverages the lessons learned from the previous four generations of Camera Axe hardware.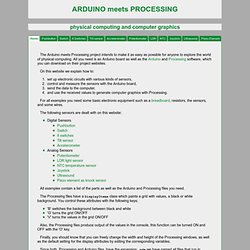 The Arduino meets Processing project intends to make it as easy as possible for anyone to explore the world of physical computing. All you need is an Arduino board as well as the Arduino and Processing software, which you can download on their project websites.
Learning Examples | Foundations | Hacking | Links Examples > Servo Library Sweep
Sweep