Création
Street Art | Destructables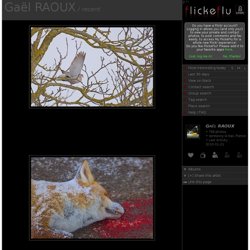 Gaël RAOUX´s photostream on FlickeFlu
Write a comment Do you have a Flickr account? Logging in allows you (and only you!)
Où faire développer ses photo numériques sur le net ?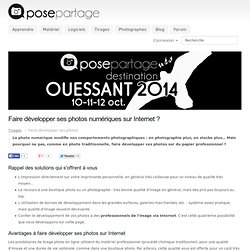 La photo numérique modifie nos comportements photographiques : on photographie plus, on stocke plus... Mais pourquoi ne pas, comme en photo traditionnelle, faire développer ces photos sur du papier professionnel ? Rappel des solutions qui s'offrent à vous L'impression directement sur votre imprimante personnelle, en général très coûteuse pour un niveau de qualité très moyen… Le recours à une boutique photo ou un photographe : très bonne qualité d'image en général, mais des prix pas toujours au top. L'utilisation de bornes de développement dans les grandes surfaces, galeries marchandes, etc. : système assez pratique, mais qualité d'image souvent décevante. Confier le développement de vos photos à des professionnels de l'image via Internet .
GNU Image Manipulation Program Skip to page contents [ News | Screenshots | Features | Downloads | Documentation | Get Involved ] [ Plug-in Registry | GIMP Development ] [ Donations ] [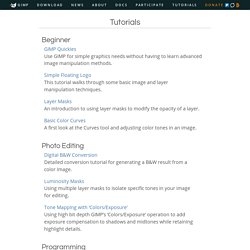 Tutoriaux The Gimp Retouche photo - Webdesign Tutoriaux .com - Trouvez le tutoriel Photoshop CS3/CS4, Flash, Illustrator et The Gimp dont vous avez besoin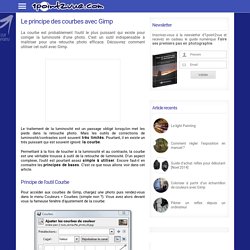 » Le principes des courbes avec Gimp
Dans cet article, nous allons aborder un outil très important dans la gestion des couleurs avec Gimp: les courbes . Nous verrons comment fonctionne cet outil puis nous l'utiliserons sur un cas concret: réchauffer les couleurs d'une image. Le travail que nous allons faire dans ce tutoriel est une manipulation très fréquente qu'il est important de connaitre. Principe de l'outil Courbe Pour accéder aux courbes de Gimp, chargez une photo puis rendez-vous dans le menu « Couleurs » → »Courbes ». La fenêtre suivante s'ouvre: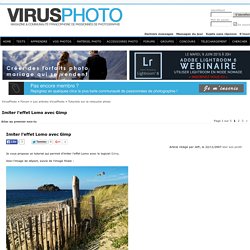 Je vous propose un tutorial qui permet d'imiter l'effet Lomo avec le logiciel Gimp . Voici l'image de départ, suivie de l'image finale : Passons donc aux choses "sérieuses" : 1.
Imiter l'effet Lomo avec Gimp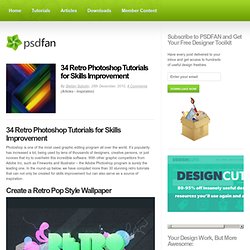 34 Retro Photoshop Tutorials for Skills Improvement « PSDFan
34 Retro Photoshop Tutorials for Skills Improvement Photoshop is one of the most used graphic editing program all over the world. It's popularity has increased a lot, being used by tens of thousands of designers, creative persons, or just novices that try to overhelm this incredible software. With other graphic competitors from Adobe Inc, such as Fireworks and Illustrator – the Adobe Photoshop program is surely the leading one. In the round-up below, we have compiled more than 30 stunning retro tutorials that can not only be created for skills improvement but can also serve as a source of inspiration. Create a Retro Pop Style Wallpaper
Dans ce tutoriel, nous allons voir comment appliquer une image sur une surface en respectant la perspective. Voici ce que l'on va obtenir: Voici l'image de fond qui servira de decor: Et voici le personnage l'on va appliquer sur le cube: (Cette image est le résultat d'un précédant tutoriel: Fabriquer et utiliser une boite à lumière ) Placer le personnage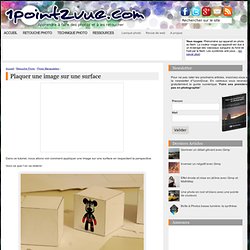 » Plaquer une image sur une surface
Pour compléter mon billet sur la génération de codes barres , je vais me pencher sur les codes à 2 dimensions : les QR Codes. Pour reprendre la définition de « Wikipedia » : Le code QR ou QR Code (en anglais ) est un code- barres en 2 dimensions (code matrice) pouvant stocker jusqu'à 7089 caractères numériques, 4296 caractères alphanumériques (contrairement au code-barre « traditionnel » qui lui ne peut stocker que de 10 à 13 caractères) ou 2953 octets .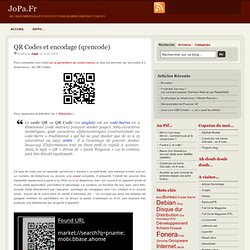 QR Codes et encodage (qrencode)