Apps
Insider secrets for getting help at the Apple Store Insider secrets for getting help at the Apple Store Whether you broke your iPhone or you need to learn how to edit video on your Mac, the Apple Store has services to assist. Here are tips to navigate it from a former employee. Read more →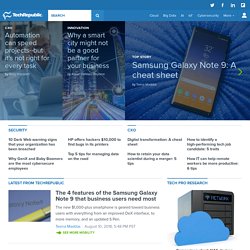 iPhone Development Costs
Ever since Apple introduced the App Store, there's been a gold rush of sorts to the iPhone & iOS platform. With the release of the iPod touch and iPad, interest in the devices has only grown, but unfortunately so have development costs. So what is it going to cost you to get that app developed for the iPhone? It depends on a number of factors, so here are some numbers on hourly and project rates to give you an idea. It's generally not cheap, but there are some solutions for affordable app development. FYI, I'm going to refer to the iPhone here but obviously this pertains to the iPad and iPod touch just the same, it's all the iOS platform.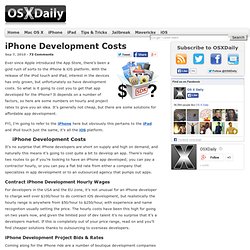 Why Outsourcing iPhone Apps was a No-Brainer for Us | LOLer Apps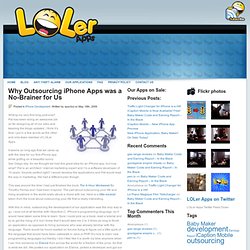 Writing my very first blog post ever! Pat has been doing an awesome job so far designing all of our sites and keeping the blogs updated. I think it's time I put in a few words as the other and only team member of LOLer Apps.
Ever wondered how much it costs to build an iPad app? Thinking about developing your own app? The revenue generated by some apps in the App Store is impressive, but only a small percentage of apps actually make enough money to cover their costs. Before taking a home equity loan or asking your family for money, and before investing tens of thousands of dollars in your idea, the following guide may give you a better idea about how much time and money your app will require.
The Cost of Building an iPad App
As we began discussing the outline of the book, one thing was clear: we'd assume that the reader had a basic knowledge of programming. Someone who's done some JavaScript or C development should feel comfortable with the information being presented in the early chapters that discuss Objective-C and the Cocoa Touch frameworks. The goal of the Missing Manual series is to get you started with a new endeavor by just presenting the most important topics. Explaining basic programming fundamentals fell outside this scope. Regardless, there are still a lot of people who want to get into iPhone development and have no prior experience with software development. This post is for those people: I'll present some pointers that will help you get over the hump of learning to think in code.
iPhone App Development: The Missing Manual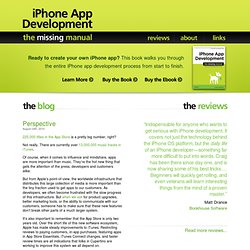 AppsAmuck iPhone Development Tutorials and Examples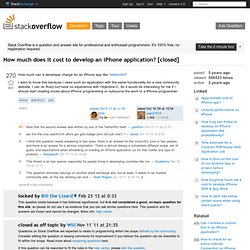 I'm one of the developers for Twitterrific and to be honest, I can't tell you how many hours have gone into the product. I can tell you everyone who upvoted the estimate of 160 hours for development and 40 hours for design is fricken' high. (I'd use another phrase, but this is my first post on Stack Overflow, so I'm being good.) Twitterrific has had 4 major releases beginning with the iOS 1.0 (Jailbreak.)
objective c - How much does it cost to develop an iPhone application
How Much Does It Cost to Develop a Mobile App?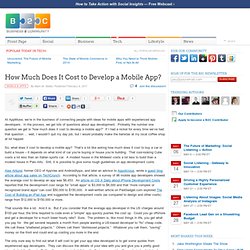 At AppMuse, we're in the business of connecting people with ideas for mobile apps with experienced app developers. In the process, we get lots of questions about app development. Probably the number one question we get is "how much does it cost to develop a mobile app?" If I had a nickel for every time we've had that question … well, I wouldn't quit my day job, but I would probably make the baristas at my local coffee shop at lot happier. So, what does it cost to develop a mobile app?
Checkout: Point of Sale for Mac (POS)