Brasil
Vipper Talentos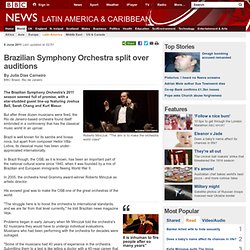 Brazilian Symphony Orchestra split over auditions
8 June 2011Last updated at 02:51 By Julia Dias Carneiro BBC Brasil, Rio de Janeiro Roberto Minczuk: "The aim is to make the orchestra world class" The Brazilian Symphony Orchestra's 2011 season seemed full of promise, with a star-studded guest line-up featuring Joshua Bell, Sarah Chang and Kurt Masur.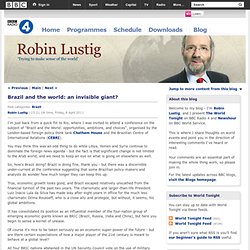 World Tonight: Brazil and the world: an invisible giant?
I'm just back from a quick flit to Rio, where I was invited to attend a conference on the subject of "Brazil and the World: opportunities, ambitions, and choices", organised by the London-based foreign policy think tank Chatham House and the Brazilian Centre of International Relations (CEBRI). You may think this was an odd thing to do while Libya, Yemen and Syria continue to dominate the foreign news agenda - but the fact is that significant change is not limited to the Arab world, and we need to keep an eye on what is going on elsewhere as well. So, how's Brazil doing? Brazil is doing fine, thank you - but there was a discernible under-current at the conference suggesting that some Brazilian policy-makers and analysts do wonder how much longer they can keep this up. True, economic growth looks good, and Brazil escaped relatively unscathed from the financial turmoil of the past two years.
11 April 2011Last updated at 05:54 By Paulo Cabral BBC News, Sao Paulo Demand for Brazil's natural resources has been growing in China China's hunger for raw materials and commodities is boosting Brazilian exports, while cheaper consumer goods coming from Asia is opening new horizons for Brazil's growing middle class. China became Brazil's largest trading partner in 2009, overtaking the United States which had held the position since the 1930s. And the trade keeps growing.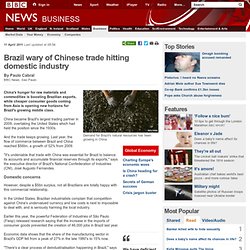 Brazil wary of Chinese trade hitting domestic industry
A chronology of key events: 1500 - Portuguese land in the area and claim it to the Portuguese crown. 1822 - Son of Portuguese king declares independence from Portugal and crowns himself Peter I, Emperor of Brazil. 1888 - Slavery abolished.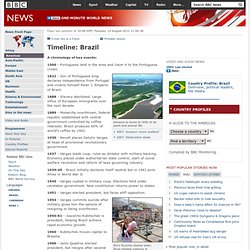 Timeline: Brazil