Grow!
for reading and learn Apr 24
Men at work on Vimeo
A media voz
Sus comentarios o sugerencias serán de gran ayuda para el desarrollo de esta página. Escríbanos a: poesia@amediavoz.com "A media voz" es un portal sin ánimo de lucro; su único objeto es rendir un justo homenaje a poetas y traductores. Por tanto, los derechos de los textos que aparecen en todos los vínculos, pertenecen a cada autor. Muchas de las imágenes han sido obtenidas de la red y son de dominio público; sin embargo, si alguien tiene derecho reservado sobre alguna de ellas y se siente perjudicado por su publicación, por favor, no dude en comunicárnoslo. Todo el portal está diseñado para resolución de 1024 x 768 y se ve mejor con su fuente original; si no la tiene, bájela a su disco duro, descomprima el fichero y cópiela en Windows/Fonts: Georgia Los invitamos a visitar una guía para mantener su cuerpo en forma: "Tu cuerpo" Gracias por su visita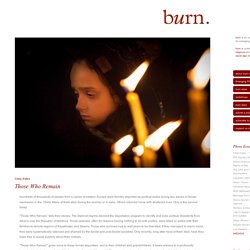 Hover over the image for navigation and full screen controls Robin Apple I Never Promised You a Rose Garden play this essay
The Collection | Galleries | Features | Motion | Stories | News Ian Van Coller Salamina and Sara, Vaalwater, Limpopo, South Africa, 2014 View Today's Flak Photo » The Flak Photo Collection Are you promoting a photography project?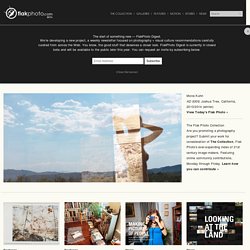 The idea is to put all these fucking teenage boys in one place and just finish it there. just put the whole obsession with going back in one book and maybe it will be finished, maybe I can do something else. - Larry Clark interviewed by Mike Kelly Larry Clark's latest is a book titled Kiss the Past Hello which was published on the occasion of his show at the Musee d'Art Moderne de la Ville de Paris and it has one promising quality, if you missed out on Tulsa, Teenage Lust, Punk Picasso or the Los Angeles 2003-2006 Volume 1 then this would be a book to fill a gap on your shelf. If you have any of those aforementioned books then this will seem nothing more than a reshuffling of the same deck of cards. Seems putting the past away is much harder for Mr. Clark since he spoke to Kelly in the late 1980s.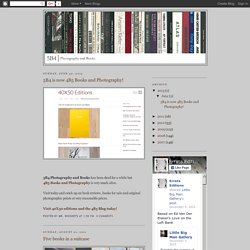 Livehoods SF Bay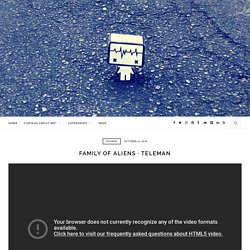 A path of sighs through the emotions of life. A tribute to the art and her disarming beauty. Directed by Rino Stefano Tagliafierro A practical character reader Now you know!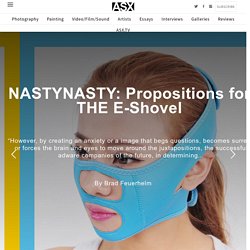 In the fall of 1990, Keizo Kitajima received a commission from Japan's Asahi Shimbun newspaper to visit the Soviet Union, the opportunity to spend a year documenting both people and places in what was then a monolithic entity. 15 republics, 11 time zones, and thousands of miles spanning the two—the task was daunting in the All the Clothes of a Woman, 1970′s By Roy Arden, This curator's text was originally published for the exhibition 'Hans-Peter Feldmann' at the Contemporary Art Gallery, Vancouver, June 9 – August 20, 2006. Hans-Peter Feldmann's oeuvre includes works in many media, from painting to sculpture, installation, photography, collage, bookworks, archives or collections of images, objects, etc, however HANS-PETER FELDMANN: "Hans-Peter Feldmann" (2006) Poppy: Trails of Afghan Heroin