Institutes platforms websites journals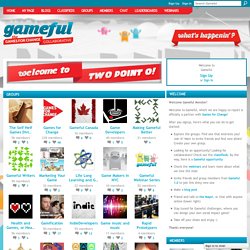 So you think exercise is an excruciating test of willpower over the drudgery of treadmills, crowded gyms and sweaty t-shirts? So do we! That's why we need Rundercover, a thrilling interactive audio-game. Or, how a Swiss startup starts out to make your outdoor exercises more fun and rewarding. In the mobile app "Rundercover", you as the runner become the hero of an epic secret agent story.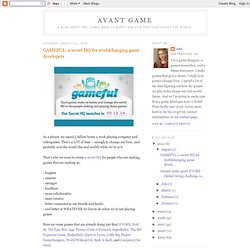 As a planet, we spend 3 billion hours a week playing computer and videogames. That's a LOT of time -- enough to change our lives, and probably save the world (the real world) while we're at it. That's why we want to create a secret HQ for people who are making games that are making us: - happier - smarter - stronger
Avant Game: GAMEFUL: a secret HQ for worldchanging game developers
As a planet, we spend 3 billion hours a week playing computer and videogames. That's a LOT of time -- enough to change our lives, and probably save the world (the real world) while we're at it. That's why we want to create a secret HQ for people who are making games that are making us: - happier - smarter - stronger - healthier - more collaborative - more creative - better connected to our friends and family - and better at WHATEVER we love to do when we're not playing games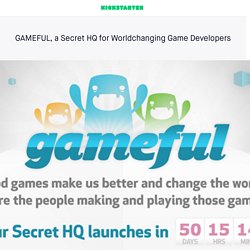 GAMEFUL, a Secret HQ for Worldchanging Game Developers by Jane McGonigal
Vidgames make Hollywood play - Entertainment News, Technology Ne
Five years ago, the relationship between the videogame world and major studios was pretty straightforward. Hollywood made movies — and game companies licensed those films to create games. The "Tomb Raider" and "Resident Evil" games reversed that order, as games were transformed into film franchises. But no matter which came first, gamemakers were generally in the less powerful position. That's quickly changing as entertainment tastes evolve — and game companies are sending the word to studios that it's time to rethink the relationship.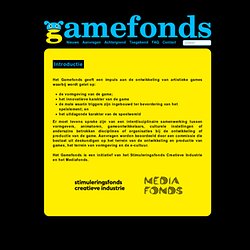 Gamefonds
Het Gamefonds geeft een impuls aan de ontwikkeling van artistieke games waarbij wordt gelet op: de vormgeving van de game;het innovatieve karakter van de gamede mate waarin triggers zijn ingebouwd ter bevordering van het spelelement; enhet uitdagende karakter van de speelwereld Er moet tevens sprake zijn van een interdisciplinaire samenwerking tussen vormgevers, animatoren, gameontwikkelaars, culturele instellingen of anderszins betrokken disciplines of organisaties bij de ontwikkeling of productie van de game. Aanvragen worden beoordeeld door een commissie die bestaat uit deskundigen op het terrein van de ontwikkeling en productie van games, het terrein van vormgeving en de e-cultuur. Het Gamefonds is een initiatief van het Stimuleringsfonds Creatieve Industrie en het Mediafonds.
HKU Games en Interactie Utrecht
Int: Game Architecture and Design | NHTV Breda
Have an account? Sign in New to Twitter? Join Today »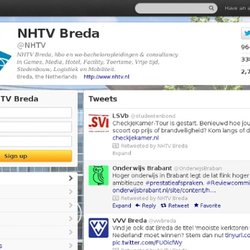 NHTV Breda (NHTV) on Twitter
CAMP LOST introductie periode
Classeur : Camp Lost 09
NHTV Sibeliuslaan :: Breda, Noord-Brabant
QANTM College Amsterdam: Education in 3D, Game Design and Game Development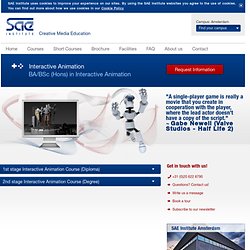 The first year of the Interactive Animation program is a full-time course designed to prepare graduates for a job in the industry of games development or 3D production. This requires excellent 3D skills and broad knowledge about the games pipeline, history and experience in producing high quality content. This course provides hands-on training in industry standard software. Students are trained in game design and writing game design documents, storytelling and scriptwriting, 2D drawing and animation and various 3D techniques. Besides that students acquire important inside knowledge about the industry during the course.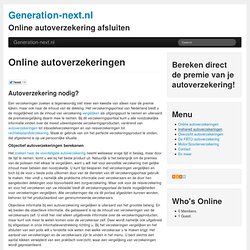 Autoverzekering nodig? Een verzekeringen zoeken is tegenwoordig niet meer een kwestie van alleen naar de premie kijken, maar ook naar de inhoud van de dekking. Het verzekeringsportaal van Nederland biedt u de mogelijkheid om de inhoud van verzekering vergelijken als uitgangspunt te nemen en uiteraard de premievergelijking daarin mee te nemen. Bij dit verzekeringsportaal kunt u alle noodzakelijke informatie vinden over de meest uiteenlopende verzekeringsproducten, variërend van autoverzekeringen tot inboedelverzekeringen en van reisverzekeringen tot rechtsbijstandverzekering. Maak er gebruik van om het perfecte verzekeringsproduct te vinden, dat afgestemd is op uw persoonlijke situatie.
Generationnext -about-
Generationnext -opleidingen-
Welcome to the homepage for International Game Architecture and Design (IGAD). IGAD is a four-year bachelor program in Breda, The Netherlands that teaches game development. Our programme consists of four main variations: ProgrammingVisual ArtsDesign & ProductionIndie Game Development You can also find important information about our programme at the following locations: If you are already a student at IGAD, you may also find the following links useful: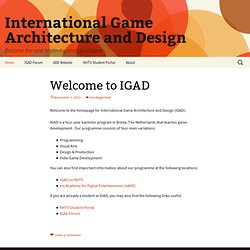 IGAD.nl
mADE NHTV | Research people
New Media & Digital Culture at the University of Utrecht
STT Toekomstverkenning Serious Gaming group
Location: Castrum Peregrini, Herengracht 401 (entrance at Beulingstraat) Free entrance Gerrit Rietveld Academie Awards 2012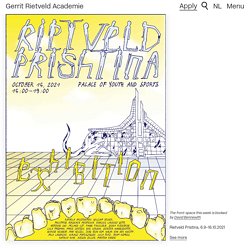 Gerrit Rietveld Academie
Y.1 YDOT1 - An Event with the name of Yariv Alter Fin
Niels t Hooft - games expert
Hello! I'm Niels, born in 1980, living in Utrecht, The Netherlands, with my wife and two daughters. I'm a hybrid writer: a novelist who's always on the lookout for something new and exciting. For example, I focus tested my latest book, and built an iPad app with an innovative reading mechanism. I'm also something of a video game romantic, having written about this burgeoning medium since the nineties.
nielsthooft on Twitter
Ine Poppe
Ine Poppe (1960, NL) works in Amsterdam as a writer and director. Poppe writes about digital culture, technology and art for magazines, books and the national newspaper NRC-Handelsblad. In 2007 she wrote a series of 10 articles about 'teeth art' for the NRC, which is now recycled in a dentist magazine. She had 6 months a column at the children-page: 'SMS with Ine' and did 2 other series: Children and their favorite apparatus, tech-news for kids. She has researched and directed television documentaries for National Television; wrote a journalistic book about Dutch Squatters in the eighties. Her art-projects 'Mother milk cheese' (1984), 'Women with Beards' (1997) were shown worldwide.
Ine Poppe (Popsel) on Twitter
taleoftales on Twitter
Not games .org
constant dullaart
Dutch Game Garden
dutchgamegarden on Twitter
DevClub DutchGameGarden - Ning platform
FourceLabs Utrecht
FourceLabs on Twitter
OneBigGame
OneBigGame on Twitter