Science
:) Sep 30
Xenoglossy (/ˈziːnɵɡlɒsi/ or /ˈzɛnɵɡlɒsi/), also written xenoglossia (/ziːnɵˈɡlɒsiə/ or /zɛnɵˈɡlɒsiə/), is the putative paranormal phenomenon in which a person is able to speak or write a language he or she could not have acquired by natural means.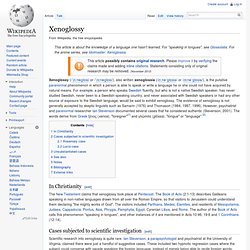 Xenoglossy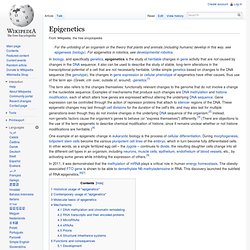 One example of an epigenetic change in eukaryotic biology is the process of cellular differentiation. During morphogenesis, totipotent stem cells become the various pluripotent cell lines of the embryo, which in turn become fully differentiated cells. In other words, as a single fertilized egg cell – the zygote – continues to divide, the resulting daughter cells change into all the different cell types in an organism, including neurons, muscle cells, epithelium, endothelium of blood vessels, etc., by activating some genes while inhibiting the expression of others.[5]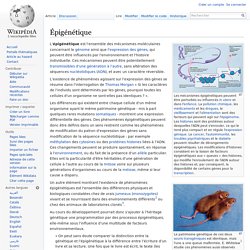 Un article de Wikipédia, l'encyclopédie libre. L'épigénétique est l'ensemble des mécanismes moléculaires ayant lieu au niveau du génome et de la régulation de l'expression des gènes qui peuvent être influencés par l'environnement et l'histoire individuelle ainsi qu'être potentiellement transmissibles d'une génération à l'autre, sans altération des séquences nucléotidiques (ADN), et avec un caractère réversible. L'existence de phénomènes agissant sur l'expression des gènes se résume dans l'interrogation de Thomas Morgan « Si les caractères de l'individu sont déterminés par les gènes, pourquoi toutes les cellules d'un organisme ne sont-elles pas identiques ?
Langage Non Verbal - Les Signes Qui Trahissent
SCIENCE - NOUVELLES CONNAISSANCES - ADN - Phénomène épigénétique(2-5).avi
SCIENCE - NOUVELLES CONNAISSANCES - ADN - Phénomène épigénétique(1-5).avi