Science
:) Sep 30
Xenoglossy ( pron.: / ˈ z iː n ɵ ɡ l ɒ s i / or / ˈ z ɛ n ɵ ɡ l ɒ s i / ), also written xenoglossia ( / z iː n ɵ ˈ ɡ l ɒ s i ə / or / z ɛ n ɵ ˈ ɡ l ɒ s i ə / ), is the putative paranormal phenomenon in which a person is able to speak or write a language he or she could not have acquired by natural means.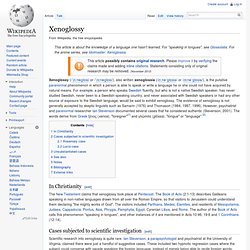 Xenoglossy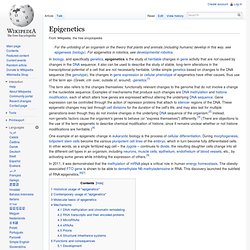 In biology , and specifically genetics , epigenetics is the study of changes in gene expression or cellular phenotype , caused by mechanisms other than changes in the underlying DNA sequence – hence the name epi- (Greek: επί - over, above, outer) - genetics , some of which are heritable . It refers to functionally relevant modifications to the genome that do not involve a change in the nucleotide sequence. Examples of such modifications are DNA methylation and histone modification , both of which serve to regulate gene expression without altering the underlying DNA sequence .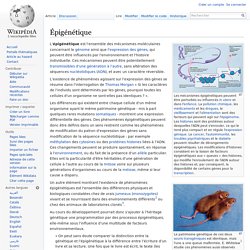 Un article de Wikipédia, l'encyclopédie libre. L' épigénétique est le domaine qui étudie comment l'environnement et l'histoire individuelle influent sur l'expression des gènes , et plus précisément l'ensemble des modifications transmissibles d'une génération à l'autre et réversibles de l'expression génique sans altération des séquences nucléotidiques . Le patrimoine génétique de ces deux souris transgéniques est identique, mais l'une a une queue malformée.
Langage Non Verbal - Les Signes Qui Trahissent
SCIENCE - NOUVELLES CONNAISSANCES - ADN - Phénomène épigénétique(2-5).avi
SCIENCE - NOUVELLES CONNAISSANCES - ADN - Phénomène épigénétique(1-5).avi