News Metal
Voir · Écouter · Lire · Au pif On a beau se dire qu'il y a des vieux potes qu'on préfère ne plus croiser, que ça vaut mieux pour tout le monde, on a beau se répéter sans cesse qu'ils sont de toute façon insortables et que leur hygiène de vie c'est de la bonne grosse merde, on a beau regretter toutes les choses qu'on est capable d'accomplir ensemble ; n'empêche que quand lesdits vieux potes reviennent de loin, voire de très loin, difficile de résister à la tentation de partager le poison avec eux et de se la coller jusq (...)GRAVES AT SEA - This Place Is Poison Interview Universe217 Une interview toute fraîche des athéniens d'Universe217 à la lecture, sur Slow End bien sûr0 commentaire(s)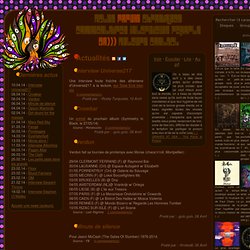 Slow End > We are fudge fans !
METAL ZONE News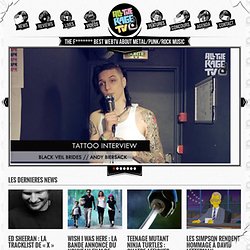 Cult of Luna en concert en France avant une pause… Geoffrey - Cult of Luna donnera cette année les derniers concerts avant de se mettre en pause à durée indéterminée. Ils seront pour cette courte tournée européenne accompagnés de God Seed et de passage en France pour 2 dates : – le… Megadeth de passage à Paris en juin
All The Rage TV |  news
(Non lus : 1) Yahoo! Mail, annapeyre
METAL OBS' Magazine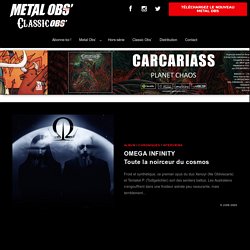 LAY DOWN ROTTENDeathspell Catharsis Cela fait six albums que Lay Down Rotten dit qu'il fait du Death, et cela fait six albums que le groupe ne sort pas d'un demi-pouce de son chemin tout tracé. Aussi, pas de surprise... LIRE LA SUITE NITERAINCrossfire NiteRain, ce sont les petits nouveaux venus de Norvège.
Metal Injection Latest News
Hierophant Nox | News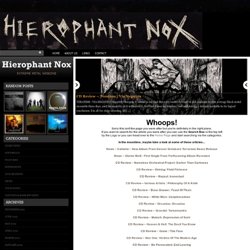 Interview – Your Chance To Die : "Musicians should always be trying to be better musically and not stick themselves in a rut playing a million breakdowns just to get the kids to throw down" Your Chance To Die, a death metal outfit from South Carolina, has been gathering momentum over the past couple of years with demo releases and a furious work ethic when it comes to life performances. Their dedication paid off last year with a signing to Red Cord Records and the release of their first official [...] CD Review – Teratism : Via Negativa TERATISM : VIA NEGATIVA Negativity Records It seems to me that there are varied flavours of evil available to your average black metal ensemble these days, and the majority of it is theatrical. Not that I have an inherent beef with taking a Satanic aesthetic to its logical conclusion; I'm all for stage dressing, all [...]
Revolver Features - News, Blog, Music, Video, and More
News ::: METAL FRANCE ::: LE WEBZINE METAL A L'ESPRIT LARGE
Black metal powerhouse INQUISITION has announced new North American tour as part of the 2014 Metal Alliance Tour. The tour sees INQUISITION play alongside BEHEMOTH, GOATWHORE, 1349, and BLACK CROWN INITIATE. The tour kicks off on April 4, and continues through the United States and Canada, making stops at Texas Independence Fest and the New England Metal & Hardcore Festival along the way.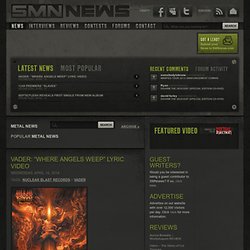 siN's Metal News | 'heavy METAL news' | SMNnews.com
Metalship, ça coule de source Pseudo : Mot de passe : Devenir membre Rechercher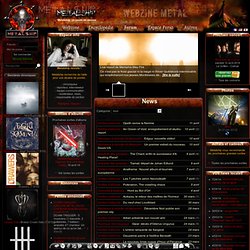 Webzine, encyclopédie et Communauté Metal: chroniques, news metal, interview, concert, live reports, mp3, groupes, discographies, paroles, photos
Free Webzine Metal | ZoneMetal.com
News Metal Sickness
News hardcore metal rock et leurs dérives | COREandCO Webzine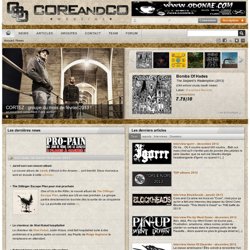 Gros festival ce soir à Saint-Ouen (Mains d'Oeuvres) pour le avec , , , , l, et pleins d'autres. sera à Compiegne (Bar au Bon Coin). et seront à Paris (Nouveau Casino). jouera lui au Glazart de Paris avec .
News
So someone has decided to put together a mash-up of Lamb Of God classic 'Redneck' and a single from that electro-pop lady person Ke$ha. We just…there's no w…ah fuck it. (more…)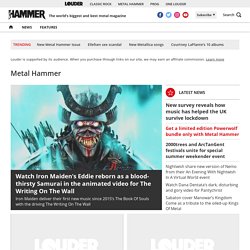 Metal Hammer » News