News Metal
Voir · Écouter · Lire · Au pif Et vas-y que mon groupe à moi il est pachydermiquement occulte, et vas-y que le mien c'est l'utra-boue, et untel il vient tout droit du fond du marécage, et untel il est plus lovecraftien et immonde que tous ses petits copains, et moi et moi je suis ultra-gluant regarde moi, ultra-pesant, non c'est moi que je suis le plus collant le plus pégueux le plus visqueux le plus goudronneux le plus nauséeux le plus ignoblement monoxyde de carbone, et d'abord le plus fort c'est le méthane, et moi je (...) BLACK MAYONNAISE - Unseen Collaborator Hey Colossus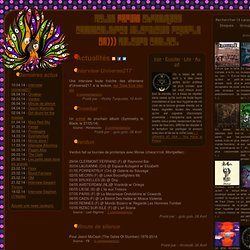 Slow End > We are fudge fans !
METAL ZONE News
TERRORIZER, SICK SOUNDS & DOMINION FRONT PAGE
All The Rage TV |  news
(Non lus : 1) Yahoo! Mail, annapeyre
METAL OBS' Magazine
It's Easter Sunday, which means things get weird on the Livecast. We talk about X-Pac's ruptured anus, broken shafts, Noa having sex with reanimated versions of her boyfriend, as well as plenty of local Russian and Jewish talk. We witness a really weird basketball injury and talked about it on the air.
Metal Injection Latest News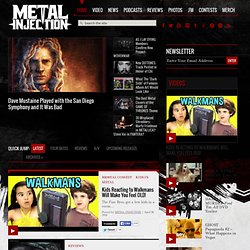 Hierophant Nox | News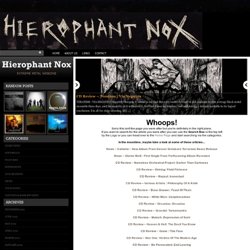 Interview – Your Chance To Die : "Musicians should always be trying to be better musically and not stick themselves in a rut playing a million breakdowns just to get the kids to throw down" Your Chance To Die, a death metal outfit from South Carolina, has been gathering momentum over the past couple of years with demo releases and a furious work ethic when it comes to life performances. Their dedication paid off last year with a signing to Red Cord Records and the release of their first official [...] CD Review – Teratism : Via Negativa TERATISM : VIA NEGATIVA Negativity Records It seems to me that there are varied flavours of evil available to your average black metal ensemble these days, and the majority of it is theatrical. Not that I have an inherent beef with taking a Satanic aesthetic to its logical conclusion; I'm all for stage dressing, all [...]
Excerpt: Soundgarden on Their Past, Present and Future In this excerpt from the new issue, the band members detail the events leading to their breakup in 1997. Excerpt: Marilyn Manson Talks About His Favorite Horror Movies "When I watch slasher films, nine times out of 10, I'm rooting for the killer." Excerpt: Rob Zombie Talks 'The Lords of Salem' Movie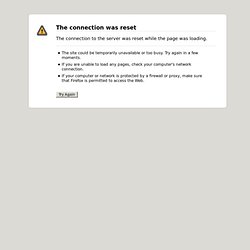 Revolver Features - News, Blog, Music, Video, and More
News ::: METAL FRANCE ::: LE WEBZINE METAL A L'ESPRIT LARGE
siN's Metal News | 'heavy METAL news' | SMNnews.com
Webzine, encyclopédie et Communauté Metal: chroniques, news metal, interview, concert, live reports, mp3, groupes, discographies, paroles, photos
Free Webzine Metal | ZoneMetal.com
News Metal Sickness
News hardcore metal rock et leurs dérives | COREandCO Webzine
Metal Reviews, News, Blogs, Interviews and Community | Metal Review
News
SKID ROW guitarist Dave "Snake" Sabo was interviewed on this past Monday night's (March 25) edition of the "Eddie Trunk Live" show on SiriusXM satellite radio. A couple of excerpts from the chat follow below (transcribed by BLABBERMOUTH.NET ): On the split with former SKID ROW singer Sebastian Bach :
So someone has decided to put together a mash-up of Lamb Of God classic 'Redneck' and a single from that electro-pop lady person Ke$ha. We just…there's no w…ah fuck it. (more…)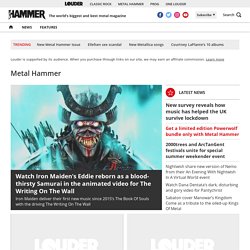 Metal Hammer » News