Web Comics
Episode 20
Becky recently introduced me to an awful band, responsible for a song called C'mon Ride That Train, as well as the theme to Space Jam. I thought it was C'Mon Ride The Bus, so I guess the whole strip title thing has fallen apart. There is a great song called Waiting For The Bus by the Violent Femmes. They have some rad storytelling in their songs.
Ride That Bus | Tiny Kitten Teeth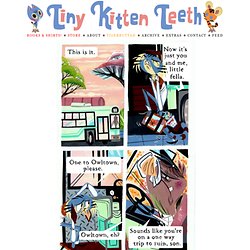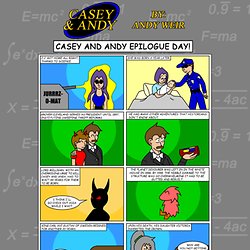 Casey and Andy
Note: The current story-arc begins at Strip 621 August 25, 2008: Well, there you have it. Strip 666, and the end of Casey and Andy. I am so greatful to all of you for reading my comic. I can not express what all your emails, words of encouragement, and readership has meant to me.
No Thursday comic this week. I've drawn parts of this comic three times and it's not working in really awful ways. I might need to do some rewriting, which would be a shame. I've been looking forward to doing a practical joke story arc. Anyhow. NOTE 1: The eight-year anniversary sale is still going on for another week.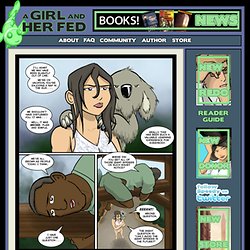 A Girl and Her Fed: Archive
Bobbins and Bad Machinery Just a quick note to say that Bad Machinery should be back towards the end of February. I'm currently working on 22 new pages and a few art fixes for the Case Of The Simple Soul book, which somewhat limits my plotting and drawing time, so Bobbins makes an ideal fill in.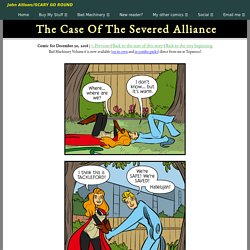 Scary Go Round presents Bad Machinery - January 14, 2010
December 24th, 2013 Merry Christmas, everybody who is a person who celebrates that! And a joyous Winter Solstice to the rest of you. Just to let you know, we won't be updating on Christmas or New Years day.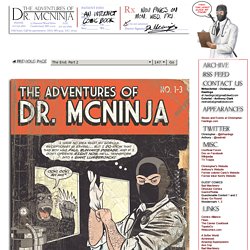 Several ideas on how to start this post Another year, another rumination on death and aging from your favorite internet funnymakers. This year, we bring you another rumination on death and aging by us, the internet laffmen.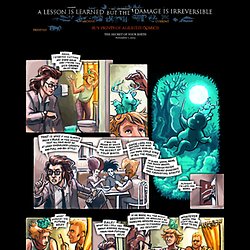 A Lesson Is Learned But The Damage Is Irreversible
Tuesday January 14, 2014 Legendarily Confused I'll be attending Legendary ConFusion this weekend in Dearborn, Michigan, and Sandra is coming with me!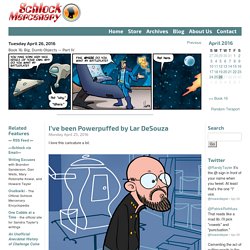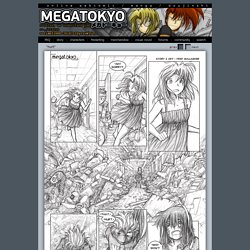 Ralph Waldo Emerson famously wrote "A foolish consistency is the hobgoblin of little minds". Though it is apparently left to the reader to decide what counts as foolish or not foolish. If you web search something along the lines of "pictures to drive OCD crazy" you'll find some pages like this one with various photographs of things that are not quite right. It's interesting that some don't bother me at all, especially the ones that you can tell were set up deliberately to provoke the effect. One of the common themes is manhole covers that intersect painted street lines, and were put back in the wrong direction. I often try to fix stuff like that, time permitting and when practical.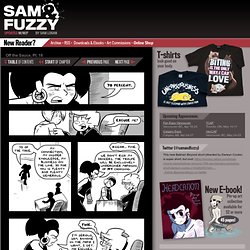 Jan 17, 2014 Comic and Comic Alas, no time for a Q and A today, team. (Running a little behind this week.) But as usual, a new Sam and Fuzzy comic has arrived for your consumption, enjoyment, analysis and. And as is now also usual, a new page of Tower of Babel will be going live on Shiftylook at 6am pacific time.
I'm back after a MUCH needed break! The Store is back open! I felt like the last section of Mohkadun (IX: City of the Dead) dragged a little bit. I blame it on what I've said time and time again, when I have mental 'elbow room' I can edit things down and tighten things up and I haven't had that since before Thanksgiving... until now! So yeah I'm hoping X: The City in the Sand will be more properly paced for your enjoyment. And no progress on my hand-needing-surgery.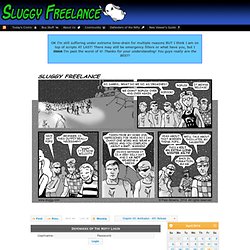 New Site- The Silmarillion Project January 20th, 2014 Happy New Year, everybody!
Radioactive Panda
Just finished the rough outline for chapter 3. This is a much more action-oriented chapter, and in some ways this is where the story really starts. I've had the parts mixing around for a long time, but it's nice to finally see them all in order. I'm guessing but it looks like this is going to be around 40 pages.
Rob and Elliot: A webcomic updated Mondays