VJ
  Amon Tobin – The Worlds Most Amazing DJ Booth?
Subliminal Art
Coffee Creamer high speed video 2000fps 30fps playback.avi
DUB VIDEO CONNECTION
Motion Graphics Inspiration
VIDEO JAMMERS PORTUGAL (VJ SQUAD) no Myspace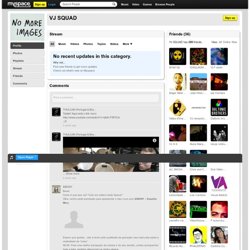 About me: NEW(ERS) é um projecto VJ SQUAD, para eventos de pequena/media dimenção, que visa proporcionar visibilidade e integrar no mercado novos valores do video jamming Nacional. -VJ FAQIR -VJ DISTURB -THE CUMSHOTS -VJ ELLE CAPONE -VJ GWATEN -VJ RECEYECLER -VJ BOKI -CLAW PSYBERDOLL -VJ JOAO PETIT GRAÇA ( Moçambico)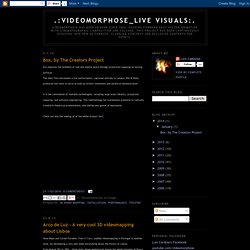 .:videomorphose_live visuals:.
Toby Spark, a well know VJ, just launched an interesting piece of hardware.The *spark d-fuser lets you crossfade between laptops. Whether switching between presenters or pushing avant-garde pixels, hands-on control for mixing DVI, VGA and HDMI signals is now available in a compact and affordable package. So, what's in the 750 pound box?
:::::::: legoman website ::::::::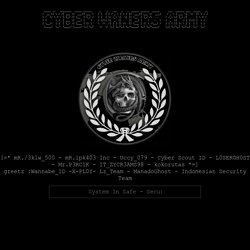 Selkie is the Aerialist who performs with The Glitch Mob. After the LA Show, we got together to play with some realtime projection + dancing stuff. I had only my phone (Samsung Droid Charge) to record with, hence the low-res image. The first video is an openFrameworks visual I'm working on, controlled here with the touchpad on my MacBook Pro, which can read multiple fingers at once. The second video is FiddlyBits running on an iPad2. You can get it free at fiddlybits.mmmlabs.com .
VJ Kung Fu
Matt Black with partner Jonathan More is multimedia group Coldcut . They founded the rated Ninjatune record label which has consistently pushed visuals and music forward. With Camart , Matt created VJamm , the leading realtime AV software. Also a founder of Freeframe , the worlds first VJ effects plugin standard Also the inventor of the hybrid AV mixer and audiovisual scratching.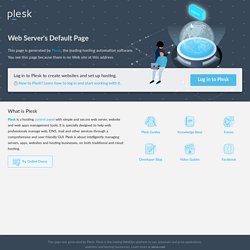 VJs.net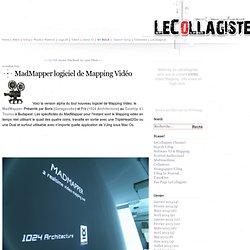 21 octobre 2010 4 21 /10 /octobre /2010 13:40 Voici la version alpha du tout nouveau logiciel de Mapping Vidéo, le MadMapper. Présenté par Boris (Garagecube) et Frz (1024 Architecture) au Cinetrip VJ Tourna à Budapest. Les spécificités du MadMapper pour l'instant sont le Mapping vidéo en temps réel utilisant le quad des quatre coins, travaille en sortie avec une TripleHead2Go ou une Dual et surtout utilisable avec n'importe quelle application de VJing sous Mac Os.
MadMapper logiciel de Mapping Vidéo
MASHIE MOBILE - 6WD all-terrain VJ Projection Rig for Festivals and Urban Projection on Vimeo