Catching Up (9.20)
The Ruins of Dead Social Networks - Alexis Madrigal - Technology - The Atlantic (Build 20110920042010) It was about 20 years ago that I first discovered what a telephone line and a computer could do when they came together.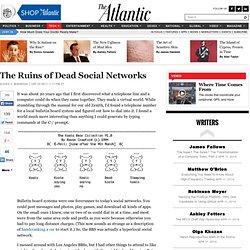 They made a virtual world. While stumbling through the manual for our old Zenith, I'd found a telephone number for a local bulletin board system and figured out how to dial into it. I found a world much more interesting than anything I could generate by typing commands at the C:/ prompt. Is Printing A Gun The Same As Buying A Gun? | TechCrunch (Build 20110920042010) There's an interesting back-and-forth going on at Thingiverse, a site founded by Makerbot to share 3D projects.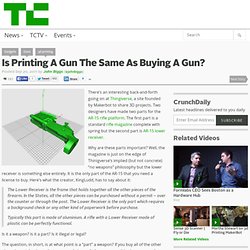 Two designers have made two parts for the AR-15 rifle platform. The first part is a standard rifle magazine complete with spring but the second part is AR-15 lower receiver. Why are these parts important? Al Jazeera Chief Steps Down, WikiLeaks Cables a Culprit? - TVNewser (Build 20110920042010) $1,279-per-hour, 30,000-core cluster built on Amazon EC2 cloud (Build 20110920042010) Amazon EC2 and other cloud services are expanding the market for high-performance computing.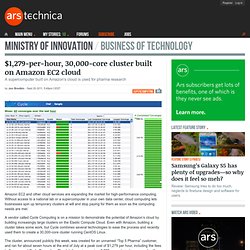 Without access to a national lab or a supercomputer in your own data center, cloud computing lets businesses spin up temporary clusters at will and stop paying for them as soon as the computing needs are met. A vendor called Cycle Computing is on a mission to demonstrate the potential of Amazon's cloud by building increasingly large clusters on the Elastic Compute Cloud. Even with Amazon, building a cluster takes some work, but Cycle combines several technologies to ease the process and recently used them to create a 30,000-core cluster running CentOS Linux.
The cluster, announced publicly this week, was created for an unnamed "Top 5 Pharma" customer, and ran for about seven hours at the end of July at a peak cost of $1,279 per hour, including the fees to Amazon and Cycle Computing. Study: patent trolls have cost innovators half a trillion dollars (Build 20110920042010) By now, the story of patent trolls has become well-known: a small company with no products of its own threatens lawsuits against larger companies who inadvertently infringe its portfolio of broad patents.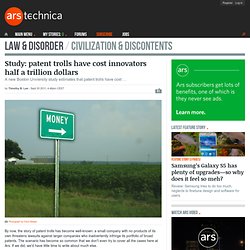 The scenario has become so common that we don't even try to cover all the cases here at Ars. If we did, we'd have little time to write about much else. But anecdotal evidence is one thing. Data is another. Three Boston University researchers have produced a rigorous empirical estimate of the cost of patent trolling. America: Land of the Slow - NYTimes.com (Build 20110920042010) 4:47 p.m. | Updated to clarify that the rankings in the report were condensed.
Internet speeds in the United States have long trailed those in other countries like South Korea. Downloading videos, games and other big files often takes far longer for Americans than their counterparts across the globe. In the latest global rankings, the United States remained a slow-poke, placing No. 26 in terms of speediest Internet connections, according to Pando Networks, a company that delivers games and other large online files online for other companies. South Korea led the list followed by Romania and Bulgaria. Google+: 92, 93, 94, 95, 96, 97, 98, 99... 100. (Build 20110920042010)
For our international readers, this post is also available in Chinese, French, German, Italian, Japanese, Portuguese, Russian and Spanish (Latin America, Spain). - Ed.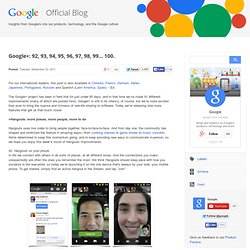 The Google+ project has been in field trial for just under 90 days, and in that time we've made 91 different improvements (many of which are posted here). Google+ is still in its infancy, of course, but we're more excited than ever to bring the nuance and richness of real-life sharing to software. Today we're releasing nine more features that get us that much closer. Google+ Suddenly Looks Pretty Busy For A Ghost Town | Epicenter | Wired.com (Build 20110920042010) Google+ is opening up.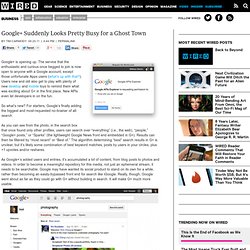 The service that the enthusiastic and curious once begged to join is now open to anyone with a Google account, except those unfortunate Apps users (what's up with that?). Users new and old also get to play with plenty of new desktop and mobile toys to remind them what was exciting about G+ in the first place. New APIs even let developers in on the fun. So what's new? Poker Site Misused Players' Money, U.S. Says - NYTimes.com (Build 20110920042010) How Stormpulse made more money on fewer customers. Imagine you have a web-based weather tracking service with hundreds of paying customers.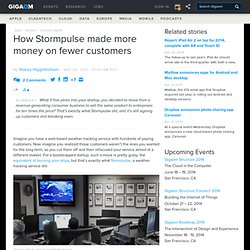 Now imagine you realized those customers weren't the ones you wanted for the long term, so you cut them off and then refocused your service aimed at a different market. For a bootstrapped startup, such a move is pretty gutsy, the equivalent of burning your ships, but that's exactly what Stormpulse, a weather tracking service did. Stormpulse in use at the White House.
Weather isn't an easy business, but it's always there. Stormpulse, which offers an easy-to-read weather map and monitoring service, is a pretty cool product with A-list clients. Kindle library ebook lending goes beta, at least for Seattle residents | This is my next... (Build 20110920042010) How technology is changing business [Infographic] — Tech News and Analysis (Build 20110920042010) Updated.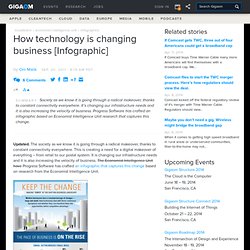 The society as we know it is going through a radical makeover, thanks to constant connectivity everywhere. This is creating a need for a digital makeover of everything – from retail to our postal system. It is changing our infrastructure needs and it is also increasing the velocity of business.
---