Catching Up (10/17)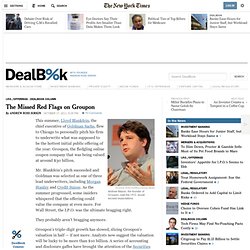 Antoine Antoniol/Bloomberg News Andrew Mason, the founder of Groupon, said the I.P.O. would exceed expectations. This summer, Lloyd Blankfein , the chief executive of Goldman Sachs , flew to Chicago to personally pitch his firm to underwrite what was supposed to be the hottest initial public offering of the year: Groupon, the fledgling online coupon company that was being valued at around $30 billion. Mr. Blankfein's pitch succeeded and Goldman was selected as one of three lead underwriters, including Morgan Stanley and Credit Suisse . As the summer progressed, some insiders whispered that the offering could value the company at even more.
Groupon's Red Flags Were Missed -- Sorkin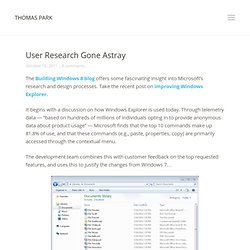 The Building Windows 8 blog offers some fascinating insight into Microsoft's research and design processes. Take the recent post on improving Windows Explorer . It begins with a discussion on how Windows Explorer is used today. Through telemetry data — "based on hundreds of millions of individuals opting in to provide anonymous data about product usage" — Microsoft finds that the top 10 commands make up 81.8% of use, and that these commands (e.g., paste, properties, copy) are primarily accessed through the contextual menu. The development team combines this with customer feedback on the top requested features, and uses this to justify the changes from Windows 7…
User Research Gone Astray | Thomas Park
Pollution concerns force shutdown at MacBook Air supplier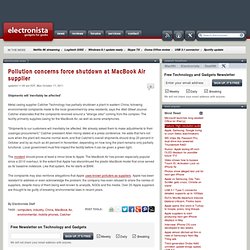 Shipments will 'inevitably be affected' Metal casing supplier Catcher Technology has partially shutdown a plant in eastern China, following environmental complaints made to the local government by area residents, says the Wall Street Journal . Catcher elaborates that the complaints revolved around a "strange odor" coming from the complex.
As email, documents, and almost every aspect of our professional and personal lives moves onto the "cloud"—remote servers we rely on to store, guard, and make available all of our data whenever and from wherever we want them, all the time and into eternity—a brush with disaster reminds the author and his wife just how vulnerable those data can be. A trip to the inner fortress of Gmail, where Google developers recovered six years' worth of hacked and deleted e‑mail, provides specific advice on protecting and backing up data now—and gives a picture both consoling and unsettling of the vulnerabilities we can all expect to face in the future. On April 13 of this year, a Wednesday, my wife got up later than usual and didn't check her e‑mail until around 8:30 a.m. The previous night, she had put her computer to "sleep," rather than shutting it down.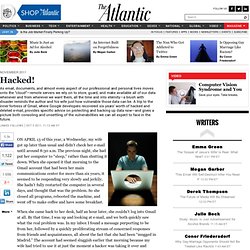 Hacked! - Magazine
Research in Motion Pins Hopes on Its Next OS
Starting Tuesday, the company will hold its annual conference for software developers in San Francisco. Normally, the conference, with sessions like, "Alice.js: A Lightweight Independent CSS Engine," would grab little attention. But this conference is for the developers RIM must persuade to build the apps for the next generation of BlackBerrys and PlayBook tablets. Without those apps, people are less likely to buy the devices and restore the company's former glory. "The meeting is important and it's going to be really difficult for RIM," said Kevin Burden, an industry analyst with ABI Research. "It's going to have to get up there and talk about real timelines.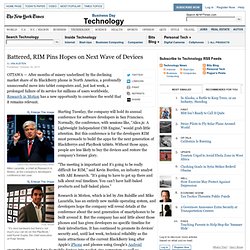 Can We Just Admit That It's Insane When Microsoft Has A 'Licensing Program' For Someone Else's Products?
Introduction As you will see in the transcript below, this discussion focused on the use of artificial intelligence algorithms in search. Peter outlines for us the approach used by Google on a number of interesting search problems, and how they view search problems in general. This is fascinating reading for those of you who want to get a deeper understanding of how search is evolving and the technological approaches that are driving it. The types of things that are detailed in this interview include: The basic approach used to build Google Translate The process Google uses to test and implement algorithm updates How voice driven search works The methodology being used for image recognition How Google views speed in search How Google views the goals of search overall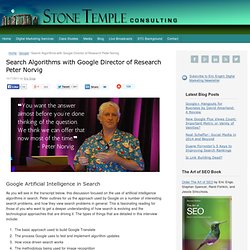 Search Algorithms with Google Director of Research Peter Norvig
Press Info - iPhone 4S First Weekend Sales Top Four Million
Apple's transition from MobileMe to iCloud brings the promise of centralized, cloud-based storage for all your important data. Unfortunately, the transition hasn't been smooth for all users. Aside from Apple's servers being overloaded with MobileMe account transitions, some are having issues reconciling Apple's assumption that every user has a unique Apple ID and that every Apple ID is used for just one person. People who never used MobileMe and only ever used one Apple ID for iTunes purchases appear to be experiencing a completely smooth transition to iCloud.
iCloud transition off to a rocky start for MobileMe, family users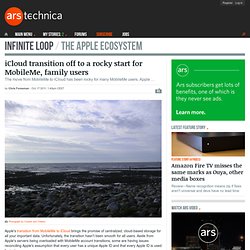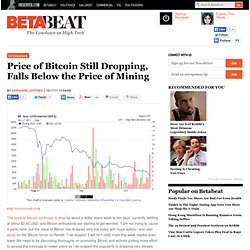 Price of Bitcoin Still Dropping, Falls Below the Price of Mining
By Adrianne Jeffries 10/17/11 10:04am Share this: ( http://bitcoincharts.com ) The price of Bitcoin continues to drop by about a dollar every week to ten days, currently settling at about $2.80 USD, and Bitcoin enthusiasts are starting to get worried.
Bill Gross wants to take on Twitter, Facebook and Google+
Entrepreneur Bill Gross is already famous in technology circles for developing the search-related keyword advertising model that Google has since made billions by perfecting . Now, he is launching a content-focused social network called Chime.in that will compete not just with Google's new social platform Google+ but with Twitter and Facebook too, and link-sharing sites like Reddit and Digg as well. Does the world need another social platform for sharing content? Gross says that it does, and that his connections with content companies will help Chime.in succeed — but the odds are stacked against him. Gross may be well known to some as the guy who created the first version of Ad Words, which he did at a company called GoTo — later renamed Overture, and eventually acquired by Yahoo for $1.6 billion in 2003. More recently, however, he has become infamous for his somewhat tense relationship with Twitter.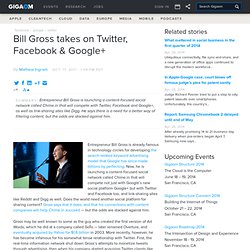 4chan's Chris Poole: Facebook & Google Are Doing It Wrong
Chris Poole delivered the most powerful 10 minutes of Web philosophy of the afternoon at Web 2.0 . The man formerly known as moot - founder of anonymous image sharing den 4chan and its new, better-lit cousin, Canvas , gave us a rousing and principled picture of what the big players get wrong about online identity. "Google and Facebook would have you believe that you're a mirror," he said, "but in fact, we're more like diamonds." - multi-faceted. It was an appeal reminiscent of the one he gave at SXSW earlier this year, but it hit harder. Google Plus has since arrived, and Poole says it's even worse than Facebook for the future of online identity. What does Web 2.0 mean to you?