Best of the Weekend (1/7-8)
Livia Acosta Noguera discussed cyber attacks on the US and sought information on servers at its nuclear power stations, according to a documentary that has led to her expulsion as Venezuelan consul general in Miama. Photograph: Javier Caceres/AP America is expelling Venezuela's consul general in Miami amid allegations she discussed possible cyber attacks against the US while she was stationed at her country's embassy in Mexico. The US state department said it had declared Livia Acosta Noguera persona non grata and given her until Tuesday to leave the country. A spokesman, Mark Toner, said the Venezuelan government was notified of the decision on Friday, giving her 72 hours to depart under standard diplomatic procedure. There was no immediate reaction from the Venezuelan government.
US expels Venezuelan diplomat who 'discussed cyber war on America' | World news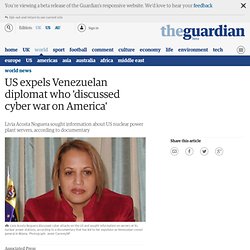 We suspected the UK launch of Netflix's streaming service was near when the app showed up on the PlayStation 3, and we've now received multiple reports that the service is in fact live for PS3 owners. It's priced at £5.99 per month with the first month free, and the app is now also appearing on UK-based Apple TVs — though it appears to not be active on that platform just yet. According to The Guardian, the service is kicking things off with a number of new content deals in hand. Sony, Disney, Paramount, Channel 4, and ITV are said to be among the partners, joining the likes of Miramax and the BBC.
Netflix UK streaming now live for some users, priced at £5.99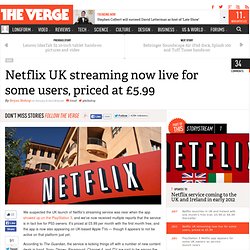 OLPC XO 3.0 Hands On: The $100 Wonder Tablet
Cutting the Cord on Cable
It was over four years ago that OLPC founder Nicholas Negroponte showed off images of an XO tablet, and promised it would ship to kids of the developing world in 2010 for $100 each. Obviously that didn't quite happen, but it turns out both the company and the tablet are finally ready. Not only is OLPC is bringing the XO 3.0 to CES this week, it's also getting ready to put the slate into production.
OLPC XO 3.0 tablet: an 8-inch tablet for $100, with Android and Sugar options for the children (update: pictures!)
By Erik Olsen Joseph Herscher builds Rube Goldberg machines in Williamsburg, Brooklyn. In this video he constructs his newest contraption, called "Page Turner."
Man Embraces Useless Machines, and Absurdity Ensues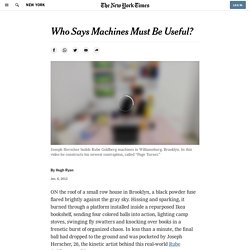 "GORGEOUS," raves The Huffington Post . "Best-looking smartphone operating system in the industry," gushes Slate . "Far superior to most if not all the smartphones," says TechCrunch . Sounds like the usual adulation for a gadget from Apple. In fact, they're actually accolades for a new product from .
Microsoft, Defying Image, Has a Design Gem in Windows Phone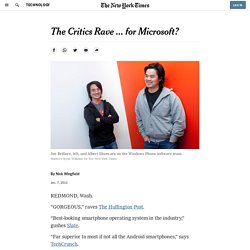 The semiconductor industry: Space invaders
Intel Awaits Microsoft's Next Number