Best of Today (8/5)
Bonfire of the Vanities. When I was in my 20's, I was taught the relationship between marketing and sales over a bonfire.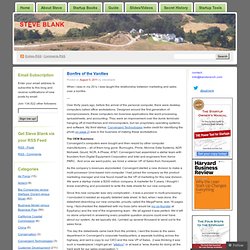 Over thirty years ago, before the arrival of the personal computer, there were desktop computers called office workstations. Designed around the first generation of microprocessors, these computers ran business applications like word processing, spreadsheets, and accounting. The Adoption Lifecycle of Social Networks [Infographic] - TNW Social Media.
Vincenzo Cosenza, an Italian digital strategist, has just finished his latest research on Social Networks Adoption Lifecycle.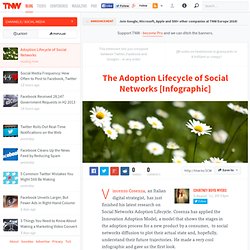 Cosenza has applied the Innovation Adoption Model, a model that shows the stages in the adoption process for a new product by a consumer, to social networks diffusion to plot their actual state and, hopefully, understand their future trajectories. He made a very cool infographic and gave us the first look. In the innovators area you'll Friendfeed, which unfortunately stopped innovating after its acquisition by Facebook; Foursquare, the most famous location based social network with 10 million users; and Google+ with its explosive adoption rate (20 million users in 3 weeks).In the early adoption stage we find professional social networks like Viadeo and LinkedIn, or generalist ones like Orkut (owned by Google), VKontakte (leader in Russian territories), Bebo. Badoo is the only service specifically designed for dating purposes.
Why ISPs are hijacking your search traffic & how they profit from it. A handful of Internet service providers (ISPs) in the U.S. are redirecting search traffic around specific keywords to brands' websites, presumably for affiliate marketing revenue.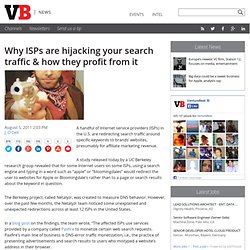 A study released today by a UC Berkeley research group revealed that for some Internet users on some ISPs, using a search engine and typing in a word such as "apple" or "bloomingdales" would redirect the user to websites for Apple or Bloomingdale's rather than to a page or search results about the keyword in question. The Berkeley project, called Netalyzr, was created to measure DNS behavior. However, over the past few months, the Netalyzr team noticed some unexplained and unexpected redirections across at least 12 ISPs in the United States. In a blog post on the findings, the team wrote, "The affected ISPs use services provided by a company called Paxfire to monetize certain web search requests.
Extending our Reach: Many Layers of User Sovereignty | Mitchell. Today we access the Internet in many ways, with phones and tablets and new devices becoming more prevalent.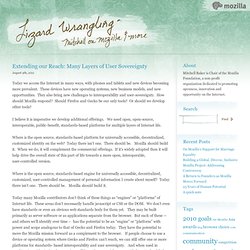 These devices have new operating systems, new business models, and new opportunities. They also bring new challenges to interoperability and user-sovereignty. How should Mozilla respond? Beware the hackers who take over your Gmail account | Money. Here at Guardian Money we've seen pretty much every scam email going.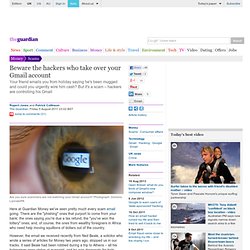 There are the "phishing" ones that purport to come from your bank; the ones saying you're due a tax refund; the "you've won the lottery" ones; and, of course, the ones from wealthy foreigners in Africa who need help moving squillions of dollars out of the country. However, the email we received recently from Ned Beale, a solicitor who wrote a series of articles for Money two years ago, stopped us in our tracks. Why Facebook and Google's Concept of 'Real Names' Is Revolutionary - Alexis Madrigal - Technology. The primary version of identity online is a radical departure from what we expect in real life Should you have to use your real name online?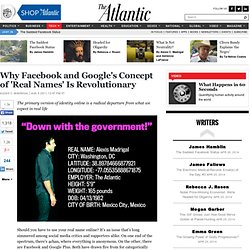 It's an issue that's long simmered among social media critics and supporters alike. On one end of the spectrum, there's 4chan, where everything is anonymous. On the other, there are Facebook and Google Plus. Both have drawn fire from for categorically preventing people from using pseudonyms. Google Researcher Exposes Flaws In Sophos Software, Slams Antivirus Industry - Andy Greenberg - The Firewall. The Problem With Virtual Goods - Betable. Broken Lotteries | Wired Science  Earlier this year, I wrote about Mohan Srivastava, a geological statistician who has cracked multiple scratch lottery tickets.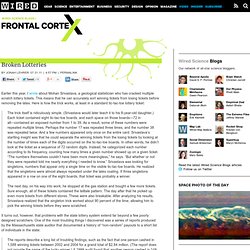 This means that he can accurately sort winning tickets from losing tickets before removing the latex. Here is how the trick works, at least in a standard tic-tac-toe lottery ticket: The trick itself is ridiculously simple. High Frequency Trading Tech Finds Other Uses - Tech Europe. AFP/Getty Images Real-time data could save $100,000 a vessel in wasted fuel Executing stock trades in milliseconds has become a feature of modern exchanges, but the ability to handle vast quantities of data in real time—known as complex event processing (CEP)—is going to be one of the key technologies that will impact a wide range of industries.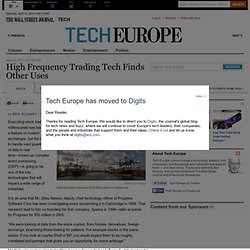 Judge says domain name loss is not a "substantial hardship" A federal judge has rejected a petition by the Spanish company Puerto 80 for the return of the domain names Rojadirecta.com and Rojadirecta.org.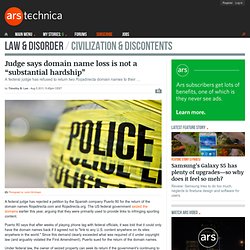 The US federal government seized the domains earlier this year, arguing that they were primarily used to provide links to infringing sporting content. Puerto 80 says that after weeks of playing phone tag with federal officials, it was told that it could only have the domain names back if it agreed not to "link to any U.S. content anywhere on its sites anywhere in the world. " Since this demand clearly exceeded what was required of it under copyright law (and arguably violated the First Amendment), Puerto sued for the return of the domain names. Under federal law, the owner of seized property can seek its return if the government's continuing to hold it would cause a "substantial hardship" to its owner.
---