Best of Today (7/26)
The Remains of The Daily. One News Corp. property that has flown under the radar throughout the company's recent melodramas is The Daily—the tablet newspaper launched to great fanfare in the basement of the Guggenheim in February.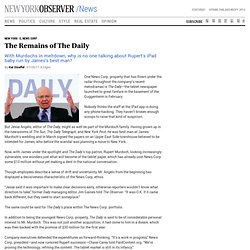 Nobody thinks the staff at the iPad app is doing any phone-hacking. They haven't broken enough scoops to raise that kind of suspicion. Creator of Xbox Blockbuster 'Fable' Blames Success on Baked Beans, Happy Accidents: Peter Molyneux, creator of the popular "Fable" gaming series and head of Microsoft Game Studios in Europe, recalls the highs and lows of a 22-year career in video games – GUILDFORD, U.K. — April 15, 2011 – Peter Molyneux, one of the video game industry's most celebrated designers and the creative force behind hits such as "Fable," "Populous" and "Dungeon Keeper," credits much of his 22-year career to a happy accident involving baked beans.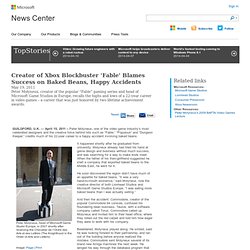 Peter Molyneux, head of Microsoft Game Studio Europe, in 2007 shortly after receiving the Chevalier de l'Ordre des Arts et des Lettres (The Knighthood in the Order of Arts and Letters). It happened shortly after he graduated from university. Brad Colbow - Independent Web Designer, Illustrator - The Brads - This is Why Your Newspaper is Dying.
Tech News Is So Phenomenally Boring. Tech news *is* boring. Adrian Chen at Gawker says that tech news is boring.
And he proves it with a great example. I was just thinking the same thing. Amazon Android Tablet Would Be Welcomed by Consumers: Retrevo - Desktops and Notebooks. Consumers are ready for a low-cost tablet alternative to Apple's (NASDAQ:AAPL) iPad and would seriously welcome such a slate from Amazon.com (NASDAQ:AMZN), according to Retrevo.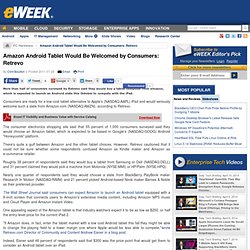 The consumer electronics shopping site said that 55 percent of 1,000 consumers surveyed said they would choose an Amazon tablet, which is expected to be based in Google's (NASDAQ:GOOG) Android "Honeycomb" platform. There's quite a gulf between Amazon and the other tablet choices. Why Microsoft Won't Dump Bing. Foley on Microsoft Why Microsoft Won't Dump Bing Many Microsoft shareholders, employees, partners and customers would like Steve Ballmer to resign (or be ousted) as CEO.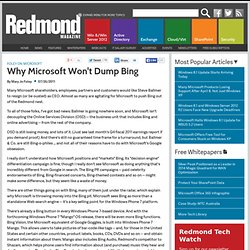 Almost as many are agitating for Microsoft to push Bing out of the Redmond nest. To all of those folks, I've got bad news: Ballmer is going nowhere soon, and Microsoft isn't decoupling the Online Services Division (OSD) -- the business unit that includes Bing and online advertising -- from the rest of the company. OSD is still losing money, and lots of it. Bitcoin befuddles U.S. customs agents, thwarting Seattle visit by digital currency guru. A developer who specializes in the Bitcoin digital currency says he was sent back to China last week after he arrived at Sea-Tac Airport with only $600 in cash and wasn't able to convince U.S.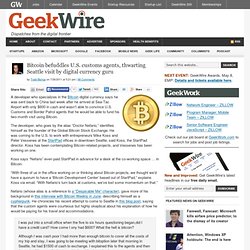 Customs and Border Patrol agents that he would be able to fund his two-month visit using Bitcoin. The developer, who goes by the alias "Doctor Nefario," identifies himself as the founder of the Global Bitcoin Stock Exchange. He was coming to the U.S. to work with entrepreneurs Mike Koss and Peter Vessenes at the StartPad offices in downtown Seattle, said Koss, the StartPad director. Koss has been contemplating Bitcoin-related projects, and Vessenes has been working on one. The truth about Apple and the eReader app changes: Customers lose. You may have heard about Apple forcing ebook apps to remove the ability to shop at non-Apple ebookstores from the apps.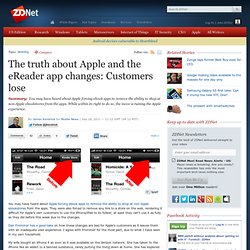 They were also forced to remove any link to a store on the web, rendering it difficult for Apple's own customers to use the iPhone/iPad to its fullest; at least they can't use it as fully as they did before this week due to the changes. Dan Frommer has a good take on how these changes are bad for Apple's customers as it leaves them with an inadequate user experience. I agree with Frommer for the most part, due to what I have seen in my own household. My wife bought an iPhone 4 as soon as it was available on the Verizon network. Apple's New Rules Prompt More E-Readers, Including Kobo, to Build HTML5 Apps. "Everybody loses" with the enforcement of Apple's new in-app payment rules, argues The Atlantic Wire's Rebecca Greenfield in a post chronicling how consumers, e-reader companies and perhaps even Apple might suffer.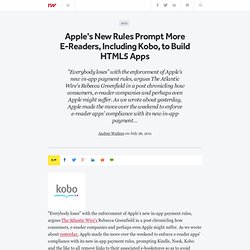 As we wrote about yesterday, Apple made the move over the weekend to enforce e-reader apps' compliance with its new in-app payment rules, prompting Kindle, Nook, Kobo and the like to all remove links to their associated e-bookstores so as to avoid giving Apple a 30% cut of sales. But if there's a winner to be had in the fallout, it may be the Web itself as Apple's new rules are now prompting more and more publishers to build HTML5 apps rather than rely solely on native (iOS) apps.
The HTML5 boom is coming. Fast. Updated.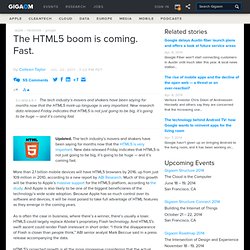 The tech industry's movers and shakers have been saying for months now that the HTML5 is very important. New data released Friday indicates that HTML5 is not just going to be big, it's going to be huge — and it's coming fast. More than 2.1 billion mobile devices will have HTML5 browsers by 2016, up from just 109 million in 2010, according to a new report by ABI Research. Much of this growth will be thanks to Apple's massive support for the HTML5 platform, according to the study. And Apple is also likely to be one of the biggest beneficiaries of the technology's wide scale adoption. Five Things I Learned At MySpace That Could Help Google+ Editor's note: This guest post is written by Tom Anderson, the former President, founder and first friend on MySpace.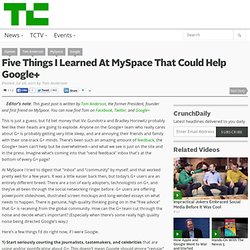 You can now find Tom on Facebook, Twitter, and Google+ This is just a guess, but I'd bet money that Vic Gundotra and Bradley Horowitz probably feel like their heads are going to explode. Anyone on the Google+ team who really cares about G+ is probably getting very little sleep, and are annoying their friends and family with their one-track G+ minds. There's been such an amazing amount of feedback, the Google+ team can't help but be overwhelmed—and what we see is just on the site and in the press.
---