Best of Today (6/28)
Fishy Chips: Spies Want to Hack-Proof Circuits | Danger Room. In 2010, the U.S. military had a problem.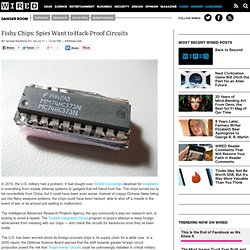 It had bought over 59,000 microchips destined for installation in everything from missile defense systems to gadgets that tell friend from foe. The chips turned out to be counterfeits from China, but it could have been even worse. Instead of crappy Chinese fakes being put into Navy weapons systems, the chips could have been hacked, able to shut off a missile in the event of war or lie around just waiting to malfunction. Watch the Pope Send His First Tweet on an iPad. Today was a religious day for social media.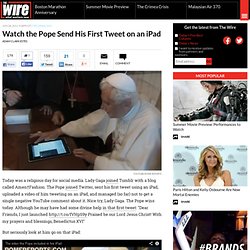 Lady Gaga joined Tumblr with a blog called Amen†Fashion. The Pope joined Twitter, sent his first tweet using an iPad, uploaded a video of him tweeting on an iPad, and managed (so far) not to get a single negative YouTube comment about it. WakeMate 2.0: Helping You Kiss Those Groggy Mornings Goodbye. For Real, This Time. The story of WakeMate could be viewed as a warning to all tech-savvy entrepreneurs out there: building a hardware device is much more difficult than most web applications.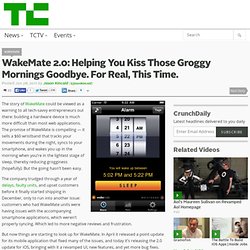 The promise of WakeMate is compelling — it sells a $60 wristband that tracks your movements during the night, syncs to your smartphone, and wakes you up in the morning when you're in the lightest stage of sleep, thereby reducing grogginess (hopefully). But the going hasn't been easy. The company trudged through a year of delays, faulty units, and upset customers before it finally started shipping in December, only to run into another issue: customers who had WakeMate units were having issues with the accompanying smartphone applications, which weren't properly syncing. Revisiting 'Zork': What We Lost in the Transition to Visual Games - Philip Bump - Technology. Text-based adventures were written as much as they were designed, employing tantalizing adjectives to create a sense of the world In my mind, the house is clapboard, with a black, precisely shingled roof and shutters in a bit of disrepair.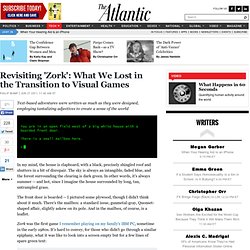 The sky is always an intangible, faded blue, and the forest surrounding the clearing is dark green. In other words, it's always summer -- and hot, since I imagine the house surrounded by long, tan, untrampled grass. The front door is boarded -- I pictured some plywood, though I didn't think about it much. There's the mailbox: a standard issue, gunmetal-gray, Quonset-shaped affair, slightly askew on its pole. Introducing the Google+ project: Real-life sharing, rethought for the web. Update: For our international readers, this post is also available in French, German, Italian, Japanese, Portuguese, Russian and Spanish. - Ed.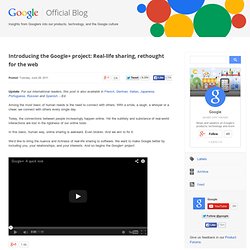 Among the most basic of human needs is the need to connect with others. With a smile, a laugh, a whisper or a cheer, we connect with others every single day. Today, the connections between people increasingly happen online. Google gave original Mac designer free rein on new Google+ UI. By Josh Ong Google's new Google+ social networking project departs from the company's usually spartan interfaces with an animated UI designed by original Apple Macintosh team member Andy Hertzfeld.Update: Hertzfeld has written a Google+ post giving credit to his colleagues who also contributed to the service's user interface.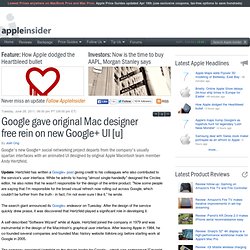 While he admits to having "almost single-handedly" designed the Circles editor, he also notes that he wasn't responsible for the design of the entire product. "Now some people are saying that I'm responsible for the broad visual refresh now rolling out across Google, which couldn't be further from the truth - in fact, I'm not even sure I like it," he wrote. The search giant announced its Google+ endeavor on Tuesday. Inside Google+ — How the Search Giant Plans to Go Social | Epicenter  Google, the world's largest search company, is formally making its pitch to become a major force in social networking.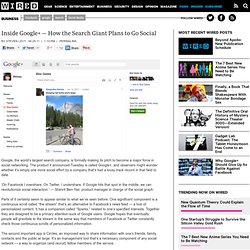 The product it announced Tuesday is called Google+, and observers might wonder whether it's simply one more social effort by a company that's had a lousy track record in that field to date. 'On Facebook I overshare. On Twitter, I undershare. Google Yawn. I've been to so many big earth-shaking events from BigTechCo's -- today's Google thing is making me yawn, while my eyes glaze over in boredom.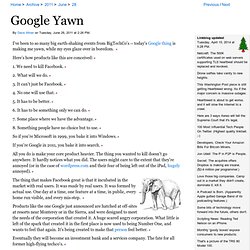 Here's how products like this are conceived: 1. We need to kill Facebook. 2. What will we do. Tech blogs not sold on Google's 'Facebook clone' On Tuesday the search giant unveiled a social networking "project" called Google+.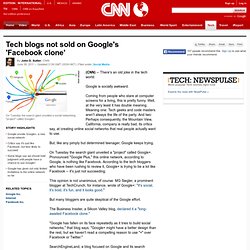 Google unveils Google+, a new social network Critics say it's just like Facebook, but less likely to succeed Some blogs say we should hold judgment until people have a chance to use Google+ Google has given out only limited invitations to the online network so far (CNN) -- There's an old joke in the tech world: Google is socially awkward. Microsoft launches Office 365: Here's what you need to know. If you're a current Microsoft cloud customer -- or even someone just kicking the tires of Microsoft's hosted cloud bundle -- here's what you need to know about Office 365, which Microsoft launched on June 28.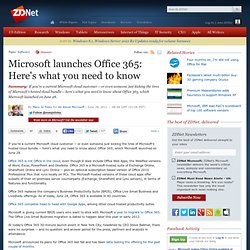 Office 365 is not Office in the cloud, even though it does include Office Web Apps, the Webified versions of Word, Excel, PowerPoint and OneNote. Office 365 is a Microsoft-hosted suite of Exchange Online, SharePoint Online and Lync Online -- plus an optional subscription-based version of Office 2010 Professional Plus that runs locally on PCs. The Microsoft-hosted versions of these cloud apps offer subsets of their on-premises server counterparts (Exchange, SharePoint and Lync servers), in terms of features and functionality. Office 365 replaces the company's Business Productivity Suite (BPOS), Office Live Small Business and Live@edu offerings. Office 365 and why it will succeed.
By tim, on June 28th, 2011 Follow tim on Twitter Today is launch day for Microsoft's Office 365, which offers use of Exchange, SharePoint and Lync hosted by Microsoft at commodity prices – not quite as low as $50 per user per year for Google Apps, but low enough that it is likely to be a substantial saving for most customers, versus the cost of installing, maintaining and backing up on-premise versions of the same software. The debate about the merits of Office 365 versus Google Apps is a fascinating one, but the reality is that many organisations are not ready to give up Word and Excel, Outlook and Active Directory. Why? Office 365 vs. Google Apps: The InfoWorld review | Cloud Computing.
Everything's going to the cloud, but only the hopelessly naïve would believe it's a stairway to heaven. Given the current economic situation, there's lots of incentive to rent only what you need, rather than buy enough to handle the heaviest workload. There are also plenty of reasons to reduce the general level of expertise needed to keep your systems working. But it's by no means certain that the cloud can deliver in either department -- and perform in a secure, reliable way. Can your company save money by paying Microsoft or Google to take on what you'd otherwise attempt in-house? Android activations soar, not very many are tablets. Google must be feeling downright giddy today with word that Android is seeing 500,000 device activations each day.
That is a tremendous number, especially since it was only a few weeks back that the number of daily activations were "only" 400,000. Even more impressive is the revelation that activations are growing at a decent 4.4 percent week over week. At that rate daily device activations could hit 620,000 in just 6 weeks.
---