Best of the Day (7/6)
Alex Rosen » Blog Archive » The power of sponge learning or: why I read Hacker News even though I understand very little of it - Aurora. Posted: May 7th, 2011 | Author: Alex | Filed under: learning | 64 Comments » I love the Internet and technology in general, but when it comes to the core technical knowledge, I'm definitely a n00b.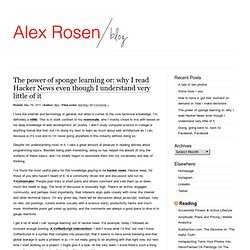 This is in stark contrast to my roommate, who I mostly chose to live with based on his deep knowledge of web development. jk! (sorta). Microsoft Pays University $250,000 To Adopt Office 365 | WinBeta - Aurora. Microsoft has offered to give the University of Nebraska $250,000 dollars to make the switch from IBM Lotus Notes to a much more feature-rich Office 365, which offers newer technology, greater flexibility, and operational savings.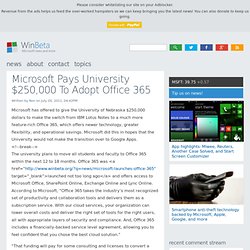 Microsoft did this in hopes that the University would not make the transition over to Google Apps. <! --break--> The university plans to move all students and faculty to Office 365 within the next 12 to 18 months. So was the Twitter Town Hall better than a regular one? — Tech News and Analysis (Build 20110615151330) The Obama administration, which has already had a live YouTube Q&A session and a Facebook "town hall," upped the ante with a Twitter version on Wednesday, an hour-long session hosted by Twitter co-founder and chairman Jack Dorsey and held at the White House.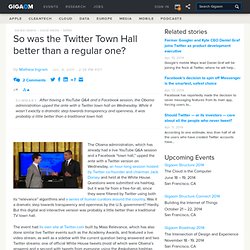 Questions were submitted via hashtag, but it was far from a free-for-all, since they were filtered by Twitter using both its "relevance" algorithms and a series of human curators around the country. Was it a dramatic step towards transparency and openness by the U.S. government? Hardly. But this digital and interactive version was probably a little better than a traditional TV town hall.
Why Mark Zuckerberg's First Public Response To Google+ Is The Right One (Build 20110615151330) Editor's note: This guest post is written by Tom Anderson, the former President, founder and first friend on MySpace.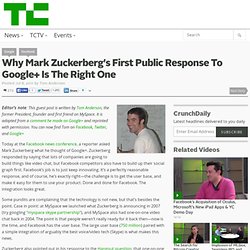 It is adapted from a comment he made on Google+ and reprinted with permission. You can now find Tom on Facebook, Twitter, and Google+ Today at the Facebook news conference, a reporter asked Mark Zuckerberg what he thought of Google+. The Post-PC era will be a multi-platform era | asymco (Build 20110615151330) Windows Phone Marketplace has reached 25,000 apps.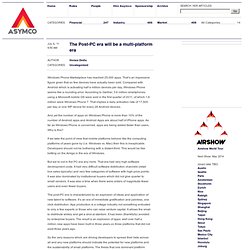 That's an impressive figure given that so few devices have actually been sold. Compared with Android which is activating half a million devices per day, Windows Phone seems like a rounding error. According to Gartner, 3.6 million smartphones using a Microsoft mobile OS were sold in the first quarter of 2011, of which 1.6 million were Windows Phone 7. Apple device security flaws revealed by German watchdog | Technology | guardian.co.uk (Build 20110615151330) The software running Apple's iPhones, iPads and the iPod Touch has "critical weaknesses" that could be used by criminals to gain access to confidential data on the devices, Germany's IT security agency has warned.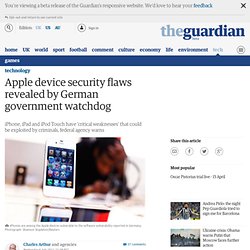 Clicking on an infected PDF file "is sufficient to infect the mobile device with malware without the user's knowledge" on several versions of Apple's iOS operating system, the Bundesamt für Sicherheit in der Informationstechnik (federal office for information security) said. Apple says it is working on fixing the security hole. Apple spokeswoman Bethan Lloyd said Thursday the company is "aware of this reported issue and developing a fix that will be available to customers in an upcoming software update. " Call Your Friends Right From Facebook. Do Consumers Really Want Video Calling? Once a communication device for futuristic Sci Fi, now it seems as though video calling is ubiquitous.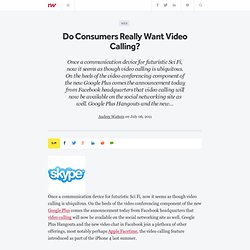 On the heels of the video conferencing component of the new Google Plus comes the announcement today from Facebook headquarters that video calling will now be available on the social networking site as well. Google Plus Hangouts and the new video chat in Facebook join a plethora of other offerings, most notably perhaps Apple Facetime, the video calling feature introduced as part of the iPhone 4 last summer. Facebook Video Chat v. Google Hangouts: It's No Contest. One of the questions I had when I broke the news last week about the Facebook/Skype partnership: Would group video chat be part of the product, and if so would it be free?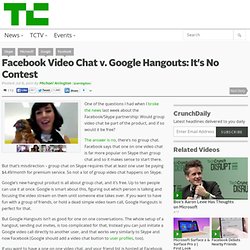 The answer is no, there's no group chat. Facebook says that one on one video chat is far more popular on Skype than group chat and so it makes sense to start there. But that's misdirection – group chat on Skype requires that at least one user be paying $4.49/month for premium service. So not a lot of group video chat happens on Skype. Google's new hangout product is all about group chat, and it's free. Computational science: ...Error. Camera+: An Apps to Riches Story (Build 20110615151330) How Lisa Bettany went from struggling photographer to app evangelist.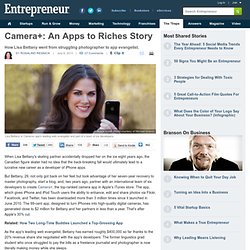 Lisa Bettany is Camera+ app's leading web evangelist and part of a team of six developers. When Lisa Bettany's skating partner accidentally dropped her on the ice eight years ago, the Canadian figure skater had no idea that the back-breaking fall would ultimately lead to a lucrative new career as a developer of iPhone apps. But Bettany, 29, not only got back on her feet but took advantage of her seven-year recovery to master photography, start a blog, and, two years ago, partner with an international team of six developers to create Camera+, the top-ranked camera app in Apple's iTunes store.
Who owns your social graph — you or Facebook? Facebook's control over the information in your social graph is in the news again.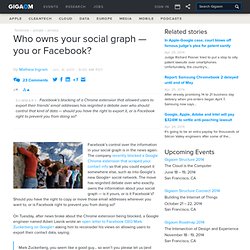 The company recently blocked a Google Chrome extension that scraped your contact info so that you could export it somewhere else, such as into Google's new Google+ social network. The move has reignited debate over who exactly owns the information about your social graph — is it yours, or is it Facebook's? Should you have the right to copy or move those email addresses wherever you want to, or is Facebook right to prevent you from doing so? On Tuesday, after news broke about the Chrome extension being blocked, a Google engineer named Adam Lasnik wrote an open letter to Facebook CEO Mark Zuckerberg on Google+ asking him to reconsider his views on allowing users to export their contact data, saying:
---