AnTools
Get flash to fully experience Pearltrees
NodeXL: Network Overview, Discovery and Exploration for Excel
Code Plex Project Hosting for Open Source Software NodeXL: Network Overview, Discovery and Exploration for Excel Getting Started The book Analyzing Social Media Networks with NodeXL: Insights from a Connected World is the most comprehensive source on NodeXL.
Ideas and Tips for Managing Content with a Dashboard – put mindmapping to work
Since Looking Good in Print appeared, I've contributed over 250 articles to publications like Adobe , Graphic Solutions , Home Office Computing , Publish, Self Employed Professional, Technique , various Microsoft Small Business Council publications, and others. In addition, I've recently posted over 200 additional guest posts, interviews, and mind maps, including: Access Roger C. Parker's latest articles about content marketing on the Content Marketing Institute's blog . These posts focus on ideas, tips, and resources for increasing and measuring your content marketing productivity. During the past three years, I've contributed hundreds of Author's Corner posts to Dan Schawbel's widely-syndicated Personal Branding Blog .
"CDC EZ-Text" is a software program developed to assist researchers create, manage, and analyze semi-structured qualitative databases. Researchers can design a series of data entry templates tailored to their questionnaire. These questionnaires are usually administered during face-to-face interviews with a sample of respondents. A response to a question may be entered into EZ-Text either as a verbatim transcript (e.g., from a tape recording), or a summary generated from the interviewer's notes. Data from respondents can be typed directly into the templates or copied from word processor documents.
EZ-Text | Software | Statistics and Surveillance | Topics | CDC HIV/AIDS
Weft QDA - a free, open-source tool for qualitative data analysis
Weft QDA Weft QDA is an easy-to-use, free and open-source tool for the analysis of textual data such as interview transcripts, fieldnotes and other documents. The software isn't being maintained or updated, but the current version is available and includes some standard CAQDAS features. Follow the links to see screenshots:
PCI Home Page
low Flowchart Software
NetMap Analytics
Analytic Technologies
Indexer
Link Explorer Demonstration Videos
This site uses cookies to store information on your computer. By using our site you accept the terms of our Privacy Policy. Some cookies on this site are essential, and the site will not work as expected without them. These cookies are set when you submit a form, login or interact with the site by doing something that goes beyond clicking on simple links.
Introduction to Link Explorer 6.0 - Xanalys
Xanalys Link Explorer 6 Network Analysis Demo - Xanalys
Xanalys: Practical and Field-Proven Investigation Software
The page you are looking for might have been removed, had its name changed, or is temporarily unavailable. Please try the following: Make sure that the Web site address displayed in the address bar of your browser is spelled and formatted correctly. If you reached this page by clicking a link, contact the Web site administrator to alert them that the link is incorrectly formatted. Click the Back button to try another link. Technical Information (for support personnel)
BOM Group: About Us
SAS' flexible information management platform can be configured to meet specific organisation and industry needs. A constantly changing operational and legislative environment means constant changes to processes and hence the information management system. SAS uniquely merges out of the box functionality with full configurability. SAS ships with out-of-the-box functionality to match already defined business processes and workflow. Additionally you can configure your system yourself, without referring back to SAS, should processes and workflow change.
Configurable Information Management Technology | Memex
Projects - *ORA | CASOS
*ORA is a dynamic meta-network assessment and analysis tool developed by CASOS at Carnegie Mellon. It contains hundreds of social network, dynamic network metrics, trail metrics, procedures for grouping nodes, identifying local patterns, comparing and contrasting networks, groups, and individuals from a dynamic meta-network perspective. *ORA has been used to examine how networks change through space and time, contains procedures for moving back and forth between trail data (e.g. who was where when) and network data (who is connected to whom, who is connected to where …), and has a variety of geo-spatial network metrics, and change detection techniques. *ORA can handle multi-mode, multi-plex, multi-level networks. It can identify key players, groups and vulnerabilities, model network changes over time, and perform COA analysis.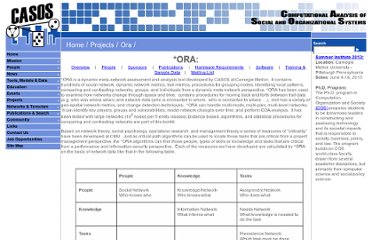 What is Nexis®Analytics? We all know that tastemakers, influencers and grass-roots word of mouth are powerful tools in forming and cementing brand reputations. But while you and your company might project one image, for one reason or another the perception of that image might be something else entirely. Welcome NexisAnalytics, your indispensible monitoring tool for risk and reputation management. What does NexisAnalytics offer?
LexisNexis Analytics
Casemap
CaseMap is easy to learn and use. It features a consistent design, ease-of-use features such as live spell checking, and a pre-built example case that make mastering CaseMap a snap. One Stop for Critical Case Knowledge CaseMap® makes it easy to organise, evaluate and explore the facts, the cast of characters, and the issues in a case, and is designed for use on all types of cases and by all types of litigators and investigators. CaseMap is easy to learn and use, offering a consistent design, ease-of-use features, and a pre-built example case. Additionally, CaseMap software integrates with numerous other litigation support and electronic discovery tools, including Adobe® Acrobat®, Applied Discovery®, Binder, Concordance®, JFS Litigators Notebook, KPMGs Discovery Radar, LiveNote and Sanction. One or more of the software products you already use probably links seamlessly with CaseMap, allowing you to create a practical and polished work product.
P-graphs and Pajek -- Douglas R. White
Tools for Marriage Network Analysis See new publications , Pajek has replaced pgraph software as the kinship analysis software of choice zipped files http://xmlgraphics.apache.org/batik/ SVG to 300dpi images Tool Kit for the Structural Analysis of Genealogical and Marriage Data Petri nets P-systems by Harary and White: formats Representing and Computing Kinship : A New [Network] Approach Douglas R. White, Paul Jorion Current Anthropology 33(4):454-463. 1992.
network_analysis [Pajek Wiki]
AutoMap: Project | CASOS
AutoMap is a text mining tool developed by CASOS at Carnegie Mellon. Input: one or more unstructured texts. Output: DyNetML files and CS files. AutoMap is designed to work seamlessly with ORA. AutoMap enables the extraction of information from texts using Network Text Analysis methods.
Networks / Pajek
In January 2008 this page was replaced by Pajek Wiki . Pajek runs on Windows and is free for noncommercial use. DOWNLOAD Pajek Data: test networks , GPH s, GED s, PDB files . Screenshots ; History ; Manual ( pdf ); Papers/presentations ; Applications ; in News ; Examples: SVG , PDF .
You make a couple of valid points- but... 400 messages a day is unrealistic for anybody beyond the beltline. And there aren't even that many worth a shit to bother with putting in there in the first place if we're talking downrange.
Palentir analysis software [Archive] - SOCNET: The Special Operations Community Network
International Network for Social Network Analysis
DongleLabs - Order | ANALYST NOTEBOOK V7 Dongle Emulator , Backup , Duplicate , Crack , License
Government | Palantir Technologies
NetMap Analytics - Helping you see the invisible connections
Detailed comparison of IBM i2 Analyst's Notebook and Sentinel Visualizer Total Cost of Ownership Pricing Comparison Sentinel Visualizer provides a huge benefit to our customers in the area of total cost of ownership. Value is demanded by our customers, and we deliver. Compare the pricing below: for single-user installations, Sentinel Visualizer offers more functionality at less than half the cost. Move up to multi-user systems and Sentinel Visualizer is a third of the cost of the competing technology, again with more features and benefits.
i2 Analyst's Notebook Feature and Price Comparison to Sentinel Visualizer from FMS
CASOS Tools: Computational Models and Social Network Tools
Octave
Home
Open Source Reporting, Business Intelligence Reporting & Business Reporting | Pentaho
i2 Analyst's Notebook/Sentinel Visualizer for a Human Rights Charity?
i2 Analyst's Notebook/Sentinel Visualizer
Palentir analysis software - SOCNET: The Special Operations Community Network
HOLMES 2 - Home Office Large Major Enquiry System
i2 - Analyst's Notebook
i2 - Home
Eye-Sys® | Welcome
Site Temporarily Unavailable