Social Media
twitter.twimg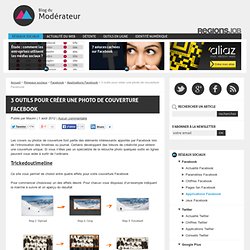 Les covers ou photos de couverture font partie des éléments intéressants apportés par Facebook lors de l'intronisation des timelines ou journal. Certains développent des trésors de créativité pour obtenir une couverture unique. Si vous n'êtes pas un spécialiste de la retouche photo quelques outils en lignes peuvent vous aider à sortir de l'ordinaire. Trickedoutimeline Ce site vous permet de choisir entre quatre effets pour votre couverture Facebook Pour commencer choisissez un des effets désiré.
Do you wonder how to go about exercising good social etiquette and managing your social networking communities, all at the same time? Social media community management has expanded into a growing field and there's a lot to think about. In this post, I'll cover 26 tips, an A-Z guide, on ways to manage your company ' s presence . #1: Answer Questions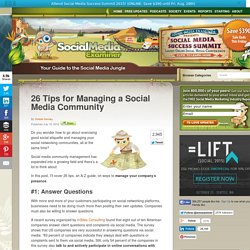 Winston Churchill disait "Que la stratégie soit belle est un fait, mais n'oubliez pas de regarder le résultat". Je pense qu'avec le digital et plus précisément les médias sociaux, on devrait, chacun, avoir cela en tête. Comme présenté dernièrement dans Les 4 challenges des entreprises dans un monde digital , l'une des problématiques majeures rencontrées par nombre d'entreprises sur les médias sociaux est de savoir mesurer leurs actions. Avoir des indicateurs, regarder ses fans / abonnés, suivre son taux d'engagement, compter le nombre de retweets ou de j'aime sur un article / produit est à la portée de tous et la profusion de chiffres pour légitimer et valoriser ses actions sont légions. Je ne détaillerai pas ici l'obnubillation sur les chiffres liés à l'audience adressée par une présence sur les médias sociaux pour l'avoir détaillée à plusieurs reprises déjà (Quand les marques survalorisent leurs fans Facebook, Gare aux chiffres autour des médias sociaux).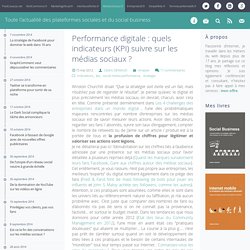 Engagement is one of the most talked about metrics for ROI. Some argue that the raw number of "Likes", comments and retweets don't mean anything. Instead, they point to a fans' level of investment, loyalty and engagement to determine whether social media is "paying off."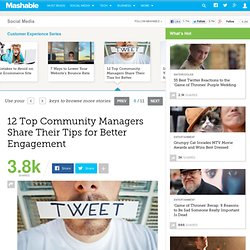 Are you wondering how your peers are using social media? Wondering if you should focus on Google+ or Pinterest? In our fourth annual social media study, more than 3800 marketers reveal where they focus their social media activities, how much time they invest and what the rewards are. Here's a Preview Watch this quick video overview: To understand how marketers are using social media, Social Media Examiner conducted its fourth annual 2012 Social Media Marketing Industry Report.
2012 Social Media Marketing Industry Report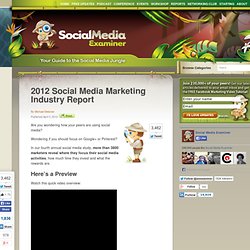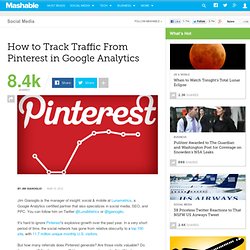 Jim Gianoglio is the manager of insight: social & mobile at Lunametrics, a Google Analytics certified partner that also specializes in social media, SEO, and PPC. You can follow him on Twitter @LunaMetrics or @jgianoglio. It's hard to ignore Pinterest's explosive growth over the past year. In a very short period of time, the social network has gone from relative obscurity to a top 100 site, with 11.7 million unique monthly U.S. visitors.
Le bouton +1 et le projet Google+ sont tous deux destinés à faciliter votre communication en ligne avec les personnes en qui vous avez confiance. Le bouton +1 permet aux internautes de recommander à leurs amis et contacts les contenus Web qu'ils ont appréciés sur votre site, et ce directement dans la Recherche Google. Mais lorsque vous gérez un site Web, seules des statistiques précises vous permettent de savoir exactement où vous en êtes.
Rapports sur les boutons +1 dans les Outils Google pour les webmasters et Google Analytics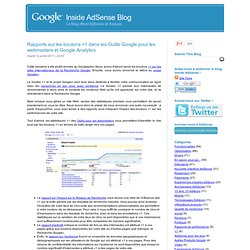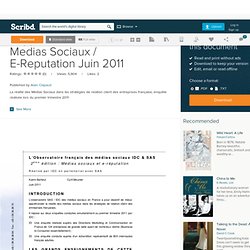 Rapport IDC-SAS Medias Sociaux / E-Reputation Juin 2011
Introduction 1 Les grands enseignements de cette deuxième étude 1 Objectif et méthodologie 1 Objectif ..................................................................................................................................................... 1
Avis d'expert : Les 6 règles d'or pour modérer sa Page Fan Facebook ? par Jeremie Mani – Tribune e-Business
Vos "fans" s'expriment sur votre Wall Facebook mais comment faire pour éviter qu'ils ne parlent... à un mur ? Voici 6 règles d'or pour interagir efficacement avec les plus critiques d'entre eux. Besoin de conseils pour animer votre page Facebook ? Pour faire grandir votre communauté ? Ce ne sera pas utile de vous en donner dans cette Tribune; de nombreux livres ont été écrits sur le sujet et des bloggeurs postent chaque semaine les best practices les plus récentes. En revanche, quand il s'agit de modérer sa page... peu de conseils disponibles !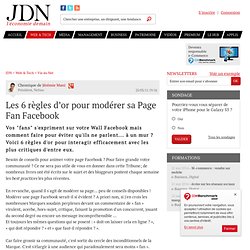 The Ultimate List: 24 of the World's Largest Social Networks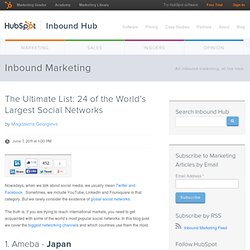 Nowadays, when we talk about social media, we usually mean Twitter and Facebook . Sometimes, we include YouTube, LinkedIn and Foursquare in that category. But we rarely consider the existence of global social networks . The truth is, if you are trying to reach international markets, you need to get acquainted with some of the world's most popular social networks.