SEO / SEA
Zoekmachine optimalisatie tips: hoe verwerkt u kernwoorden, zoek
1.
applicatie (grafisch overzicht van het web op basis van keywords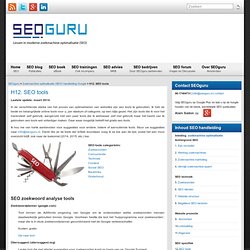 In de verschillende stadia van het proces van optimaliseren van websites zijn seo tools te gebruiken.
SEO goeroe (haha)
Download FREE website CMS software Special low prices to help you through the credit crunch
purchase SEO CMS website design software compliant optimized for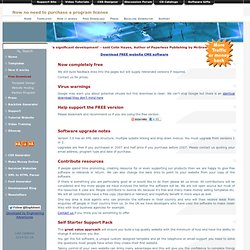 Handleiding zoekmachine optimalisatie (SEO)
EdWords.nl Zoekmachine Marketing Weblog
Webgeschiedenis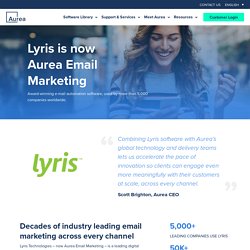 Integrated digital marketing in-the-cloud Lyris HQ is an advanced Software-as-a-Service (SaaS) digital marketing platform that maximizes the effectiveness of complex digital marketing campaigns. Users can compose messages, create segments, edit lists, manage landing pages and gain insight from real-time marketing analytics. Lyris HQ also integrates external social, mobile and Web behaviors to connect you to your customers across digital channels. Technology built for high-volume transaction processing and analytics
Web Analytics for Web Marketing Analysis by ClickTracks Analytic
In 14 stappen naar een betrouwbare Google Analytics installatie
In het kader van linkbaiting en het breder laten ranken van mijn site heb ik een SEO tools selectie gemaakt. Na mijn succesvolle ranking in Google voor het keyword SEO , wil ik nu de strijd aangaan met Saku voor de nummer 1 plaats op het keyword SEO tools. In de sectie heb ik nu een 5tal handige tools geplaats welke bestaan uit: Pagerank Prediction tool , Google ban Checker , Keyword Density Checker , Google Pagerank en Alexia rank checker en de Visual Pagerank tool .
Nieuwe SEO tools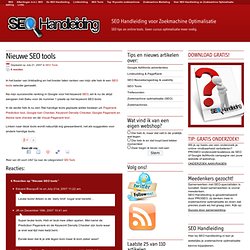 Zoekmachine optimalisatie Blog? De complete NL Lijst - chapter42